News > Spokane
'Bursting at the seams:' Crosswalk Teen shelter plans move to new facility, secures $1 million in first round of funding
Sat., May 4, 2019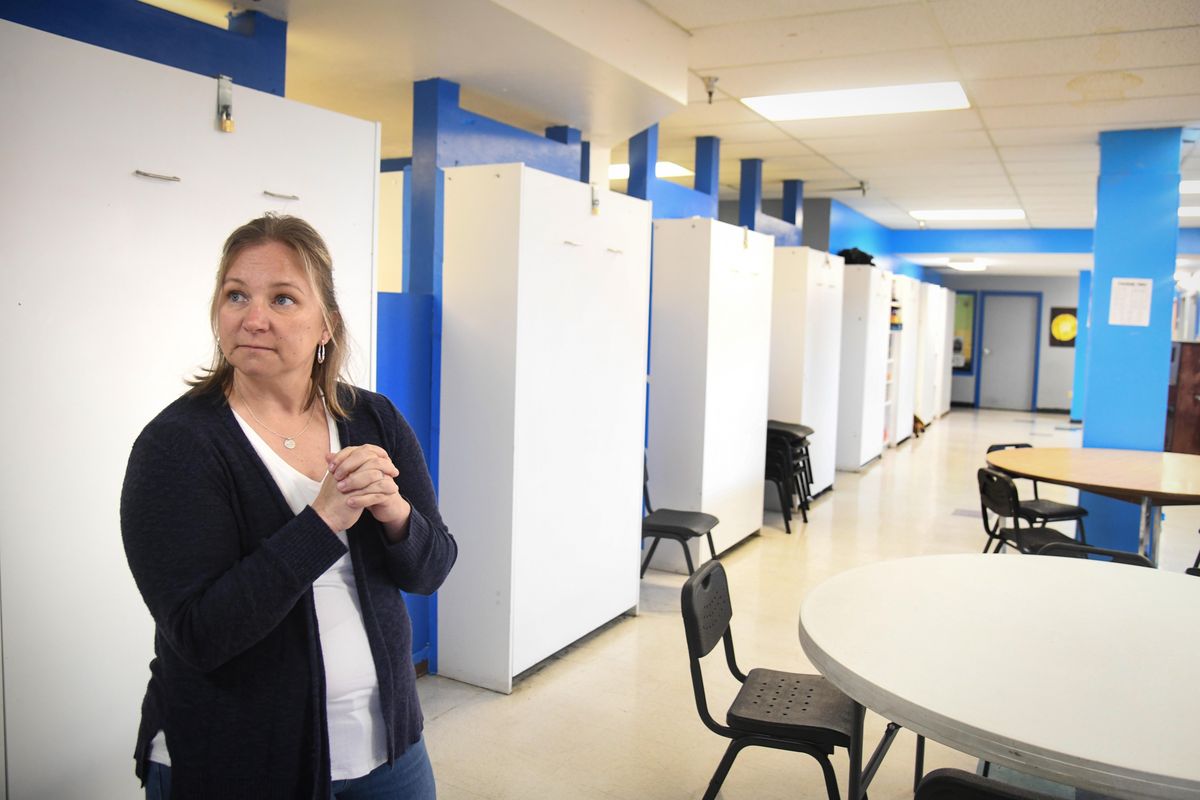 Volunteers of America CEO Fawn Schott in Crosswalk's common area at their location on Second Avenue. The small area serves many purposes, including dining and sleeping. Plans are underway for a new building near Spokane Community College that will be twice the current space. (Dan Pelle / The Spokesman-Review)
Inside Crosswalk Teen Shelter – Spokane's oldest emergency youth shelter – there's a common area on the first floor no bigger than a school lunch room.
It's a space of all trades, jack of none: eat, learn, make friends, play and even sleep. Flanked by rows of hideaway beds that look like large white wardrobes, when the sun goes down, so too do the metal furniture handles near the top, revealing 18 hideaway beds.
"We're just bursting at the seams," said Fawn Schott, president and CEO of Volunteers of America, which runs the shelter. "We have no more space."
Fortunate for them, more room is on the horizon in the form of a new building, but it won't be downtown – where the shelter has existed since its inception in 1985. It was at the corner of First Avenue and Jefferson Street, then moved to its current home at 525 W. Second Ave.
When the Legislature passed its $52 billion budget Sunday, $1 million was carved out for Crosswalk's campaign. It's the first round of about $5.5 million in capital the shelter plans to raise for a new facility that would at least double the size of the old one.
Volunteers of America hopes to move to the structure somewhere near Spokane Community College by fall 2021.
As Schott explains it, the new location will give them much needed space for additional beds – doubling their current capacity of about 22 – and more classrooms, which means new and expanded services, such as mental health services and treatment for substance use.
And it'll grant teenage clients better access to education, she said, allowing some to pursue a degree at the community college.
"Young people here are really saying we need to be out of the downtown core so we can focus on necessary resources and dedicated time," Schott said. "And our downtown businesses, I'm sure, would appreciate us being able to focus on education and employment."
Schott credited the securing of funds to three Spokane Democrats – Reps. Marcus Riccelli and Timm Ormsby and Sen. Andy Billig – and Spokane Republican Sen. Jeff Holy.
Riccelli, a member of the House Capital Budget Committee, said Crosswalk was a "top priority" for him this legislative session. In addition to more space, he said it was important for the shelter to get out of downtown where "negative influences are right outside the door."
City Council President Ben Stuckart, who is running for mayor – a race heavily steeped in tackling homelessness issues – said he also supported the move, especially if it meant Crosswalk was closer to education opportunities and public transportation.
If all goes to plan, it would be near the city's new Central City Line – Spokane's first bus rapid transit line.
"If we can have services throughout our community, I think that is a good thing," Stuckart said. "I also am a believer that we should have mixed-income neighborhoods. Everything can't be concentrated in one area of our community."
While details for the inside of the facility aren't yet carved out, Schott said the first floor would be classrooms and recreation rooms, much like Crosswalk's current setup.
The second floor would be dormitory-style rooms, and the third floor administrative office space.
The kicker, though, is the new aesthetic appeal. No more gray buildings and black top surrounding them. Instead, rows of spruce and pine, with large windows.
"Lots of green space," she said. "And outdoor space."
Local journalism is essential.
Give directly to The Spokesman-Review's Northwest Passages community forums series -- which helps to offset the costs of several reporter and editor positions at the newspaper -- by using the easy options below. Gifts processed in this system are not tax deductible, but are predominately used to help meet the local financial requirements needed to receive national matching-grant funds.
Subscribe now to get breaking news alerts in your email inbox
Get breaking news delivered to your inbox as it happens.
---