News > Spokane
Woodward claims victory in race for mayor
Nov. 5, 2019 Updated Wed., Nov. 6, 2019 at 7:20 a.m. Nadine Woodward, a former TV anchor in her first run for public office, claimed victory Tuesday night in the race for Spokane mayor.
With tens of thousands of ballots left to count, Woodward had received 20,260 votes to 18,430 votes for City Council President Ben Stuckart, who conceded soon after the first batch of results was released.
At her party, Woodward was jubilant.
"Spokane, we did it," she told the crowd at downtown's Barrister Winery as she took the stage. She thanked "the good lord" for the win, calling her campaign a "leap of faith."
Woodward thanked voters who "trusted me, somebody with no political experience, to do what's best for the city."
"We're going to start on the transition team tomorrow, we've got a long two months before we take over," Woodward said. "I'm looking forward to it."
With public safety and homelessness at the top of her agenda, Woodward, who was endorsed by outgoing Mayor David Condon, said she ran to "represent the change that voters wanted."
If early results are an indication, it's change that Spokane voters sought.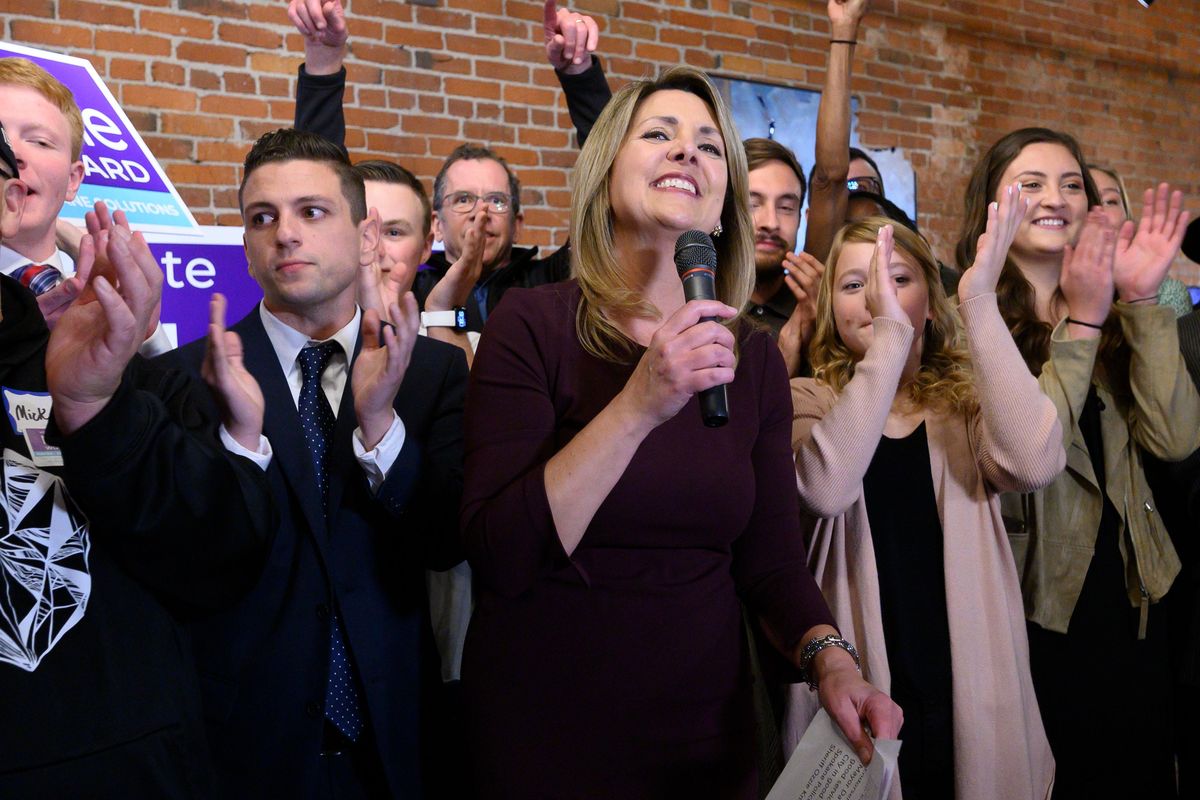 Nadine Woodward is cheered by the election night crowd after opponent Ben Stuckart conceded the race for Spokane Mayor, Tues., Nov. 5 2019, at the Barrister Winery. (Colin Mulvany / The Spokesman-Review)
With the exception of Councilwoman Lori Kinnear's easy re-election in South Spokane's District 2, the races for control of City Hall shifted rightward, as Councilwoman Karen Stratton and Councilman Breean Beggs are in tight contests for council and the council presidency, respectively.
Sitting in the glow of his smartphone in the basement of the Lucky You Lounge in Browne's Addition, following a contentious campaign centered on how Spokane treats its poor, Stuckart made a quick decision to fold his campaign.
"We have to concede," the two-term City Council president said to his wife and a handful of supporters. "We're down 2,000, we got to concede."
After taking the stage upstairs Stuckart told the crowd that he envisioned the race as a discussion "about how we want to grow as a city."
"But it turned into a referendum on homelessness," Stuckart said.
Stuckart then told the story of John Hummel, who he had met decades ago. The man, Stuckart said, turned to the bottle after losing a race for the Montana Legislature. Hummel lost his job and spent his inheritance after moving to Spokane, where he died in 2018 while staying at the House of Charity despite efforts to find him housing and a job, Stuckart said.
"We cannot fix everyone, but we damn well better try," Stuckart said.
In the City Council president race, Cindy Wendle is ahead of Beggs, but the race is too close to call. Wendle, a first-time candidate, leads with 19,150 votes, compared to 18,370 for Beggs, a councilman who will retain his seat on the council if he loses the presidency to Wendle.
In the city's northwest council district, Stratton and Andy Rathbun are locked in a tight race. She has 6,780 votes, and he has 6,380.
In the south council district, Councilwoman Lori Kinnear easily defeated her opponent, Tony Kiepe. She was winning, 9,900 votes to 4,700.
Finally, in the northeast council district, two conservative candidates vied to replace Mike Fagan. Michael Cathcart led Tim Benn by 700 votes.
Woodward, Wendle define race
The hard-fought race to succeed Condon was largely defined by homelessness, with Woodward delivering a straightforward "jail or treatment" approach to the problem and Stuckart touting progress made by the city on various fronts dealing with a complex problem.
In the end, her argument appeared to win.
While municipal candidates have focused on potholes, snow plowing and utility rates in the past, Woodward succeeded this year in keeping the focus on homelessness and what she described as the city's failed approach to fixing it. Stuckart was unable to convince voters that the city's economic progress and record private investment in areas like East Sprague were reasons to elect him mayor.
The issues were the same in the race for City Council president between Beggs and Wendle.
Wendle, like Woodward, had unprecedented, record-breaking financial backing from the state Realtors association and the Spokane business class in her race to lead the city's legislative body. And like Woodward, she focused on homelessness, describing Spokane in stark terminology as a place she doesn't "even recognize."
Wendle owns the Northtown Square shopping plaza with her husband, Chud Wendle, who is executive director of the Hutton Settlement, former president of Wendle Motors and former district director for Republican U.S. Rep. Cathy McMorris Rodgers.
Beggs, a civil rights lawyer who won his council seat in 2017, ran a detail-oriented campaign that spoke to the complex nature of the city's problems.
City Council races
In her campaign to win a second term on the council, Kinnear called for increasing housing and density along the city's corridors in line with the city's voter-approved comprehensive plan.
Her focus and relatively safe seat representing the liberal South Hill gave her comfortable margin to win four more years on council.
Kiepe, a retired health care consultant, ran a conservative race echoing Woodward's and Wendle's campaigns, but his message didn't resonate as well as theirs.
In the city's northwest, first-time candidate Rathbun, an Air Force veteran, tried to make the race a referendum on the City Council as a whole, and criticized the council's inability to collaborate with the administration. Stratton, who has fought with Condon over city staffing, painted herself as a constituent-focused leader who makes herself available to residents.
With 400 votes separating the two, their contest is the closest of the city races.
The city's northeast district was the only one to lack an incumbent. Two conservatives emerged from the August primary election, where voters chose a replacement for Mike Fagan, who has served the maximum two terms on council.
Benn, who owns a child care business, was endorsed by Fagan, but has struggled to win the support of voters three times before. In 2012 and 2014, he lost as the Republican candidate for Legislative District 3 in the Washington House of Representatives. In 2017, he was defeated by Kate Burke in a previous bid to join the council. Regardless, he highlighted his roots in the northeast as a business owner and as the chairman of the Minnehaha Neighborhood Council.
Cathcart, the former government affairs director for the Spokane Home Builders Association who runs the Better Spokane business advocacy group, is no stranger to politics either. In 2009, he ran the campaign against the hot-button Community Bill of Rights, and in 2010 ran the state Senate campaign for Michael Baumgartner before becoming his legislative aide. Cathcart said his experience in politics gave him the ability to actually implement policy.
Editor's note: This article was changed on Nov. 6, 2019 to correct information about Cindy Wendle. Chud Wendle, not Cindy Wendle, is executive director of the Hutton Settlement, former president of Wendle Motors and former district director for Republican U.S. Rep. Cathy McMorris Rodgers.
Local journalism is essential.
Give directly to The Spokesman-Review's Northwest Passages community forums series -- which helps to offset the costs of several reporter and editor positions at the newspaper -- by using the easy options below. Gifts processed in this system are not tax deductible, but are predominately used to help meet the local financial requirements needed to receive national matching-grant funds.
Subscribe now to get breaking news alerts in your email inbox
Get breaking news delivered to your inbox as it happens.
---