Paul McCartney is on fire with 'Flaming Pie'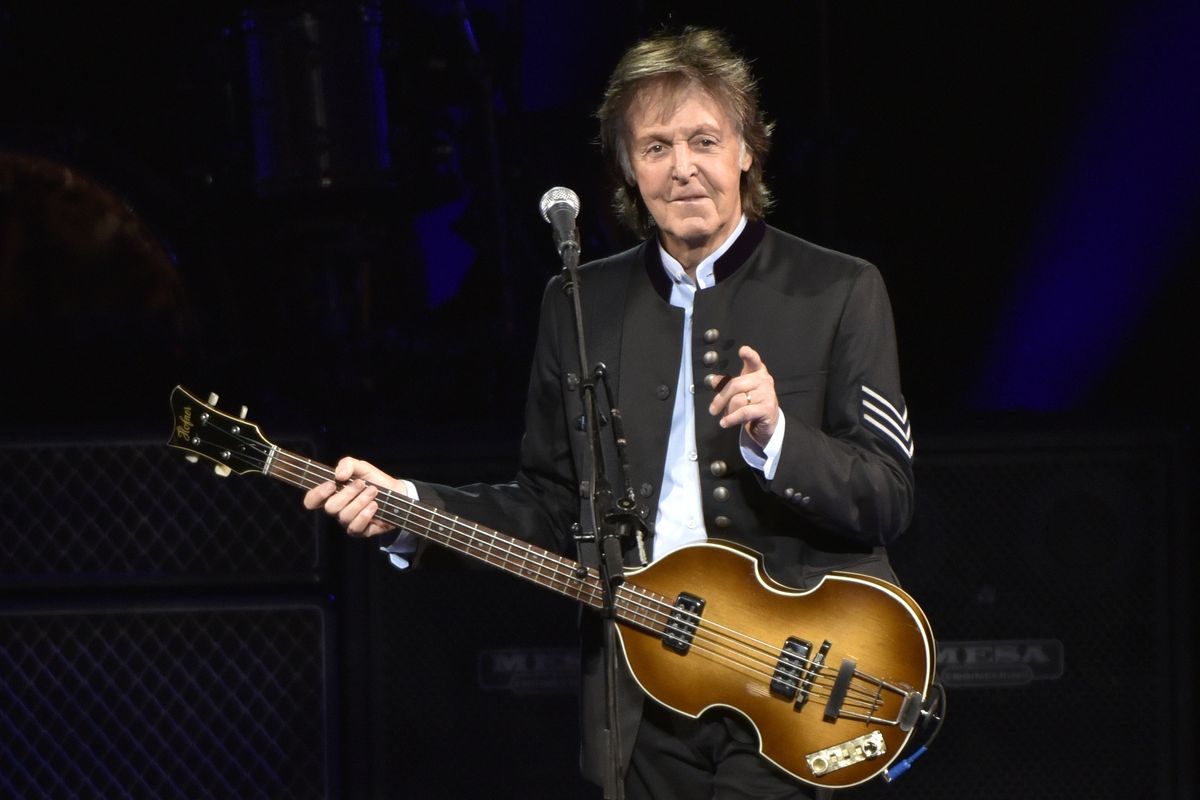 Death can be one of the best career moves for a rock star. Jimi Hendrix, Kurt Cobain and Amy Winehouse kept ascending as recording artists when they passed. Each remains on a pedestal.
John Lennon wasn't 27 like the aforementioned rock legends when he was killed in the archway of his Manhattan apartment building by deranged Beatles fan Mark David Chapman. However, Lennon wasn't far removed from his salad days when his life ended abruptly.
Had he lived, who knows how many hits and misses Lennon would have recorded?
Lennon's writing partner Paul McCartney has made the most of opportunity. Nearly 40 years after Lennon's death, McCartney has taken advantage of his good health and is enjoying a prolific solo career.
McCartney, 78, like any other great artist who has been making albums for more than half a century, has his share of clunkers. But so have legends such as Bob Dylan and Neil Young, who would be etched in the stone of a rock Mount Rushmore along with McCartney.
It's time to celebrate "Flaming Pie," which received lukewarm reviews when it was released in 1997. Some scribes slammed "Flaming Pie."
However, "Flaming Pie," which was re-released July 31 as a box set, is hardly a misfire. "Flaming Pie," which harkens to his simpler Beatles days, is one of the finest works created by McCartney.
The project is a reminder that McCartney is at his best when writing simple songs. Think "Blackbird" and "Yesterday."
The eclectic "Flaming Pie" is comprised of rave-ups, ballads and jams. "The Song We Were Singing," an ode to his days with the Fab Four, and the pretty "Calico Skies" are gems, which are unfortunately buried.
When McCartney tours, those songs can't be touched. There are certain Beatles songs that he must play, and he typically adds one or two new ones each tour to freshen his set. And then there are songs from his Wings era and other solo material.
But McCartney was wise enough to revisit the "Flaming Pie" material. One of his finest solo tunes is the sweet and sad "Little Willow." The cut was one of the songs inspired by the news of his wife Linda McCartney's breast cancer, which took her life in 1998.
"Flaming Pie," which is comprised of five CDs and two DVDs, was the beginning and ending of an era for McCartney.
It was the first time his son James McCartney played on one of his father's albums. James nails the guitar solo on "Heaven on a Sunday." It was the last album to feature Linda's vocals. It was the final time Beatles producer George Martin arranged a McCartney song.
Martin, who should have been regarded as the fifth Beatle, was extraordinarily close with McCartney. During a late '90s chat with Martin, I asked if he ever felt guilty for not cultivating the songwriting genius of George Harrison.
"No, I was too busy working with the two greatest songwriters of the century," Martin responded. The elegant composer, conductor and arranger waxed about McCartney's brilliance. "There is no one quite like Paul," Martin said.
We talked about how McCartney might be the most unsung musical genius. Yes, McCartney crafted a few albums that are best left forgotten. No one is clamoring for 2001's "Driving Rain" or 1983's "Pipes of Peace."
However, McCartney has hit a number of balls out of the park post-Beatles. There's the obvious classics, such as 1973's "Band on the Run," in which McCartney delivered by displaying all of the tools in his vast pop arsenal. And 1971's "Ram," like many of McCartney's albums, failed to receive its due upon release, but it certainly stands up.
McCartney has crafted nearly 20 solo albums, and "Flaming Pie" is right up there with his early '70s material. McCartney, who was 55 when the album was released, created a couple of subtle, clever and hook-laden tracks. McCartney, who was at his most thoughtful while writing the "Flaming Pie" material, is at his best throughout the project by delivering sweet, reflective and melancholic tunes. The box set will make a great gift for a McCartney/Beatles fan.
There are jams with Steve Miller, ELO's Jeff Lynne and his longtime pal Ringo Starr. His interplay with Miller, in particular, is loose and inspired. McCartney's best solo work is when he doesn't overthink. When McCartney just lets his melodic gifts take over, he's on another level. The plethora of home recordings and outtakes from "Flaming Pie" offers a window inside the fascinating world of McCartney.
And then there are the excerpts from his late, lamented radio show "Oobu Joobu." Much is revealed. One of the highlights is when McCartney trekked to a cooking class his late wife attended. McCartney happens upon the chords to Flaming Pie's "Young Boy" while Linda honed her culinary skills.
McCartney strumming along in the kitchen reminds me of a recent interview with singer-songwriter Nick Lowe, who spoke about what it was like watching his father-in-law Johnny Cash mess with his acoustic guitar each morning clad in pajamas while breakfast was prepared.
The studio tour, in which McCartney explains each instrument played on "Flaming Pie," is edifying. There's also a cool little book with rare photos. The album is for all the critics who have derided McCartney's solo material as merely a trifle.
It's worth looking back at the charismatic Liverpudlian's incomparable career and marvel at what he's accomplished. McCartney is a unique songsmith who is one of the most melodic and innovative bassists in rock history. McCartney also continues to create. 2018's "Egypt Station" is a solid work, particularly for a musician approaching octogenarian status. If anyone would like to compare future projects with an album, size it up with "Flaming Pie," when McCartney was operating at the height of his post-Beatles power.
It's beyond a shame that Lennon's creative flame was extinguished by a psychopath. Who knows what Lennon would have created or if he would have reunited with McCartney?
But don't blame McCartney for surviving and at times thriving without his Beatle pals. Pick and choose from McCartney's rich musical canon and enjoy.
---