Sports > Gonzaga basketball
Recap and highlights: No. 1 Gonzaga races past Northwestern State
Dec. 21, 2020 Updated Mon., Dec. 21, 2020 at 9:39 p.m.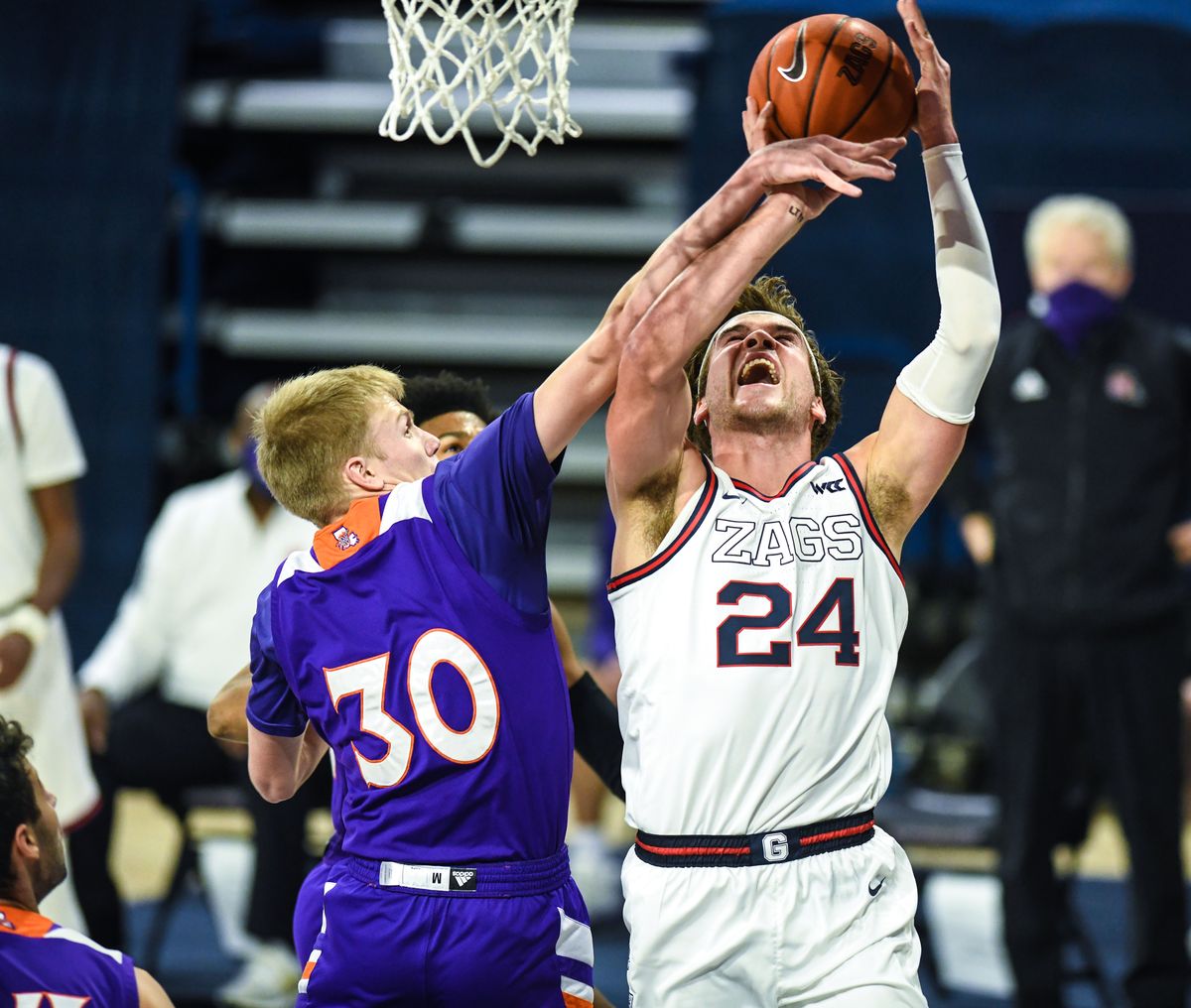 Gonzaga forward Corey Kispert (24) battles Northwestern State guard Trenton Massner (30), Monday, Dec. 21, 2020, in the McCarthey Athletic Center. (Dan Pelle/THESPOKESMAN-REVIEW)
Corey Kispert had 27 points to lead No. 1 Gonzaga past Northwestern State 95-57 on Monday night at the McCarthey Athletic Center in Spokane.
The Bulldogs (5-0) had nine players score as they raced past the Demons (1-8) in the second half.
Anton Watson scored 15 points for Gonzaga. Drew Timme and Jalen Suggs each added 12 points and freshman Dominick Harris chipped in 10.
Guard Carvell Teasett led Northwestern State with 16 points.
The Zags zipped out to a 10-point lead 4:30 into the game, but led just 43-30 at the half.
Gonzaga went small out of the break, replacing starting forward Watson with guard Andrew Nembhard, and used a potent fast break to separate from Northwestern State early in the half.
With the lead at 64-39 with 11:45 to play, Gonzaga pulled most of its starters and got some minutes for the underclassmen.
That's when Watson, a sophomore who went to Gonzaga Prep, started to make plays on the defensive end. He grabbed seven rebounds and had game-highs with four steals and three blocks.
GU dominated inside, holding the rebounding edge over the Demons 46-22. The Zags also had 50-22 advantage in paint points.
Timme had eight rebounds in 25 minutes. Suggs had seven rebounds and seven assists in 23 minutes. Kispert also had seven rebounds. The senior played 28 minutes.
Gonzaga shot 55% and held the Demons to 37.5% shooting. The Zags made 8 of 21 3-pointers, NWSU was 7 of 25.
The two teams meet again tomorrow at 6 p.m. in the Kennel.
Gonzaga Bulldogs / YouTube
First half
14:53 – Gonzaga 12, NW State 2: Corey Kispert has 8 points to lead the Bulldogs to a double-digit lead by the first media timeout.
Kispert has made two catch-and-shoot 3-pointers and has been aggressive getting to the rim off the dribble.
The Zags have used their 1-2-1-1, 3/4-court trap to slow the Demons and get them starting the offense later in the shot-clock then they would like. 
Northwestern State got their first two points when guard Trenton Massner stole the ball from Drew Timme in the GU back court and finished with an uncontested two-handed dunk.
11:38 – Gonzaga 19, NW State 8: Corey Kispert is up to 11 points on three made 3-points but the Northwestern State Demons are sticking with the No. 1 Zags. 
7:04 – Gonzaga 26, NW State 17: The Demons are hanging around on the back of an 8-0 run.
Carvell Teasett leads Northwestern State with six points. 
Drew Timme finished a nice feed from Andrew Nembhard with a big dunk to put the Zags up 22-15.
3:38 – Gonzaga 35, NW State 25: The Zags are shooting just 45.5% as the Demons continue to stick around.
Carvell Teasett has eight points to lead Northwestern State, who have had seven players score.
Gonzaga point guard Jalen Suggs attempted and made his first 3-pointer of the game. GU is 4 of 9 from 3. Corey Kispert has the other makes.
Halftime
Gonzaga 43, NW State 30: Corey Kispert has 15 points on 5-of-7 shooting and the Bulldogs lead the Demons.
Drew Timme has scored eight points, Jalen Suggs has added seven and Anton Watson has six for the Zags.
Carvell Teasett leads Northwestern State with 10 points. The guard is 4-of-7 shooting and 1 of 4 from 3-point range. The Demons are 4 of 17 from 3.
The Zags hold the rebounding edge 24-14 behind five each for Kispert and Suggs. Suggs also has four assists.
Dominick Harris scored his first Gonzaga points on a 3-pointer.
GU is 5 of 12 on 3-pointers, Kispert has made three.
Harris has played eight minutes. Fellow freshman Julian Strawther and Oumar Ballo have also played. Strawther has two points. 
Second half
15:54 – Gonzaga 55, NW State 37: The Zags come out red-hot to start the half and stretch their lead to as much as 20.
A 10-3 run put the Bulldogs up 53-33.
Gonzaga has made 7 of its 8 shot attempts this half.
Corey Kispert has 21 points to lead GU.
The Zags started guard Andrew Nembard in the second half, replacing forward Anton Watson.
11:45 – Gonzaga 64, NW State 39: A 7-0 run for the Bulldogs has them up 25 on the Demons.
Three Zags are in double figures, with Corey Kispert leading the way with 23 points. Jalen Suggs and Drew Timme each have 12.
GU is shooting 64.7% this half.
8:00 – Gonzaga 76, NW State 45: A nice defensive stretch from Bulldogs forward Anton Watson sparks an 8-0 run for the Zags.
Watson was able to get his hands on loose Demons' passes, block a shot, and ignite a fast-break dunk with a steal and outlet pass.
The Gonzaga Prep grad is up to 10 points and has three blocks and two steals.
The night appears finished for a majority of the Zags starters.
Corey Kispert has 27 points on 10-of-13 shooting. Guard Jalen Suggs has 12 points, seven assists and seven rebounds. Forward Drew Timme has 12 points and eight rebounds. 
3:55 – Gonzaga 85, NW State 53: Nine Zags are on the score sheet as GU continues to close this game out.
Freshmen Dominick Harris, Julian Strawther and Oumar Ballo have all scored for Gonzaga.
Harris has 10 points. The guard from California has shown a nice burst off the dribble in transition to get to the rim.
Pregame
Individual leaders
Team stats
Game preview
Local journalism is essential.
Give directly to The Spokesman-Review's Northwest Passages community forums series -- which helps to offset the costs of several reporter and editor positions at the newspaper -- by using the easy options below. Gifts processed in this system are not tax deductible, but are predominately used to help meet the local financial requirements needed to receive national matching-grant funds.
Follow along with the Zags
Subscribe to our Gonzaga Basketball newsletter to stay up with the latest news.
---