Sports
A Grip on Sports: As Adam Morrison's No. 3 joins John Stockton's 12 in the McCarthey rafters, it's time to celebrate a trait that runs through their – and Gonzaga's – basketball DNA
Thu., Feb. 27, 2020 A GRIP ON SPORTS • Adam Morrison's No. 3 jersey rises to the McCarthey Athletic Center rafters tonight. It's a deserved honor in so many ways.
•••••••
• We have a theory. It concerns how Gonzaga University, a relatively small college in an out-of-the-way corner of America, has become one of the biggest basketball powers in the nation.
You can point to Mark Few if you want and on the surface, that's right. But there is a character trait that flows through Few that has also flowed through the best players who've ever worn a Gonzaga uniform. And it runs deeper in Few and those great GU players, the ones who have set the tone for the past 20 years, than about anywhere I've ever experienced.
It starts with, as does much of Gonzaga's basketball history, John Stockton.
Simply put, John Stockton is the most competitive basketball player I've ever been around. And by "competitive" I mean Stockton hates to lose. Is there another word deeper than hate? If there is, then I should use it.
It's that hatred that drove Stockton from the outdoor hoops of Saint Al's to the NBA and beyond. And helped elevate Gonzaga basketball.
But if there is a 1A to Stockton's 1, it is Morrison. The hatred of defeat runs as deep in him as it did in Stockton. And he came along at a time when GU needed his intensity – an intensity that not only lifted another physically limited star into the college basketball firmament, it also allowed the Bulldogs to shine brighter. It helped brand the program as one that was here to stay, longer than the Jerry Tarkanian's UNLV squads, longer than John Thompson's Georgetown Hoyas, longer than Brad Stephens' Butler Bulldogs, longer than any of the non-blue-bloods who helped shape a college basketball decade.
Where did Morrison excel? If you answered "scoring," you only earned half credit. The reason Morrison was the nation's leading scorer his junior year was his hatred of losing. It drove him everyday.
If you're wondering how I know, it's because I've known Adam since he was in the sixth grade. That hatred of losing bubbled really close to the surface then and bubbled over at times. But like any skill, he honed it through repetition. Other teams tried to get him to lose his cool when he was young. Every year it worked less and less. As he transitioned from the AAU courts of Spokane through his time at Mead High, he channeled that energy into a force that helped him succeed.
Mead High coach Glenn Williams learned to run every practice drill with a winner and a loser. That way Morrison would explode through it, and carry his teammates along. Games were the same way. His senior year, the Panthers played four State games in four days in Tacoma. By Saturday night their depth issues caught up with them a bit and they lost the 4A title to Aaron Brooks and Franklin. It was an exceptional game that capped an exceptional week.
By then Gonzaga had already offered a scholarship to the best player to come out of the Spokane area in years. He had already accepted. And he knew he could compete at that level.
How? He had been competing against the nation's best players during the summer since eighth grade. Even then, when playing for Eastern Washington Elite, he hated to lose. His coach, Jim Psomas, will tell you he still has yet to coach a player that worked harder in practice, recalling how often after a mundane shooting drill, Morrison would be drenched in sweat. He practiced like he played.
That attitude carried him, and the Zags, far.
Oh sure, Morrison had his weaknesses, as every player does. He was indifferent to defense, believing, it seemed, his energy was better spent on the offensive end. And maybe it was. During his last two years at Gonzaga, the Bulldogs were in the 100s (not the best) in adjusted defensive metrics, according to Ken Pomeroy. It was the area that Few's program has tightened up the most since he's left. But they also won more than 25 games each of those seasons.
And Morrison took a lot of shots, which is guaranteed to cause friction – at first. But players love to win and when they realize their best opportunity to win revolved around the skinny kid with the thin mustache scoring, they adjust to it. And learn from it.
When you look up to the McCarthey rafters after tonight and see Stockton's 12 and Morrison's 3 (along with Frank Burgess' No. 44), pause a second and realize all the ways they have meant something special to the school. At the top of the list is will. The will to win. And the hatred of the alternative.
•••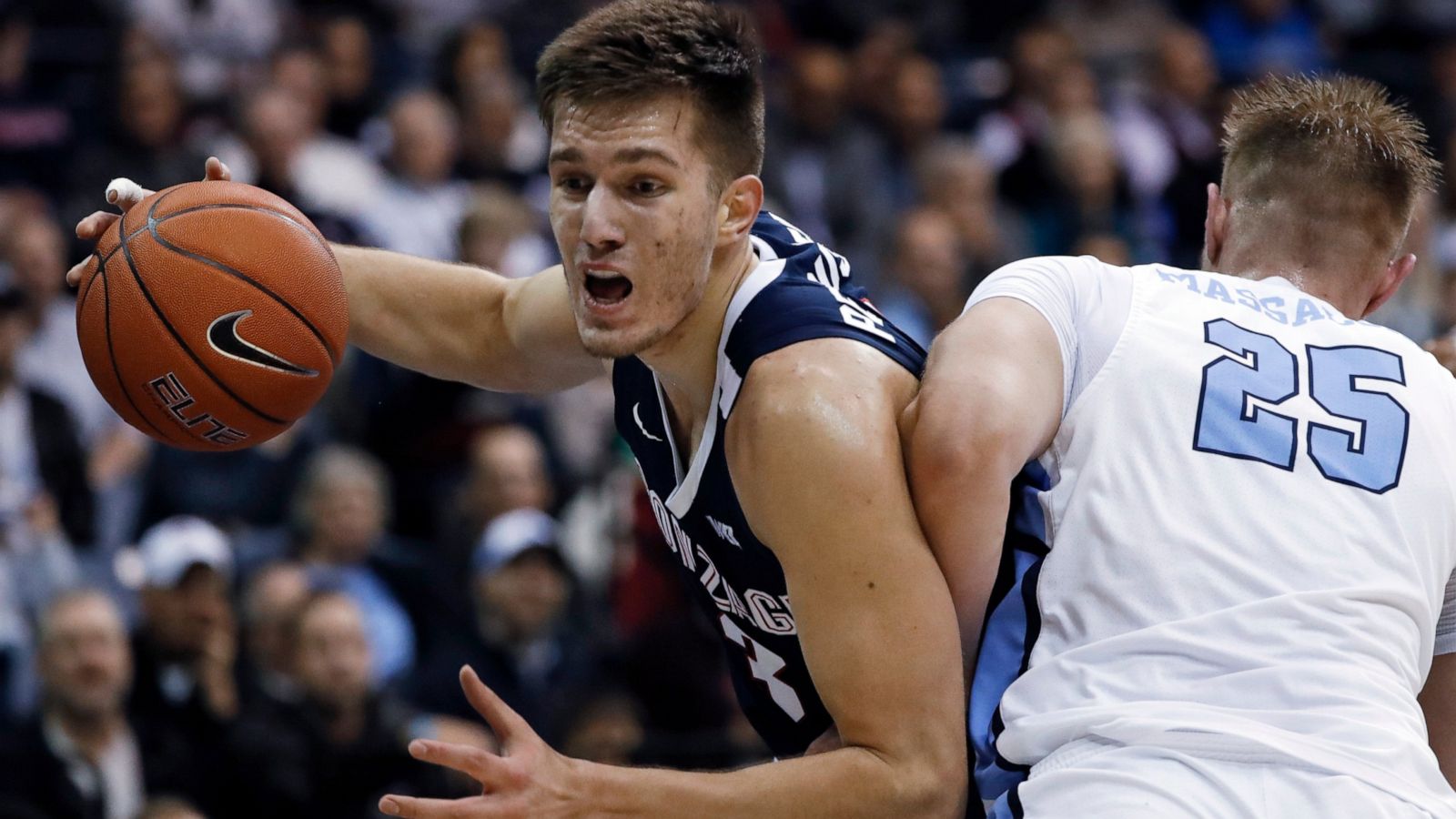 Gonzaga: John Blanchette saw as many of Morrison's Gonzaga games in person as just about anyone, so it is appropriate he writes today's column on the award ceremony tonight in the Kennel. … There will also be a game, a preview of which Jim Meehan takes care of as well as a look at the key matchup with San Diego. … It's a big recruiting weekend for the Zags, with a couple of the top 2021 players in on visits. Jim has a story on that as well. … The Toreros come into town a bit shorthanded, but they know how good Ryan Woolridge is. … Elsewhere in the WCC, BYU has scheduled a tournament for next season. … The Cougars have a junior who is climbing up the women's record book. … Hank Gathers is one of the best players to ever play in the conference. His story is also the saddest. Loyola Marymount will honor him with a statue this week.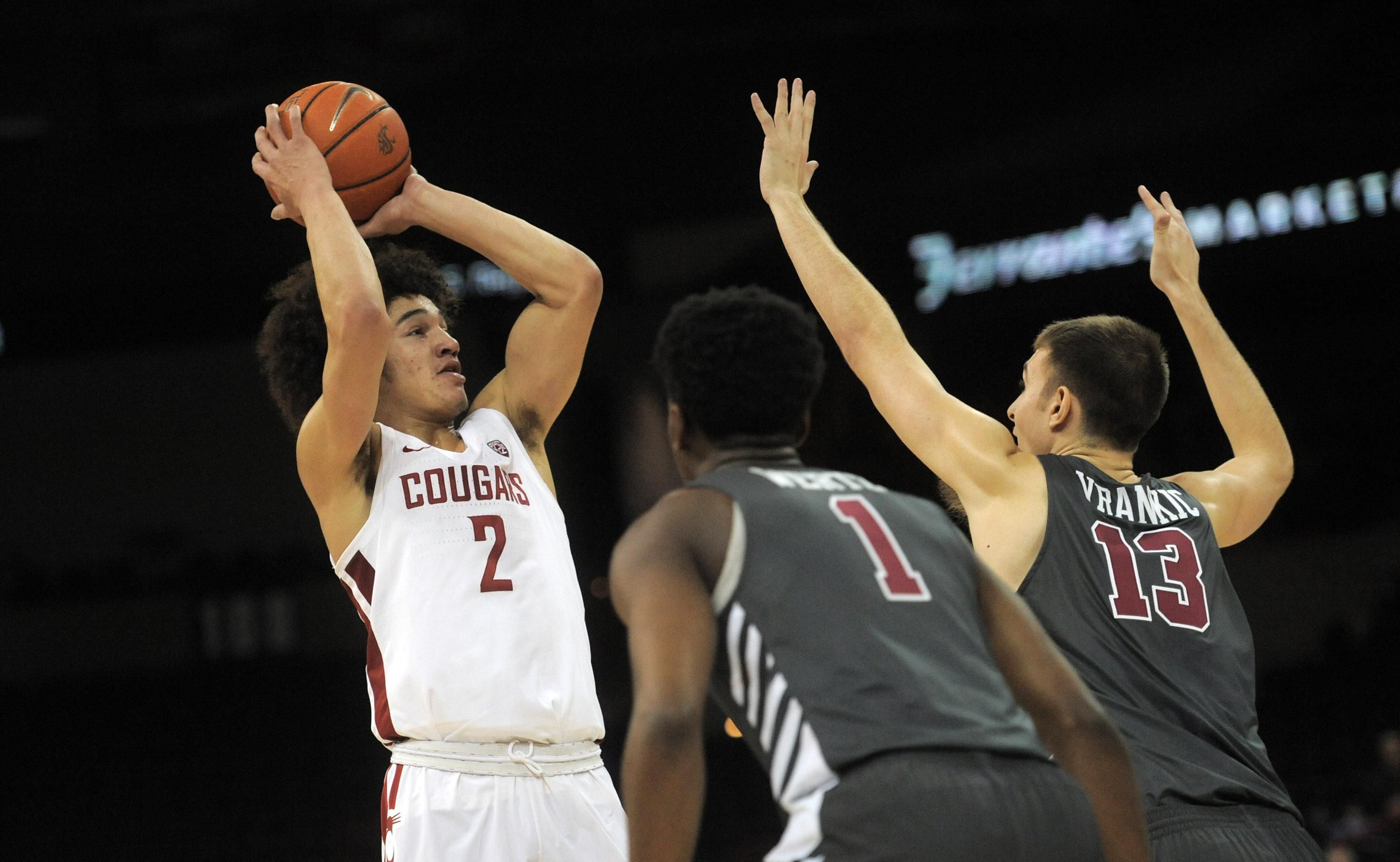 WSU: The Cougars have lost three consecutive games. At the core of those losses are a couple of statistics of which they are not proud. Both have to do with the 3-point shot. Theo Lawson delves deeper into the numbers in this story. … Around the Pac-12, Washington is fixated on controlling CJ Elleby in Friday's rematch with WSU. … Oregon's Payton Pritchard hasn't done well against Oregon State. … Colorado has a critical road swing this weekend, starting at California. …Stanford's weekend has already begun, as the Cardinal handled visiting Utah with a 70-62 victory. … USC would like to get healthy. Arizona, which has played a lot of close games, is in town. … The fans are returning to UCLA. The Bruins host Arizona State tonight. … In football news, these stories abound at the NFL combine. And it makes one wonder why players didn't so this in the previous three years. … At least some assistants are staying at Colorado.
Whitworth: Garrett Hull brings the "grit and heart" to the Pirates. As Dan Thompson tells us, nothing personifies that more than his journey back from a bad 2018 knee injury.
NIC: The Cardinals finished their season with a perfect NWAC slate in 16 games.
Preps: Dave Nichols talked with Larry Weir yesterday for the latest Press Box pod. … He also has a story on West Valley wrestler Gaje Caro who won a state title last week. … Cheney did well in swimming this season and Johnathan Curley tells us why. … There was more boys basketball action in Idaho last night and we have 5A district results as well as the other levels.
Mariners: We can pass along two stories on young M's pitchers, one we missed from the other day. … Seattle won again yesterday.
Seahawks: Russell Wilson is not a fan of the proposed collective bargaining agreement. … There are other non-Jadeveon Clowney questions for the Hawks. … A former Seahawk is headed to jail.
Sounders: Seattle is ready to match up with CD Olimpia tonight at CenturyLink. The Sounders have an edge with two away goals, so a low-scoring draw as well as a win will move them through in Champions League play.
•••       
• We will be back with our TV Take for the early (6 p.m.) Gonzaga game tonight. Until then …
Local journalism is essential.
Give directly to The Spokesman-Review's Northwest Passages community forums series -- which helps to offset the costs of several reporter and editor positions at the newspaper -- by using the easy options below. Gifts processed in this system are not tax deductible, but are predominately used to help meet the local financial requirements needed to receive national matching-grant funds.
Subscribe to the sports newsletter
Get the day's top sports headlines and breaking news delivered to your inbox by subscribing here.
---