News > Crime/Public Safety
As firework sales increase in Idaho, so do concerns over safety in Spokane, where they're banned
July 1, 2020 Updated Wed., July 1, 2020 at 9:09 a.m.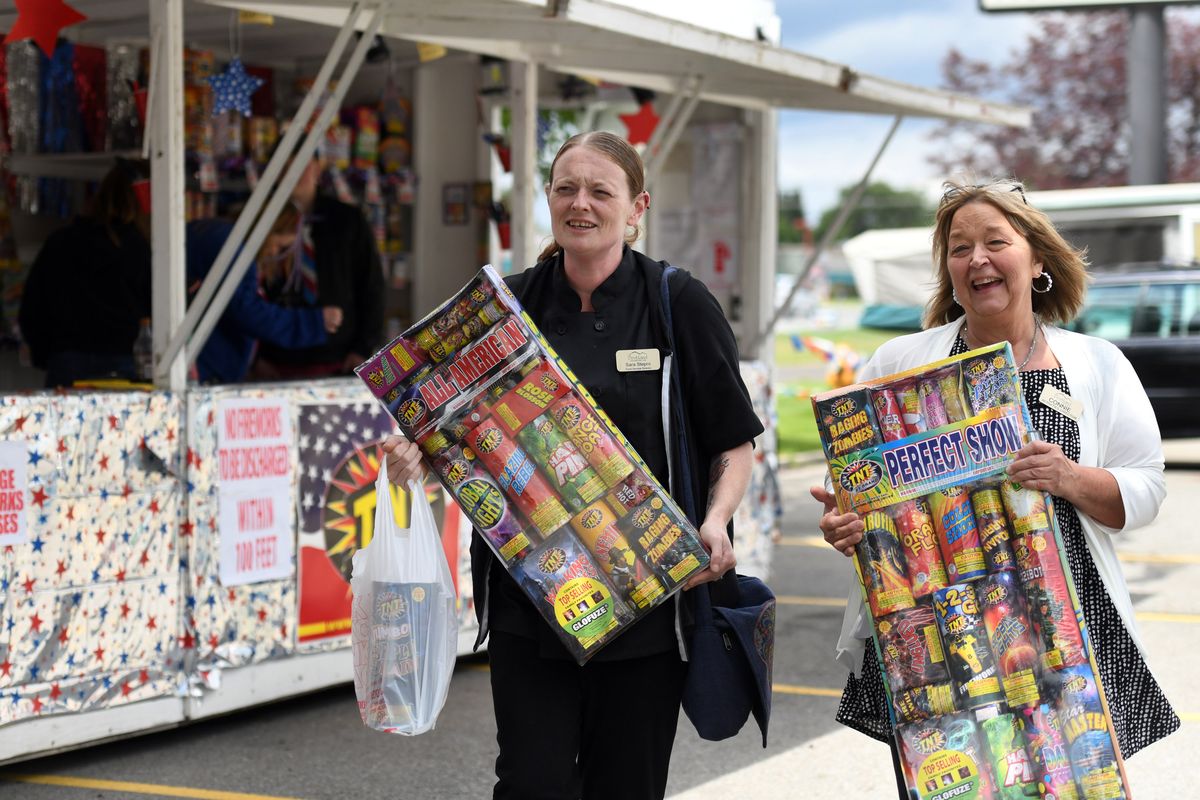 "They're going to love it," Connie Lussier, right, activities director for Bestland Senior Living Community said while buying fireworks with Bestland kitchen manager Sara Stepro in Coeur d'Alene on Tuesday (Kathy Plonka/The Spokesman-Revie)
Cindy Richard sat under a tent, near the booth where she has been selling more fireworks than usual, as rain poured down in Post Falls on Tuesday.
While the weather deterred people from stopping to buy fireworks for the Fourth of July , Richard said her booth's recent firework sales have doubled from last year's and that they're still expecting a significant increase in the following days.
Richard manages a fireworks booth that donates a share of its proceeds to The Guardians Foundation, a nonprofit that provides services for homeless people and veterans.
She said she's seen several Washington residents – judging by their license plates – stop and buy fireworks.
Many places where the sale and use of fireworks is legal have seen a tremendous boom in sales – Idaho included.
But the increase in sales has raised some concerns about a potential increase in firework-related injuries and accidents, especially across the stateline in Spokane, where fireworks have been banned for almost three decades.
The sale and use of consumer fireworks is now illegal in Spokane, Spokane Valley, Cheney, Millwood, Liberty Lake and unincorporated areas of Spokane County, said Jaime McIntyre, Spokane Fire Department community risk reduction manager.
Idaho, on other hand, allows the sale and use of "safe and sane" fireworks, which are common fireworks like sparklers, cone fountains, wheels and whistles, according to a Bureau of Land Management news release, though aerial fireworks remain illegal.
Greg Rogers, fire marshal for the Spokane Valley Fire Department, said he expected injuries and incidents to increase this year for the first time since local fireworks bans began to go into effect.
"I don't think people realize that they're handing somebody a 1,200-degree device that can have some serious complications," he said.
Sparklers caused a wildfire in the Trent area, near Spokane Valley and Otis Orchards, he noted.
"This is probably the earliest that I've actually seen an incident in the time that I've worked here," said Rogers, who's been working at the Valley fire department for about five years.
Despite the concern about injuries and fires, Rogers said recent rainfall and cool weather may be a mitigating factor. Mike Bass, Kootenai County Fire & Rescue's deputy fire marshal, echoed that sentiment.
Some of the fireworks from Richard's booth have sold out and sales for $100 packages have increased. Richard attributed those trends to canceled events and people's desire to make their own fireworks memories.
"I think it's devastating for people to have some events canceled, you know. It's a time to get together with your family and see some fireworks," she said.
Richard said she expects sales to double again on the third and Fourth of July, which tend to be the busiest days for firework sales.
Others selling fireworks nearby in Post Falls said they had seen twice as many sales this year compared with last year.
This Fourth of July season will look different from last year's because of COVID-19 and restrictions placed on gatherings, said Rogers.  But there's a myth going around that all events have been canceled, when that's not the case, he said.
Although the Riverfront Park fireworks show has been canceled, the city of Spokane and the Spokane Tribe of Indians have planned other celebrations, despite COVID-19, Rogers added.
Once the consumer fireworks bans in Spokane County were passed, the average number of reported firework-related fires declined from 104 to about five, while injuries have decreased from 29 to about five, McIntyre said.
"The reason that the ban is in effect is to protect our community and our first responders," she said. "Before the ban was in place, we actually had to stack up 911 calls, so we were not able to respond to medical calls because we were out responding to so many fires."
This year has been different from anything people have experienced , but officials expect people to continue to make smart choices on behalf of their community, McIntyre said.
"I like to believe in the efficiency of our community and people understanding the risks associated with that," she said.
Local journalism is essential.
Give directly to The Spokesman-Review's Northwest Passages community forums series -- which helps to offset the costs of several reporter and editor positions at the newspaper -- by using the easy options below. Gifts processed in this system are not tax deductible, but are predominately used to help meet the local financial requirements needed to receive national matching-grant funds.
Subscribe now to get breaking news alerts in your email inbox
Get breaking news delivered to your inbox as it happens.
---