News > Spokane
Bernie Sanders, Joe Biden nearly tied in Washington presidential primary after first ballots counted Tuesday
March 10, 2020 Updated Tue., March 10, 2020 at 10:44 p.m.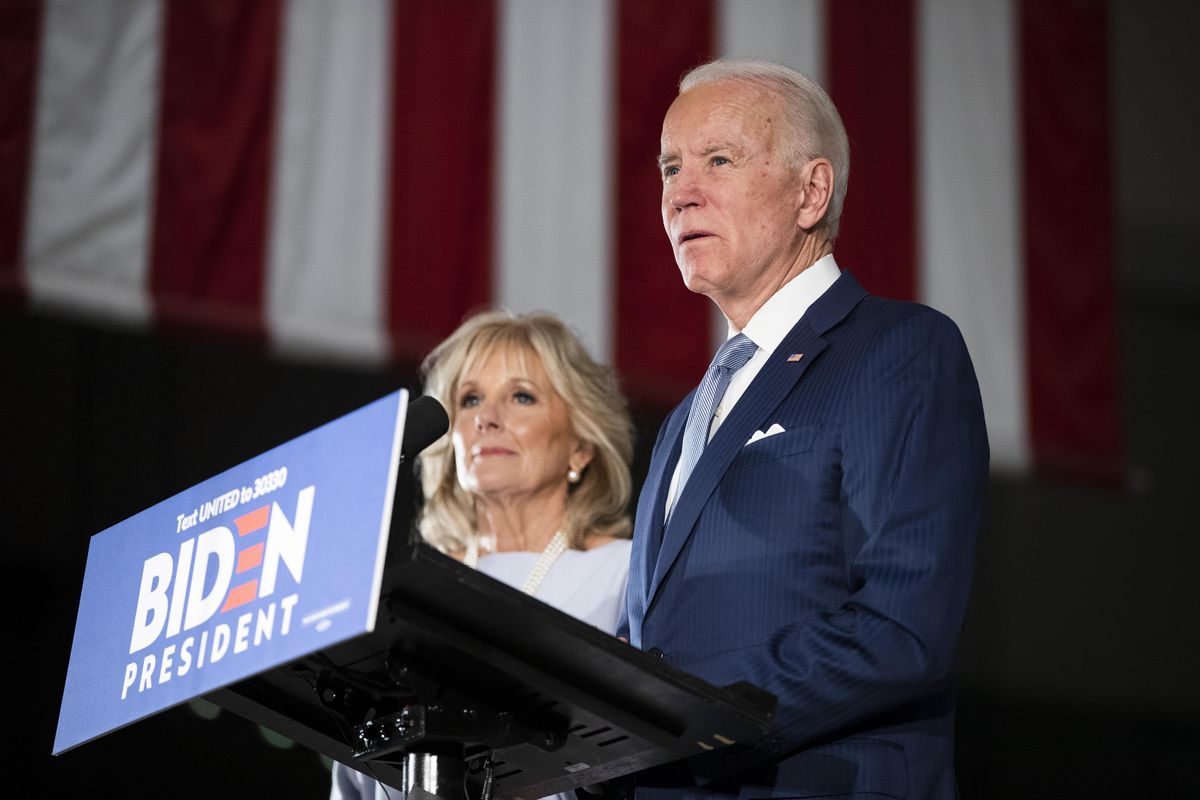 Democratic presidential candidate former Vice President Joe Biden, accompanied by his wife Jill, speaks to members of the press at the National Constitution Center in Philadelphia, Tuesday, March 10, 2020. (Matt Rourke / AP)
The first count of votes tallied in Washington's presidential primary gives Sen. Bernie Sanders a chance for a consolation prize on an otherwise disappointing evening for his supporters.
Sanders' faithful in Spokane remained hopeful Tuesday, though his path to the Democratic nomination narrowed as former Vice President Joe Biden posted easy wins in Michigan, Mississippi and Missouri and appeared headed to victory in Idaho.
With the count in Washington so close, it likely will take days before it's clear who ultimately will win the state.
As of Tuesday night, Biden was leading Spokane County with 19,435 votes, just 228 votes ahead of Sanders. Statewide, Sanders was leading by just a few hundred votes with 334,641 to Biden's 332,701.
There are still more than 235,000 votes to process statewide, not including ballots that will arrive in the mail in the coming days.
On the Republican side, President Donald Trump – the only listed candidate – collected 98% of the first ballots counted statewide for the GOP. Fewer than 8,000 votes out of 529,000 cast were for write-in candidates.
About a dozen Sanders supporters filled a corner of the Lucky You Lounge west of downtown Spokane on Tuesday evening, watching returns come in over beer, nachos and other pub fare. Most urged caution in interpreting early results, noting the size of the ballot and the lengthy period people had to vote.
There were no public watch parties publicized by the Biden campaign in Spokane.
Joanne Fleming attended the Democratic National Convention in 2016 and drove around supporters of Sanders. She's been organizing for the campaign in Spokane and said she didn't believe Biden could generate the same kind of enthusiasm among Democratic voters that Sanders could.
"That's not a knock against Biden. It's just not who he is," Fleming said.
She criticized the narrative that had emerged in the national media following Biden's strong Super Tuesday showing, noting all of California's delegates had not been assigned yet and pointing out a similar effort to unite the party under Hillary Clinton in 2016 proved unsuccessful for national Democrats.
Fleming said if Biden were the nominee, she'd write in Sanders in the general election.
Others who attended the gathering Tuesday had switched their allegiance to Sanders from other candidates. Lance Gurel, a Democratic candidate for state representative in the 4th Legislative District who previously ran for a Spokane Valley City Council seat, agreed with Fleming that Sanders would have a better chance of energizing young voters.
"I had my ballot until after Super Tuesday, and I voted for Bernie," said Gurel, who said he supported Clinton at the caucuses in 2016 and was previously supportive of Elizabeth Warren.
Jeff Beaulac and William Kilpatrick shared a quesadilla and some nachos as Biden was projected on a big screen in the lounge, addressing supporters after he was declared the winner of Michigan, Missouri and Mississippi's primaries. Beaulac, who recently petitioned for the return of his voting rights after a criminal conviction, said he was a fan of Kamala Harris but appreciated Sanders' criminal justice ideas.
"I do think Bernie's going to need a strong showing in Washington," Beaulac said.
Kilpatrick said that may be so, but he was interested to see Biden and Sanders head-to-head on the debate stage. Kilpatrick got involved in politics in Western Washington, he said, because of Sanders, eventually becoming vice chair of the Democrats in Mason County before moving to Spokane in November.
"For me, it's the environment," Kilpatrick said of his support for Sanders. "All the other stuff doesn't matter."
First ballot returns were reported Tuesday in a race that's changed vastly in the 18 days Spokane County residents have had their ballots. Turnout for the primary also was already larger through Monday than four years ago, when Democrats picked their delegates via caucus, not a primary.
The switch, requiring a change in state law, was made in an effort to give state Democrats more of a voice in the presidential nomination process, and potentially drum up interest from candidates who wouldn't otherwise come to the Pacific Northwest. But fears of the spread of the coronavirus, which caused the cancellation of Biden and Sanders rallies in Ohio on Tuesday evening, may have played a part in the relatively quiet campaign season in Spokane.
The field also narrowed significantly since Feb. 22, with only three of the 13 candidates on the ballot – Biden, Sanders and Rep. Tulsi Gabbard of Hawaii – still actively campaigning for the nomination. Those votes for other candidates who have suspended their campaigns are still valid, and if any obtains either 15% of the vote statewide when results are certified March 27, or 15% of the vote in a single Congressional district, that candidate will receive delegates at the national convention in Milwaukee this summer.
After a flurry of campaign ads from Michael Bloomberg in the district, late local media buys were reported by both Sanders and Massachusetts Sen. Elizabeth Warren, who suspended her campaign last week.
Sanders supporters said early in the contest they had an established network of volunteers from his unsuccessful run four years ago who were ready to campaign in Washington. He and Warren were the only two to visit the state before primary day, both opting for appearances on the west side after Sanders made two appearances in Spokane ahead of the 2016 caucus.
Local journalism is essential.
Give directly to The Spokesman-Review's Northwest Passages community forums series -- which helps to offset the costs of several reporter and editor positions at the newspaper -- by using the easy options below. Gifts processed in this system are not tax deductible, but are predominately used to help meet the local financial requirements needed to receive national matching-grant funds.
Subscribe now to get breaking news alerts in your email inbox
Get breaking news delivered to your inbox as it happens.
---