A&E
'I work out for a lifetime': Vernon Davis has switched from the NFL to fitness, music and film
May 13, 2020 Updated Thu., May 14, 2020 at 8:12 a.m.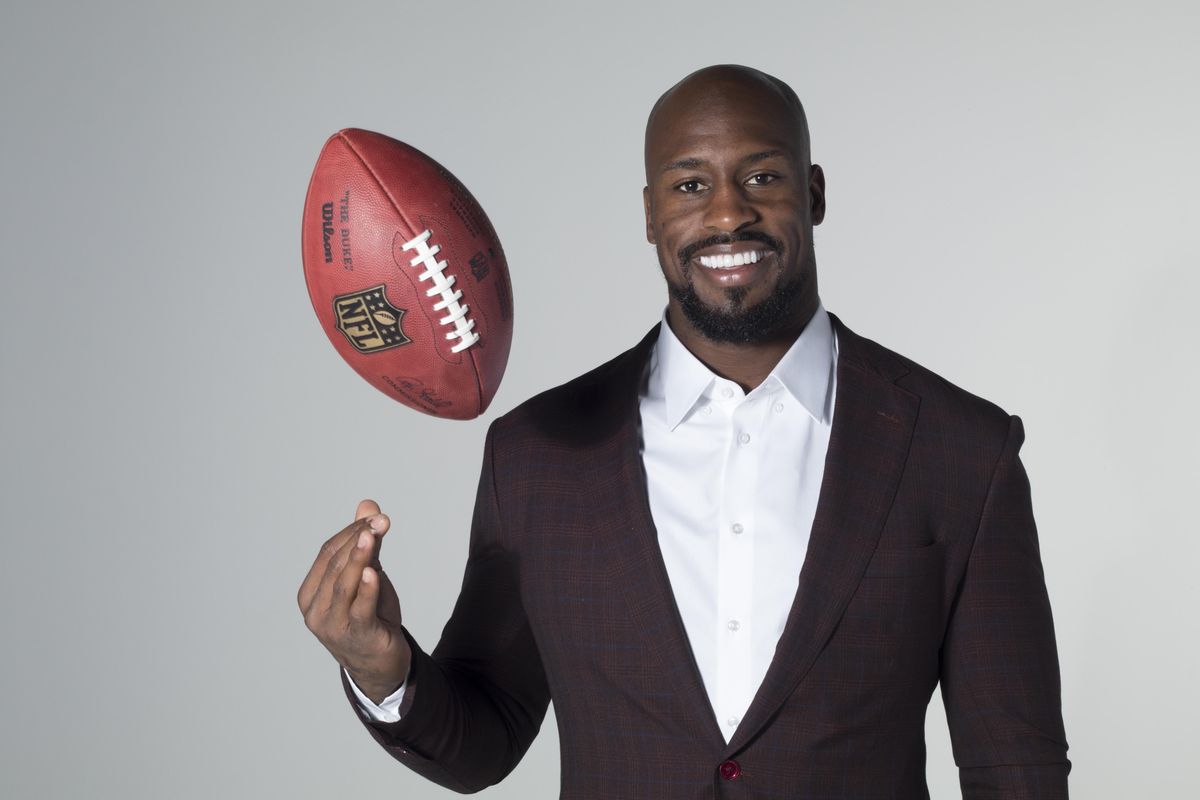 Retired NFL star Vernon Davis, 36, has traded the gridiron for Hollywood. (MICHAEL AVON)
Most guys take it easy when they retire. Most guys aren't Vernon Davis. After announcing the end of his storied 14-year NFL career courtesy of a skit on the Fox Super Bowl pregame show in February, the strapping tight end, who caught 583 passes and scored 63 touchdowns, started a new life.
Davis, 36, who won a Super Bowl with the Denver Broncos in 2016, is producing and starring in the film "Red Winter." The eloquent potential Hall of Famer also is the host of "Vernon's Timeless Fitness" on Instagram Live every Friday at 1:30 p.m. Davis, who has been ripped since he starred as a member of the Maryland Terrapins, will run through exercises everyone can add to their fitness repertoire.
Davis recently called from suburban Maryland to talk about the importance of staying in shape during the coronavirus, who is the best quarterback he's ever seen and if he'll become the next O.J. Simpson.
For some, it's been like spring break since we've been sequestered during the coronavirus. It's been a life of junk food without workouts. How do we avoid that pitfall?
I think it's about embracing working out as a lifestyle. People say, "Vernon, why are you so fit?" I always told people that I'm not working out to compete. I work out for a lifetime. I can use the workouts I present for a lifetime, and so can you. Working out is the foundation for living a healthy and active lifestyle. I have moments when I struggle a little bit, but I have to stay motivated.
What are some of the workouts for someone just trying to get in shape?
People can learn techniques. They can learn workouts they can do on a daily basis. It's not complicated, and it doesn't take long. I think some people think they have to work out two hours a day, but that's not so. If you work out for 30 minutes or 15 minutes a day, you're putting yourself in a good position.
How can you appeal to the mindset of guys like me who love to compete but have a difficult time working out by themselves?
Have the view that you're in a race with calories. The goal for you should be burning more calories than you can consume.
What are the best exercises to do without hitting the gym?
You will set yourself up for physical success by doing pushups and situps. You don't have to be in a gym to be physically fit.
But we should mix up the routines to keep it interesting, correct?
Absolutely. One day you can do cardio, the next do hammer rows and face pulls. Follow that up with squats and lunges. The next day, run a mile. Then do pushups and situps. If you want to go in another direction, buy an exercise band. Just exercise every day for at least 15 minutes. It won't take long for you to see the difference.
Will you have anyone working out with you?
I'll have my personal trainer, Myron Flowers, who I've trained with for a long, long time. Myron is amazing. He also works with (Buffalo Bills wide receiver) Stefon Diggs and (Davis' younger brother, former NFL cornerback) Vontae Davis. Myron makes a difference.
How much of your workout is pulled from your NFL regimen?
It all correlates, but we're not going to do anything you can't do at home.
You're covering the workout aspect, but the other half of the equation is nutrition. What's your diet?
Myron introduced me to nutrition. I cut out fried food. I stay away from pork or bread. I eat greens. I love turkey, vegetables and fish. I don't eat a lot of red meat.
What's remarkable is that you never had surgery during your career.
It's true. I never had surgery or faced any hardcore injuries. I think my workout regimen and diet had a lot to do with that.
When did you become obsessed with working out?
I caught the bug in the seventh grade. In order for me to make it in sports, which was my goal, I had to put in the time. I always imagined that there was someone out there who was outworking me. I had this fear of losing this imaginary battle, so I worked out as hard as I could.
How over the top were you in terms of fitness?
I used to sneak out of the house when I was in the eighth grade just to work out. My grandmother didn't know I was gone. I had to put in the time.
You picked a good time to retire considering the novel coronavirus.
I wanted to give my body a break and focus on my acting career. I have three acting coaches. I've been taking sketch comedy classes. I learned that I can write sketch comedy. I'm also working on music. I've been buying beats, but I'm primarily focused on my movie.
What's the movie about?
It's called "Red Winter." It's about a couple who go on a snowmobile retreat to work on their relationship. They witness a murder, and they fight for their lives. I own 30% of the film. I'm excited about acting.
Your acting debut was your retirement skit with Rob Gronkowski before the Super Bowl. Why did you choose to announce your retirement in that fashion?
I thought it would be fun, and it was. It was cool since it surprised a lot of people. Some people were like, "My goodness, you're retiring." But I'm going from football to acting.
Will you become the next O.J. Simpson?
I don't know. I'll try to become as good as I can. I'm going to work my tail off and develop all of my skills. I'm going to work on acting just like I worked on being the best football player possible.
You should make a film with your Broncos teammate Peyton Manning, who is arguably the best athletic pitchman.
I would love it. He is very entertaining.
What did you learn from Manning and Adrian Peterson?
To just work hard and be dedicated. I've seen a lot of hard workers, like Frank Gore and Randy Moss.
Who is the best quarterback you've ever seen?
Aaron Rodgers. He is super.
What surprised you the most when you arrived in the NFL?
That everybody is fast. I would catch a ball, and a defensive lineman would be on me. The speed of the NFL players is breathtaking.
A member of the Tampa Bay Rays was slammed by media for saying it would be difficult for him to get up for a game without fans. What's your take?
The fans make the game. You can't do anything without the fans. They motivate you and bring excitement to the game.
Local journalism is essential.
Give directly to The Spokesman-Review's Northwest Passages community forums series -- which helps to offset the costs of several reporter and editor positions at the newspaper -- by using the easy options below. Gifts processed in this system are not tax deductible, but are predominately used to help meet the local financial requirements needed to receive national matching-grant funds.
Subscribe to the Spokane7 email newsletter
Get the day's top entertainment headlines delivered to your inbox every morning.
---