Municipal Judge Tracy Staab faces attorney Marshall Casey for vacancy on appeals court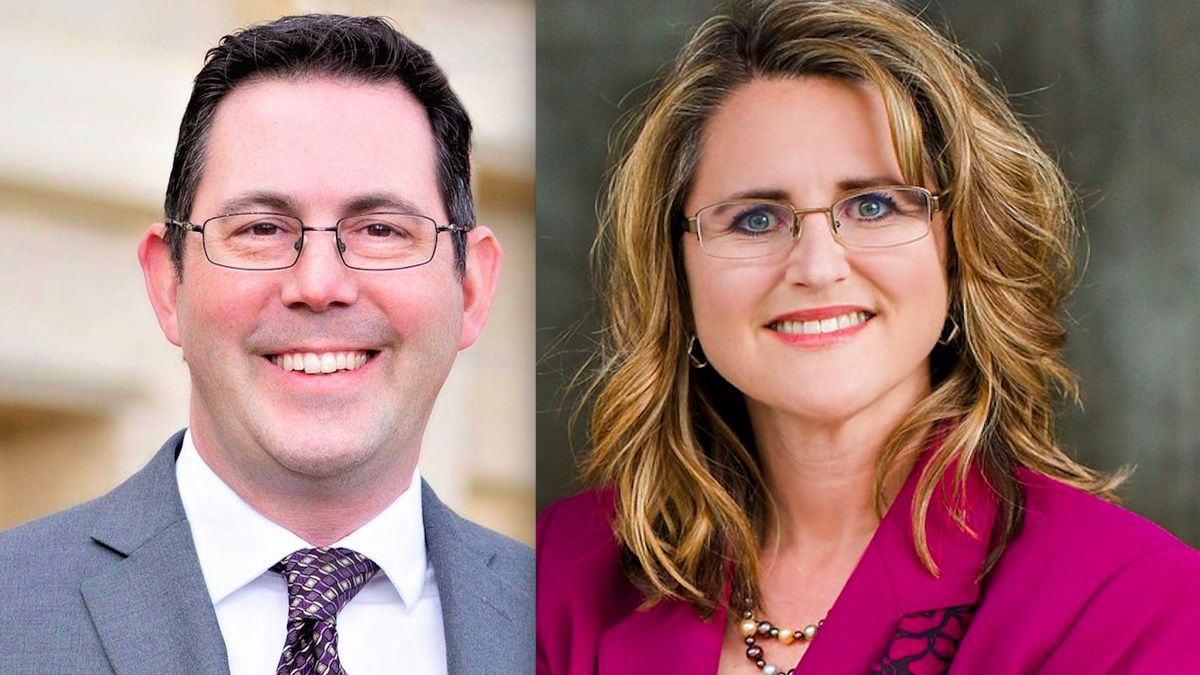 The candidates to replace retiring Judge Kevin Korsmo on the Washington Court of Appeals both argue their expertise makes them ideal for the job.
Tracy Staab, a former appellate attorney who has sat on the municipal court bench in Spokane since 2009, touts high ratings from independent bar associations in the state as the reason voters should trust her to serve in a position called upon to review – and sometimes correct – lower court rulings.
"They don't have a dog in the fight, so if they don't think you're qualified, they're going to rate you as not qualified," Staab said.
Attorney Marshall Casey said it's his closeness to clients and an awareness of the challenges they're facing that will serve him well in an appellate role.
"We need someone who truly knows what it's like to be standing with people so they understand the importance of this decision in front of them," Casey said.
Staab, 52, said she has experience in many areas of the law since being admitted to the bar in 1993. But it is her lengthy expertise in criminal law, which she said prompts a majority of the cases that are heard by the division judges at the Court of Appeals, that sets her apart.
"Having that criminal background is really important, especially because the judge that's retiring from there, Judge Korsmo, brought a lot of criminal experience," Staab said. "So, we need that in order to provide that balance and institutional knowledge to the court."
Casey's path to the legal profession was less direct. He worked in banking after graduating from Eastern Washington University with a degree in economics, choosing to go to law school in 2007.
"I came into the law because it's my passion," Casey, 44, said. "I love the breadth, and I love knowing more about the law."
It's Casey's first run for political office . He said the position appeals to him because he had been reading appellate court decisions after bringing 11 cases before the appellate courts and participating in an amicus brief to the Washington Supreme Court. Those cases illustrated to him a lack of awareness of the power of a jury and that the legal system sometimes squashes the ability for parties to be heard.
"Those kind of things really made me go, 'Geez, how long has it been since these people have been with clients, and realize what they just did?' " Casey said.
For Staab, the run for appellate court is a culmination of her career, having clerked in the appellate court and argued cases there before being named to the bench in 2009. During that time, she was the attorney of record for 70 cases before the U.S. 9th Ninth Circuit Court of Appeals and submitted briefs to the U.S. Supreme Court.
"This is an ability for me to come full circle, back to the Court of Appeals, and bring my experience as an appellate attorney, as a municipal judge, to the citizens of Eastern Washington," Staab said.
An appellate judge reads briefs brought by attorneys in lower court cases, arguing that an error occurred and should be corrected. In many cases, they also hear oral arguments from the attorneys themselves defending their clients' positions and providing interpretations of law.
Staab said based on her experience as an attorney, briefing is the most important aspect of the appellate court's work, because that's where attorneys lay out the "nuts and bolts" of their position.
Northwest Passages Virtual Forum / The Spokesman-Review
"The real specific details, are going to be in the briefs," she said.
Casey said that briefing was important, but that he preferred the "conversation" that can occur in oral arguments between judges and attorneys.
"They serve different points, and I've had decisions without oral argument," he said. "And those always scare me, because I'm like, I didn't have a chance to talk to you. But, that said, maybe they didn't need to have a chance to talk to me.
"Like in life, if you ever get an email, and you read the email, and it conveys so much less than a discussion," he continued.
Staab has earned the endorsements of five Washington Supreme Court justices, nine Spokane County Superior Court judges, Mayor Nadine Woodward and City Council President Breean Beggs, an attorney.
Casey has the endorsement of several Republican state lawmakers, including state Sens. Mike Padden, Jeff Holy and Shelly Short, and state Reps. Mike Volz and Bob McCaslin Jr. Controversial state Rep. Matt Shea, R-Spokane Valley, who is an attorney, worked at Casey's law firm until late last year.
Voters in Ferry, Lincoln, Okanogan, Pend Oreille, Spokane and Stevens counties will see Casey and Staab on their ballots. Two judges are elected to serve from that portion of the state on Division III of the Court of Appeals.
---