The Beast from the East: Malden family recalls harrowing day trapped in Babb Road Fire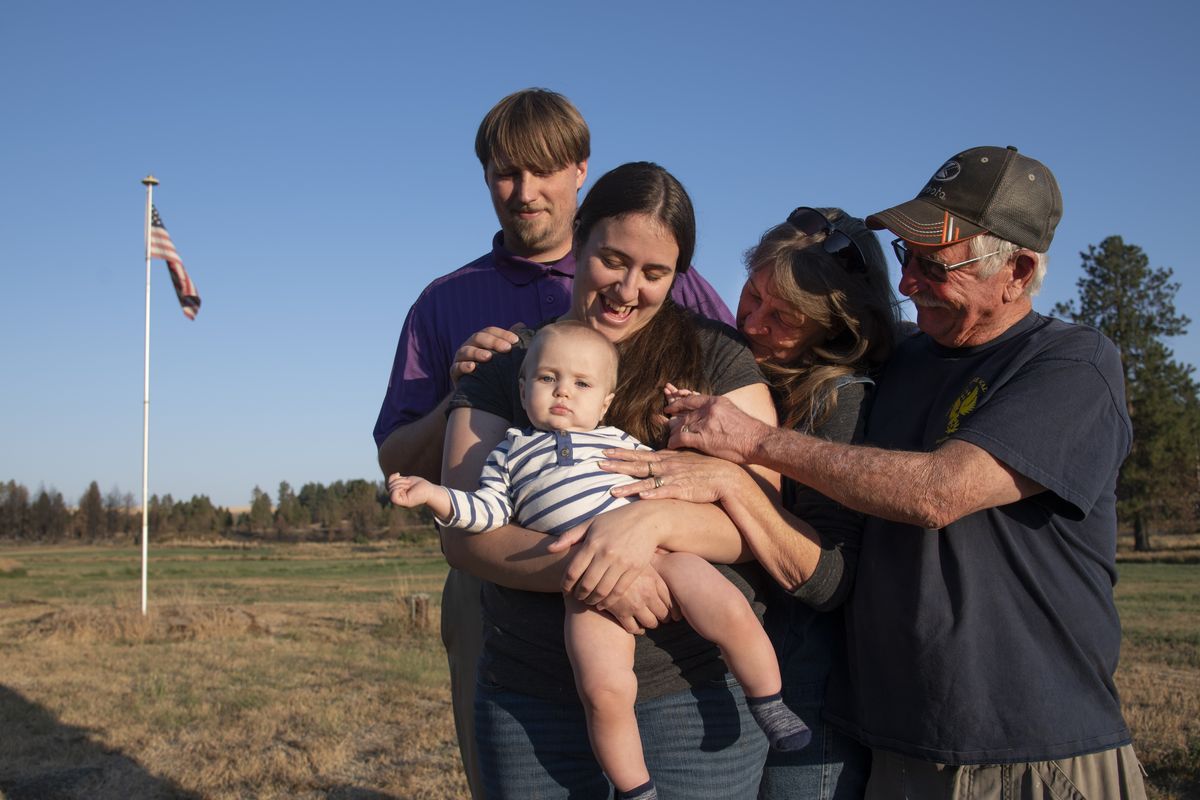 Tami Van Dyke froze outside her front door as a wall of flames 30 feet high leaped off the top of the small bridge across Pine Creek just 600 yards away.
It was mid-morning on Sept. 7, 2020. Van Dyke had been cooking cabbage rolls to distract herself from a tough Labor Day weekend – her son Nate Richards and his pregnant wife, Bryanna, or "Bry," were moving from the historic family home in Malden to Cheney, where Bry Richards could finish school at Eastern Washington University.
The morning had been calm. She knew there was fire burning near Rosalia, but she wasn't concerned.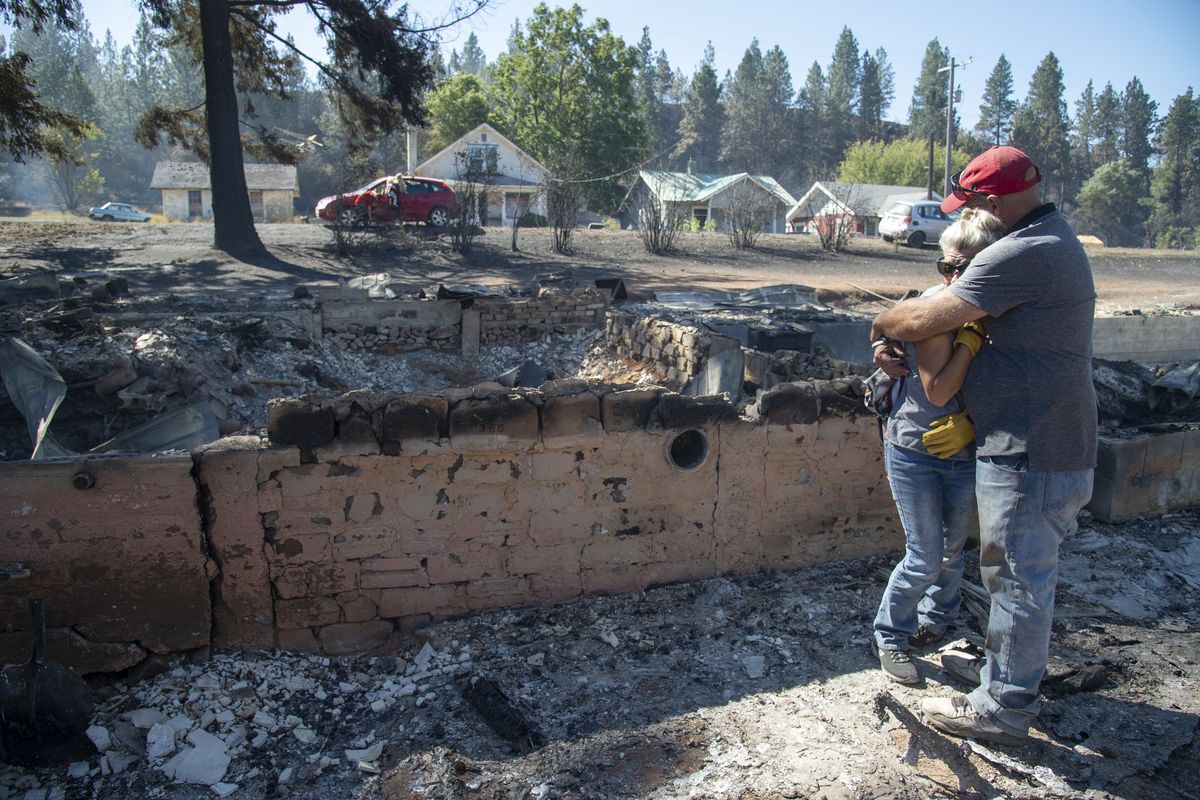 "There wasn't even a wiggle of the trees," she remembered recently. 
Her husband, former Malden fire Chief Dan Harwood, rushed into their home and told her fire was on the way and urged her to get out of town. He already had gathered some of their valuables and put a sprinkler on the roof and was off to load up the fire trucks.
Still, Van Dyke didn't see the need for urgency.
"I looked out and it was calm, there was nothing and I looked at him and I said, 'You're crazy,' " said Van Dyke, who also worked as a volunteer firefighter and EMT for decades.
Harwood left but texted her a few minutes later to report the town of Malden was being evacuated. Van Dyke's friend from Rosalia pulled up in a big pickup to help pack but Van Dyke still wasn't convinced the fire was anywhere close to their home.
That's when Richards came barreling into the driveway.
"Dad says if you don't leave I'm supposed to pick you up and pack your (behind) out of here and that's what I'm prepared to do," Van Dyke recalls him telling her.
Van Dyke finally relented. She told them to grab the dog, Maggie May, while she picked up the cat.
They walked outside and into a wall of fire.
Fields of fire
Fires are common on the Palouse. They are sparked in wheat fields or in the clusters of pine trees that dot fields of golden grain. Often those blazes are tamped down by farmers and volunteer firefighters.
When a fire near Babb Road last Labor Day weekend started after a tree branch crashed into an Avista power line, Van Dyke wasn't worried. Just like the hundreds of fires before, she thought a farmer would put it out. Or maybe firefighters would take care of it.
The Van Dyke roots reach deep in Malden.
Van Dyke's parents, Elaine and Eugene Van Dyke, lived in the historic family farmhouse built by their ancestors on the outskirts of town.
They were pillars of the community, doing what needed to be done. When all the men were off farming, Elaine organized the women into an all-female volunteer fire department.
"My parents made sure we got involved early," Van Dyke said. "You just did that. It just became a part of your life."
Van Dyke grew up, moved away and got married. She returned to Malden in the early 1990s with her young son after a divorce to help take care of her parents.
There she met Harwood, a local who also was divorced with kids. They fell in love and married. Their days were filled raising their gaggle of little boys, the youngest of whom is Nate Richards.
The couple moved into a narrow tan house just a few hundred yards from Van Dyke's historic family home. Up a steep hill from the front porch is the edge of the family's 900 acres of wooded land.
Richards grew up and married Bry, his high school sweetheart. He managed apartment complexes in Cheney while she finished her degree at EWU, and they had a baby on the way. The couple decided to renovate the old farmhouse in hopes of making it their forever home but decided they didn't want to bring a baby home to a house under construction. So they decided to temporarily move to Cheney until the work could be completed.
Wind warning
As Nate and Bry Richards pulled into Cheney, dust swirled around their car and wind rocked the trees. They had just decided to get some lunch instead of moving another load when Van Dyke texted to tell them Malden was being evacuated, the couple recalled last week.
They sped back to Malden. The sky was split in two, one side was a picture-perfect sunny day; the other a glowing orange with wisps of black smoke.
Sheriff's deputies rolled through town, lights flashing, announcing on loudspeakers it was time to leave. At the fire station, Harwood was hauling hoses to a nearby fire hydrant when his son and daughter-in-law pulled up.
A little red pickup truck passed, leading a brown horse out of town by its reins.
Richards told his dad it was time to leave.
"We can't fight fire here; I mean we can't even get the fire truck out," he said.
Harwood couldn't take the truck out due to rules prohibiting just one person from operating the apparatus. The only other volunteer firefighter who responded had been sent to help evacuate homes.
Then Richards asked where his mom was. She was still down at the house, Harwood replied.
The couple drove toward the edge of town. When deputies told them it was too dangerous to go any further, they slipped down a back road.
Their small sedan sped across the little bridge and right up to the front door as a cloud of smoke dimmed the late morning light. They jumped out of the car and sprinted into the house where they were met with his mom's friend holding Nate's Eagle Scout Certificate. Van Dyke was collecting family heirlooms.
"It's crunch time now," Richards said. "Every second matters at this point."
He firmly told Van Dyke to grab the cat and get in her car. By the time the animals were loaded up, the wall of flame was twisting, turning, and skipping toward the little concrete bridge that was the group's only hope of escape.
The young couple led the way in their car gunning it toward the bridge, desperately hoping to beat the flames. Before they could drive the 100-some yards, flames were jumping into the air all around the bridge. Trees along the other side of the creek were lighting up like candlesticks.
They slammed on their brakes. Richards asked his wife if she wanted to try and speed across. Her gut told her no.
They didn't know the wind had slammed a tree down across the road, just beyond the bridge. If they had tried to cross, they could have died in the flames.
Instead, Richards motioned for Van Dyke and her friend to back up their cars. They used the only phone with good cell service to call 911 in hopes of being rescued. The operator told them no one was coming.
That's when Bry Richards said she thought they were going to die.
Seeing the fear in her pregnant daughter-in-law's eyes, Van Dyke sprang into action.
"Everything just kicked in and I had to start moving," Van Dyke said. "There was a lot of fire, a lot of flames but nothing like what was about to come."
They got into three cars and drove into the field toward the creek. The smoke got thicker and blacker as Van Dyke told her son and friend to follow her to a point in the creek where they could get into the water if they needed to.
Little pops grew louder in the haze of smoke until explosions echoed through the valley as they inched toward the water.
Then came a roar. The wind-driven fire slammed into the river corridor. It pawed at the ground, obliterating anything in its path, pulling up bushes by the roots and pushing trees so far over they cracked. The wind's howl turned into a roar as the flames rushed forward kicking debris into the air in its wake.
Van Dyke recalls getting out of her car and being tossed to the ground by the huff of the flames.
"It was the beast from the east. It truly was. It was THE beast," Van Dyke said. "And I screamed at it at the top of my lungs after I got up off the ground and I said, 'You son of a bitch! You come get me but you leave my babies alone.' "
Getting mad gave Van Dyke the strength she needed to keep moving. She would get out of the car and pace out a few steps then get in and lead the caravan of cars a few feet forward.
At one point she got out and a group of deer was butting up against the cars, following them, hoping to find the creek.
"They were just as lost as everyone else," she said.
Van Dyke got the group close to the bridge so that if the flames got worse they could slide under the concrete structure and sit in the water, but with Bry being almost five months pregnant, Van Dyke wanted to keep her in the car for as long as possible.
As they got into a good position, two of the family's barns caught fire.
"It was like the beast grew two more heads," Van Dyke said. "I just knew we were going to lose our home and my mom's."
By this point, they had made a triangle with the cars, each vehicle pointing a different direction at the surrounding flames.
Fire roared up and over the barns, slammed down onto the road and marched up to the farmhouse.
The home caught fire from the inside out.
Flames sprinted up the hill behind the farmhouse claiming the garage and outbuildings before jumping through the acres of timber above the houses. Flames ignited trees and brush until the fire wrapped around the field where the cars were parked.
The roar of the wind and fire that united to give the beast a voice were deafening, Richards said. As the flames circled around them, Richards suggested they take a selfie, just him and his wife, in case they didn't make it.
"I want people to know who's in our car and to show them that we were happy," Richards said.
"We were together," Bry Richards added.
Trees continued to light up, one after another along the far end of the field, surrounding the shrinking patch of green more and more with each pillar of burning pine.
Bry Richards turned to her husband and said, "I don't want to be burned to death."
Tears streaming down his face, he reached up, grabbed the rosary dangling off his rearview mirror, and prayed.
As quickly as the wind and flames roared in, the fire settled, dropping from the sky to instead crawl along the ground.
The little red fire truck
A red flash reflected in the clouds of smoke looming over Van Dyke's home. Unsure of what she was seeing but hoping beyond hope it was a fire truck, Van Dyke told her kids to stay put and drove toward her house.
As she got closer, Van Dyke could make out a little fire truck spraying foam on her house with a familiar face at the helm.
"My brother is a redhead with the biggest blue eyes you've seen in your life and his face was as black as tar and those blue eyes were huge with tears welling up and tears streaming down," Van Dyke said. "And he just looked at me and said I'm so goddamn glad to see you."
Her brother, Steve Van Dyke, is a Rosalia firefighter and fought his way across the flames on the bridge in hopes of saving the family home. But he arrived too late. Instead, he turned his efforts to his sister's house, unsure if she was even alive.
He told Van Dyke to stay put by the river and he would be back with more water. As he fought his way back across the bridge just a few yards from where Van Dyke was parked, she couldn't see him.
Van Dyke doesn't know how long they were out there but eventually, the wind just stopped.
"The silence was deafening," Van Dyke said. "It had been so loud and you couldn't even stand up through the wind and fire and you're dodging debris falling on your car and hitting you and you're falling down in the wind and then all of a sudden it just stops. It's the most bizarre thing ever."
Suddenly, the entire Van Dyke clan descended, her husband ran toward her and wrapped her in a hug. The next hours were a blur as they fought hot spots close to the house and cherished each hug with a new family member as they arrived.
Family first forever
For months after the fire, Van Dyke couldn't cry. Harwood, now the town mayor, talked frequently to his neighbors about the fire and recovery efforts and would often shed a tear or two, but Van Dyke was unable to let out that emotion.
The couple surprised their children with a vow renewal in July for their 25th wedding anniversary at the home her brother saved from the flames. It was a moment of triumph after a hard year working to clean up Malden, deal with the trauma of the fire, and move forward.
The Richards' new baby, Tobias, giggled in the background, a reminder of how far they had come.
After the celebration, in a quiet moment watching the sunset with her husband, Van Dyke realized she had saved her children.
Looking up as the sky shifted pink and the sun slipped below the horizon, she eyed a strong pine tree surrounded by saplings.
Van Dyke began to cry.
"Look at that momma and her babies, the fire didn't get her either."
Editor's note: An earlier version of this story had an incorrect last name for Nate and Bry Richards.
---