News
Near-zero temps, icy roads, wind chill: Winter weather creeps into Spokane
UPDATED: Mon., Dec. 27, 2021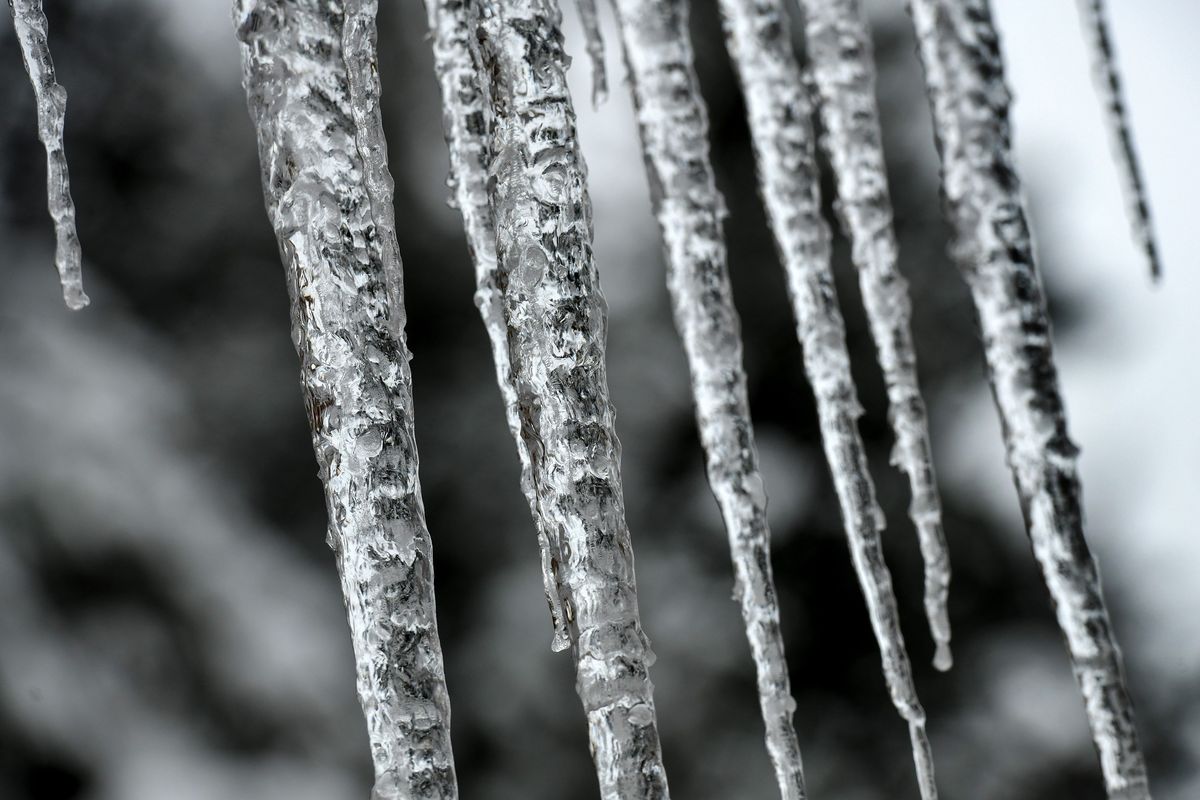 Icicles form on a home in Hauser on Monday, Dec. 20, 2021. (Kathy Plonka/The Spokesman-Review)
Plummeting temperatures in the Northwest prompted the city to send all-day plows out on icy roads and open a warming shelter to prepare for a frosty week.
Most areas around Spokane are not expected to warm above 20 to 25 degrees this week, according to a news briefing from Spokane's National Weather Service office.
"We can still have these dangerous pockets of snow and gusty winds, which will drastically reduce visibility to almost zero," said Ken Daniel, meteorologist at Spokane's National Weather Service office.
Wednesday was predicted to only reach 11 degrees, with a low of minus 1 possible.
None
Temperatures this low can heighten the risk of frostbite and hypothermia, the weather service wrote.
The Spokane Convention Center opened to the public on Sunday as a 24-hour temporary warming center and will remain open until at least Jan. 2 for those seeking shelter from the cold. An all-day soup kitchen is providing hot meals. Donations of socks, hand warmers and nonperishable food are encouraged to be sent to 527 S. Cannon St.
The center has room for about 150 people, said Guardians Foundation founder Michael Shaw in an interview Sunday. Guardians Foundation was contracted by the city to open the center.
Though snow was not likely to stick before Thursday, hazardous winter driving conditions were expected to continue this week from a possible combination of ice and light snow, Daniel said.
Drivers in Spokane faced icy roads Monday morning as the city's plows began a 24-hour schedule to manage the roads, said Marlene Feist, Spokane's city public works director.
Spokane's snow plows prioritize arterials, hills and bridges first, Feist said.
"Hills are particularly important – and bridges. Obviously people need traction when they're going up and down on a hill to maintain control," Feist said. "On a day like today, they're focusing on arterials because those are where the most cars are, usually near residential areas."
Feist said the public works department constantly monitors the roads to determine its route. Arterials with heavy traffic are usually plowed first, like the Division and Ruby couplet , as well as South Lincoln, North Post and Monroe streets, she said.
When below-freezing cold hits, plows switch from using liquid deicer to sand on the roads, Feist said.
"Liquid isn't as effective with these temperatures," Feist said.
Feist said anyone driving behind a plow should give them at least 50 feet to work and to not pass a city plow on the road. She said residents should consider off-street parking to give plows room on narrower residential roads and can help neighbors by helping shovel snow from sidewalks.
Local journalism is essential.
Give directly to The Spokesman-Review's Northwest Passages community forums series -- which helps to offset the costs of several reporter and editor positions at the newspaper -- by using the easy options below. Gifts processed in this system are not tax deductible, but are predominately used to help meet the local financial requirements needed to receive national matching-grant funds.
Subscribe now to get breaking news alerts in your email inbox
Get breaking news delivered to your inbox as it happens.
---