Sports > Gonzaga basketball
Recap and highlights: No. 1 Gonzaga dominates San Diego
Feb. 20, 2021 Updated Sat., Feb. 20, 2021 at 8:41 p.m.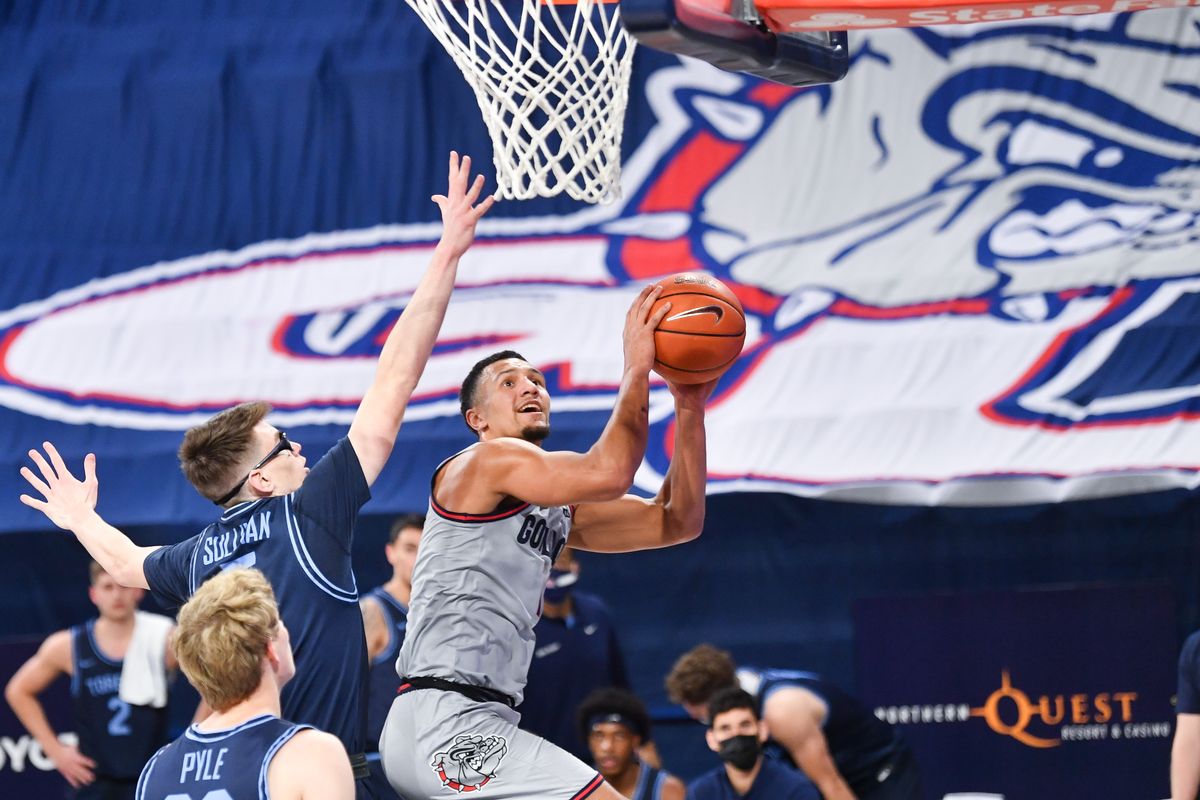 Gonzaga Bulldogs guard Jalen Suggs (1) fights to the basket during the first half of a college basketball game on Saturday, February 20, 2021, at McCarthey Athletic Center in Spokane, Wash. Gonzaga led 51-22 at the half. (Tyler Tjomsland/THE SPOKESMAN-RE)
Drew Timme led four Gonzaga scorers in double figures as the No. 1 Bulldogs never trailed in a 106-69 win against San Diego on Saturday at McCarthey Athletic Center in Spokane.
Timme scored 21 points on 7-of-8 shooting. The sophomore center was 7 of 7 from the free-throw line and grabbed eight rebounds.
Freshman guard Jalen Suggs scored 17 points for Gonzaga. Senior forward Corey Kispert had 16 points and eight rebounds. Andrew Nembhard added 12 points.
Josh Parrish led San Diego with 13 points. Joey Calcaterra, Marion Humphrey and Jared Rodriguez each added 10 for the Toreros.
The Zags strolled to a six-point lead in the first eight minutes before stepping up the pace and going on a 12-0 run.
Gonzaga led 51-22 at halftime behind 17 points from Timme.
USD also turned the ball over 12 times in the first half. The Toreros finished with 18 turnovers.
Gonzaga had 11 players score. Freshman Dominick Harris scored eight points, going 2 of 2 from 3-point range. 
The Bulldogs went 21 of 25 from the free-throw line. USD shot 8 of 17.
Gonzaga next plays on Thursday when Santa Clara visits the Kennel. The game is scheduled for 4 p.m. PST.
Gonzaga Bulldogs / YouTube
First half
16:00 – Gonzaga 8, USD 5: Drew Timme has scored six points and the Zags lead by 3.
Timme is 2-of-3 shooting as GU has looked to get the ball into its center.
Joey Calcaterra has five points for San Diego.
Jalen Suggs has three rebounds for Gonzaga, but also has two turnovers. Both came on attempted passes to Timme.
11:25 – Gonzaga 19, USD 11: San Diego calls timeout after Gonzaga takes its largest lead of the game.
Drew Timme has eight points to lead GU.
Gonzaga has turned the ball over six times, but USD has only converted those into two points.
Corey Kispert has four points for Gonzaga. The Zags are 0 of 3 from beyond the arc.
Joey Calcaterra leads San Diego with five points.
7:56 – Gonzaga 27, USD 11: Bulldogs take a 10-0 run into the under-8 timeout.
Gonzaga scored 14 points off of 10 San Diego turnovers. The Zags have 11 fast-break points.
Drew Timme has scored eight points for Gonzaga. Corey Kispert has six points and Jalen Suggs has five points and a game-high four rebounds.
Gonzaga still hasn't made a 3-pointer.
4:00 – Gonzaga 37, USD 15: A 20-4 run for the Bulldogs has them up 22.
San Diego is shooting 35% and has committed 10 turnovers. The Toreros have made just 1 of their last 7 shots and haven't scored over 2 minutes.
Drew Timme has 12 points on 5-of-6 shooting for Gonzaga, which is shooting 55.6%.
Halftime
Gonzaga 51, USD 22: Drew Timme has 17 points and six rebounds and the No. 1 Bulldogs are routing the Toreros at halftime.
Timme is 7-of-8 from the field as GU is shooting 57.1%.
Corey Kispert and Jalen Suggs each have 11 points and five rebounds for Gonzaga.
Joey Calcaterra has eight points to lead San Diego, which is shooting 38.5% and has 12 turnovers.
The Zags strolled to a six-point lead in the first eight minutes before stepping up the pace and going on a 12-0 run.
Neither team has shot well from 3-point range. Gonzaga is 0 of 7 and USD is 2 of 9. Calcaterra has both makes.
Gonzaga holds big advantages in rebounding (25-10), fast-break points (18-4), points off turnovers (19-4), points in the paint (40-12) and second-chance points (12-0). 
Second half
15:06 – Gonzaga 62, USD 31: Jalen Suggs up to 15 points for the Zags as they push the lead to 31 at the under-16 timeout.
Drew Timme continues to lead Gonzaga with 19 points.
Gonzaga made its first 3-pointer of the game when Andrew Nembhard made one from the corner.
10:50 – Gonzaga 76, USD 42: The Bulldogs four players in double-digits scoring and lead the Toreros by 34.
Drew Timme has scored 21 points, Jalen Suggs 17, Corey Kispert 16 and Andrew Nembhard 12 for Gonzaga.
Josh Parrish leads San Diego with 13 points.
Gonzaga is 17 of 20 from the free-throw line. USD is 1 of 7.
7:45 – Gonzaga 86, USD 47: Aaron Cook might have the Zags' dunk of the year as he throws down a left-handed jam over a San Diego defender.
Cook has four points, four rebounds and three steals.
Gonzaga getting extended minutes for freshmen Dominick Harris and Julian Strawther. Strawther has three points and Harris has two.
3:27 – Gonzaga 100, USD 57: Ten Gonzaga players have scored as GU continues to dominate the Toreros.
Freshman Dominick Harris has eight points on 3-of-4 shooting.
Classmates Julian Strawther and Ben Gregg have also scored. Strawther has five points and Gregg has two. 
Starting 5
Pregame
Individual leaders
Team stats
Game preview
Local journalism is essential.
Give directly to The Spokesman-Review's Northwest Passages community forums series -- which helps to offset the costs of several reporter and editor positions at the newspaper -- by using the easy options below. Gifts processed in this system are not tax deductible, but are predominately used to help meet the local financial requirements needed to receive national matching-grant funds.
Follow along with the Zags
Subscribe to our Gonzaga Basketball newsletter to stay up with the latest news.
---