Sports > Gonzaga basketball
Recap and highlights: No. 1 Gonzaga opens NCAA Tournament with big win over Norfolk State
March 20, 2021 Updated Sat., March 20, 2021 at 10:39 p.m.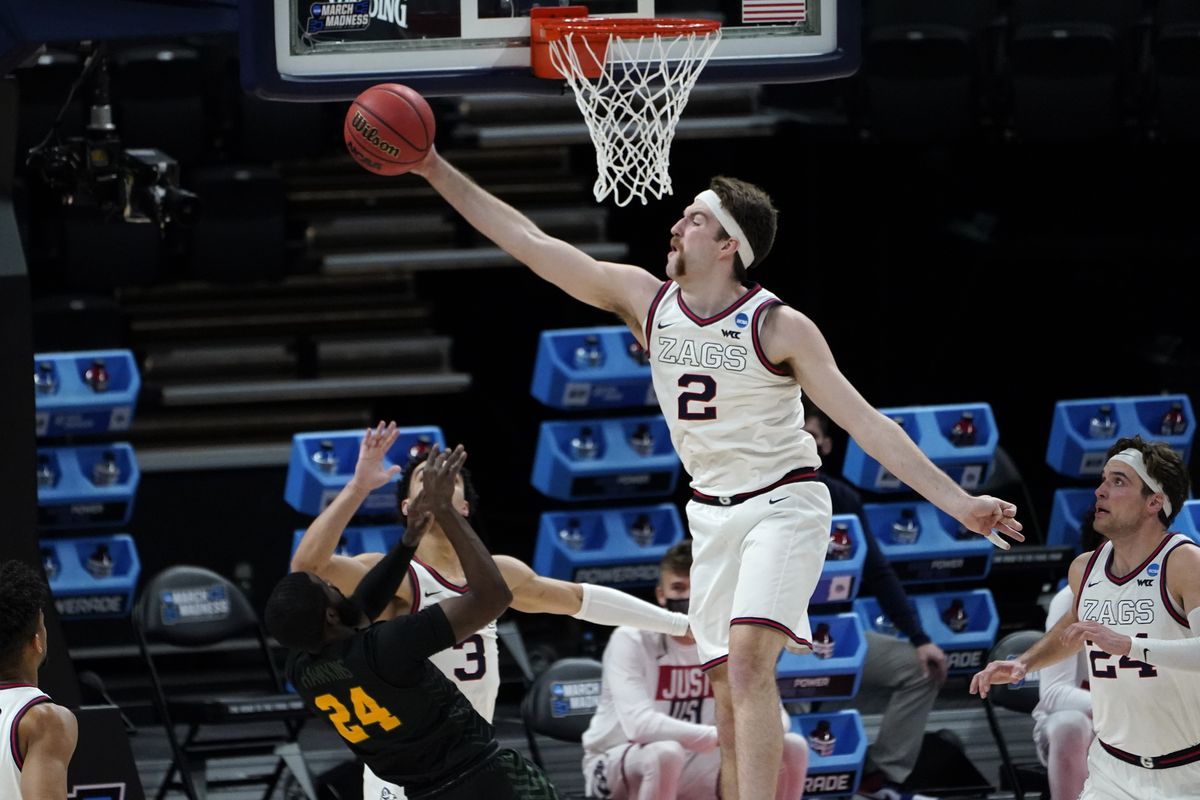 Gonzaga forward Drew Timme (2) blocks a Norfolk State guard Jalen Hawkins (24) shot during the first half of a men's college basketball game in the first round of the NCAA tournament at Bankers Life Fieldhouse in Indianapolis, Saturday, March 20, 2021. (Paul Sancya/Associated Press)
Gonzaga and its national championship aspirations were met with little pushback in the opening round of the 2021 NCAA Tournament.
The top overall seed used hot 3-point shooting and smothering defense to open up a 20-point halftime lead on 16th-seeded Norfolk State and the Bulldogs cruised to a 98-55 victory at Bankers Life Fieldhouse in Indianapolis on Saturday.
The 43-point win marked the largest margin of victory through the first two days of the 2021 tournament, topping Houston's 31-point victory over Cleveland State on Friday.
Gonzaga (27-0) has now won 12 consecutive opening-round NCAA Tournament games and will advance to the Round of 32 for Monday's matchup with Oklahoma (16-10). The eighth-seeded Sooners edged ninth-seeded Missouri on Saturday.
Corey Kispert scored 23 points on 6-of-9 shooting from 3-point range, while Anton Watson gave the Bulldogs a spark off the bench with 17 points on 7 of 7 from the field and also grabbed seven rebounds. Joel Ayayi had 15 points and a game-high nine rebounds, Drew Timme had 10 points, six points and five assists, and Julian Strawther came off the bench down the stretch to make three 3-pointers and finish with nine points.
As a team, Gonzaga finished 34 of 61 (55.7%) from the field and 14 of 27 (51.9%) from beyond the arc.
The Bulldogs hit the 90-point mark for the 15th time in 27 games, shot 50% from the field for a 12th consecutive game and had a 45-22 rebounding advantage.
The Spartans finished just 19 of 62 from the field.
Gonzaga established its first 30-point lead with 14:10 left in the game and led by 40 with 9:25 to play. The Bulldogs led by twice, going ahead by 49 points at the 5:51 and 5:50 mark.
Kispert, Timme, Ayayi, Watson and freshman guard Jalen Suggs were all on Gonzaga's bench with seven minutes to play and the Bulldogs finished the game with a lineup that included walk-ons Will Graves and Matthew Lang.
March Madness / YouTube
First half
15:53 – NSU 9, Gonzaga 6: The Spartans have made their last three shot attempts and lead the Zags by 3.
Kashaun Hicks leads NSU with six points on 2-of-2 shooting from 3-point range.
Corey Kispert leads Gonzaga with six points. The Bulldogs are just 2-of-6 shooting.
Gonzaga guard Jalen Suggs picked up his second foul just before the media timeout.
11:39 – Gonzaga 14, NSU 11: Zags forward Anton Watson has six points in four minutes off the bench and No. 1 GU leads by 3.
Watson is 3-of-3 shooting, with two dunks and a layup.
The Zags have made four of their last five shots and are now shooting 50%.
Kashaun Hicks has eight points to lead the Spartans.
Gonzaga guard Aaron Cook, in for Jalen Suggs who is dealing with foul trouble, has two points. Kispert is still on six points.
7:13 – Gonzaga 29, NSU 16: Corey Kispert has nine points on three made 3-pointers and the Zags have pushed the lead to double digits.
Anton Watson has added eight points and four rebounds for GU.
The Zags used a 12-0 run to build a 22-11 lead.
The game is starting to get chippy as Joel Ayayi was poked in the gut after making a 3-pointer. The refs went to the monitors to look for a flagrant foul, but did not call one. 
Later, Jalen Suggs drove the lane and had his arm yanked as he attempted a layup. This play was also reviewed and a flagrant foul was called.
3:37 – Gonzaga 40, NSU 21: Corey Kispert made four 3-pointers and the Zags are in complete control.
Kispert has 12 points to lead GU. The Bulldogs are shooting 60% and have 17-8 edge in rebounds.
Gonzaga built the lead to 22 after a 16-2 run.
Kashaun Hicks has eight points to lead Norfolk State.
Halftime
Gonzaga 43, NSU 23: Corey Kispert has 15 points on five made 3-pointers and the No. 1 Zags lead the Spartans by 20 at halftime.
Kispert is 5-of-7 shooting, with all his shots coming from 3-point range.
Anton Watson has eight points on 4-of-4 shooting and a game-high five rebounds for Gonzaga.
The Bulldogs are shooting 55.2% and are 7 of 15 from 3.
Kashaun Hicks has eight points on 3-of-4 shooting to lead Norfolk State.
The Spartans are at 32.1% shooting and have made 3 of 10 from beyond the arc. Devante Carter has five points for NSU, but is just 2 of 7 from the field.
Joel Ayayi has scored seven points on 3-of-6 shooting for Gonzaga. Center Drew Timme has six points on just three shot attempts. 
Freshman guard Jalen Suggs has struggled for the Zags in his first NCAA Tournament game. He has two points on 0-of-3 shooting and has three turnovers to two assists. His points came at the free-throw line.
Second half
15:29 – Gonzaga 52, NSU 27: Corey Kispert has 18 points, Anton Watson has 12 and the Zags lead by 25 at the first media timeout of the half.
Watson hasn't missed a shot – 6 of 6 – and has 6 rebounds. The sophomore forward also has two steals and two assists.
10:43 – Gonzaga 69, NSU 30: A 21-3 run over the last six minutes has the Zags up on the Spartans by 39.
The run was highlighted by an off-the-backboard alley-oop to Jalen Suggs. Joel Ayayi poke the ball away on the defensive end and, after getting the ball back from Corey Kispert on the break, put the ball off the glass for Suggs to throw down. 
Suggs is up to six points.
7:46 – Gonzaga 74, NSU 35: Corey Kispert has 23 points, Joel Ayayi and Anton Watson each have 15 and the No. 1 Bulldogs are dominating the Spartans in the second half.
Jalen Hawkins, J.J. Matthews and Kashaun Hicks each have eight points to lead Norfolk State.
GU has outscored NSU 31-12 in the half and has got the lead to as large as 42.
2:06 – Gonzaga 97, NSU 49: Gonzaga has gone to its substitutes as it leads the Spartans by 48.
Freshman Julian Strawther has nine points on three made 3-pointers. Classmate Dominick Harris has five points with a made 3.
Starting 5
Pregame
Individual leaders
Team Stats
Game preview
Local journalism is essential.
Give directly to The Spokesman-Review's Northwest Passages community forums series -- which helps to offset the costs of several reporter and editor positions at the newspaper -- by using the easy options below. Gifts processed in this system are not tax deductible, but are predominately used to help meet the local financial requirements needed to receive national matching-grant funds.
Follow along with the Zags
Subscribe to our Gonzaga Basketball newsletter to stay up with the latest news.
---