Sports > Gonzaga basketball
Recap and highlights: No. 1 Gonzaga takes care of Alcorn State behind improved 3-point shooting
Nov. 15, 2021 Updated Mon., Nov. 15, 2021 at 9:56 p.m.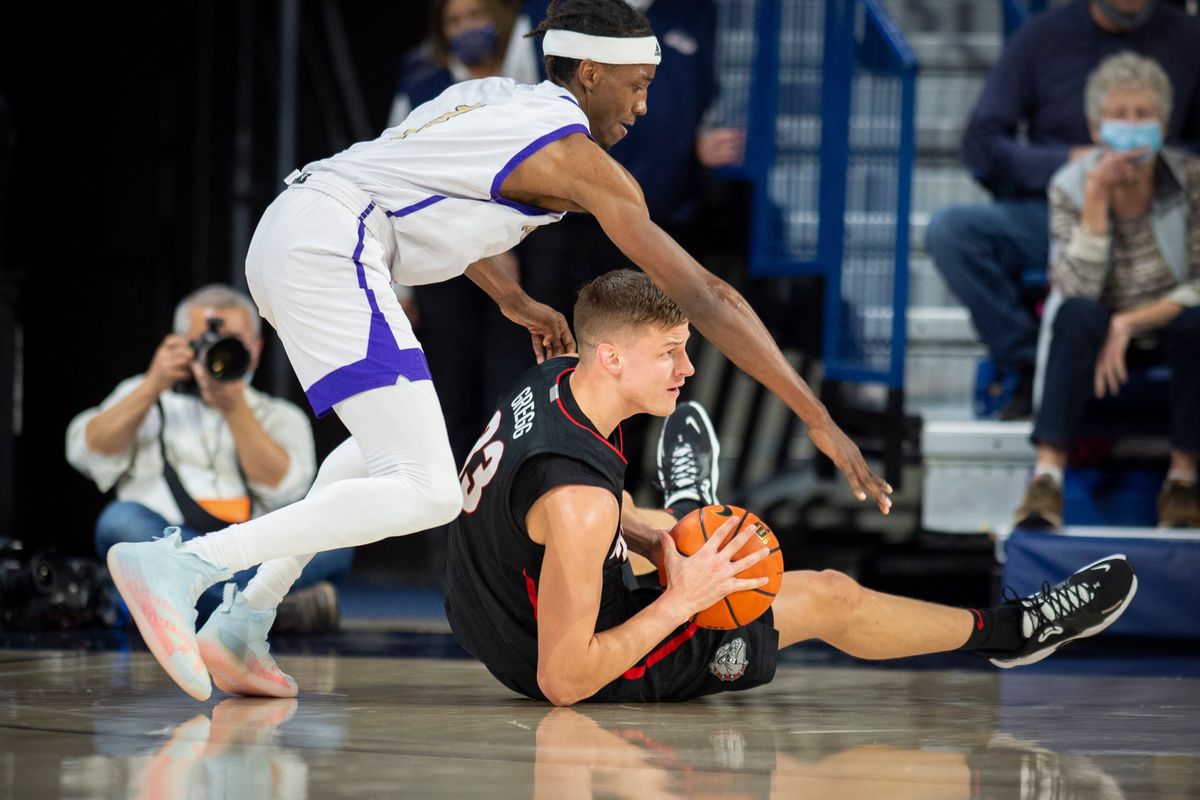 Gonzaga's Ben Gregg (33) comes up with the ball after a scramble against Alcorn State's Dontrell McQuarter, left, in the Bulldogs' game against Alcorn State Monday, Nov. 15, 2021 at McCarthey Athletic Center at Gonzaga University in Spokane, Washington. (Jesse Tinsley/The Spokesman-Review)
Julian Strawther's career-high 18 points led No. 1 Gonzaga to an 84-57 win over Alcorn State in the Kennel on Monday.
The Bulldogs (3-0) didn't break a sweat, shooting 58.6% from the field and shooting a season-best 36.8% from three. The Zags jumped out to a 14-3 lead over the Braves (0-4) behind back-to-back threes from Strawther, who went 7 of 9 from the field.
Hunter Sallis played 25 minutes off the bench and scored 16 points on 6 of 9 shooting with 4 of 5 from the stripe.
GU's big men continued to stuff the stat sheet. Drew Timme had 10 points, five rebounds, six assists and two blocks fresh off his career night against Texas, while Chet Holmgren bounced back with 11 points, six rebounds, four assists and three blocks.
The Zags will again be heavy favorites against Bellarmine at home on Friday. That game is scheduled for 6 p.m. on KHQ/ROOT.
First half
15:54 - GU 11, ASU 3: Zags go on an 11-1 run after Agnew gets the first bucket of the game to drop for Alcorn State.
Strawther connects on a 3-pointer before the first media timeout and leads with a team-high five points. Timme behind with four.
12:47 - GU 18, ASU 6: Sallis checks in and makes both free throws. Zags have hit on last five shot attempts, led by Strawther's team-high 10 points.
11:19 - GU 22, ASU 8: Sallis steals and cuts to the basket for a layup, as the Zags continue to build their lead at a media timeout.
GU hasn't missed a field goal in over five minutes and are 8 of 11 from the field.
Braves are 3 of 11 with five turnovers.
7:47 - GU 31, ASU 12: Chet Holmgren makes his presence felt with a bucket to block to 3-point sequence. He's up to nine points and two blocks. 
3:18 - GU 40, ASU 19: Strawther extends his team-high to 15 with another 3-pointer, just two off of his career best 17. He is 6 of 8 from the floor and 3 of 4 from deep with three rebounds.
Holmgren trails behind with 11 points and 3 blocks. Timme and Sallis each add six apiece.
Halftime
Gonzaga is up big in the first half over Alcorn State, lead by Julian Strawther's 15 points and Chet Holmgren's 11 with three blocks.
Drew Timme has been doing a bit of everything with six points, five rebounds, four assists and two blocks.
The Zags are dominating on all fronts with 62% shooting compared to the Brave's 30%. Expect coach Mark Few to put in some heavy bench minutes in the second half.
Impact performance
Julian Strawther is closing in on his career high with 15 points in the first half to lead the Zags.
Second half
18:27 - GU 49, ASU 27: Strawther opens the second half with a dunk to match his career best at 17 points.
15:51 - GU 56, ASU 29: Timme misses a gimme layup to hit double figures before a media timeout, but has eight points, five rebounds, six assists and two blocks for the most well rounded statline of the night.
Holmgren also having a productive night with 11 points, two rebounds, three assists and three blocks.
11:29 - GU 66, ASU 37: Nembhard makes two 3-pointers and is up to eight on the night with four assists.
The Braves aren't giving up and are 7 of 11 in the second half, led by Thomas' six since the break. Though the Zags simply outmatch them in every way and should cruise to a victory in the final 10 minutes.
7:24 - GU 75, ASU 45: Mostly bench lineup in for the Zags as Strawther stays on the floor. Sallis leading bench players with 11 points.
3:33 - GU 82, ASU 53: McQuarter throws down a mean dunk on Perry, which will be one the Braves' positive takeaways from the night. 
Starting five
Gonzaga keeps its same starting five of Nembhard, Bolton, Strawther, Timme and Holmgren against Alcorn State.
Pregame
No. 1 Gonzaga is back to business at home in the Kennel tonight against Alcorn State, following Saturday's top-5 showdown with Texas.
The Bulldogs (2-0) are coming off an 86-74 win over the Longhorns, backed by a career 37-point night from player of the year candidate Drew Timme.
The Braves (0-3) have struggled to start the season on a West Coast road-trip, falling to Washington State 85-67, Seattle University 69-66 and Portland 62-58 on Saturday.
The Zags will have tonight's game and Friday's contest against Bellarmine at home before facing another top-tier test in Las Vegas from Nov. 22-26 against Central Michigan, No. 2 UCLA and No. 7 Duke. 
Series history
GU and Alcorn State have only played once before, with the Bulldogs winning 77-66 on Dec. 12, 1992.
The win snapped a 3-game losing streak to start the season for the Zags, that finished No. 2 in the WCC and lost in the semifinal of the conference tournament 53-51 to Santa Clara.
Center Jeff Brown lead the team in his junior season with 16.7 points a game.
Team stats
Individual leaders
Game Preview
More on the Zags
Local journalism is essential.
Give directly to The Spokesman-Review's Northwest Passages community forums series -- which helps to offset the costs of several reporter and editor positions at the newspaper -- by using the easy options below. Gifts processed in this system are not tax deductible, but are predominately used to help meet the local financial requirements needed to receive national matching-grant funds.
Follow along with the Zags
Subscribe to our Gonzaga Basketball newsletter to stay up with the latest news.
---