Sports > Gonzaga basketball
Recap and highlights: No. 5 Duke outlasts No. 1 Gonzaga in back-and-forth battle
Nov. 26, 2021 Updated Fri., Nov. 26, 2021 at 11:40 p.m.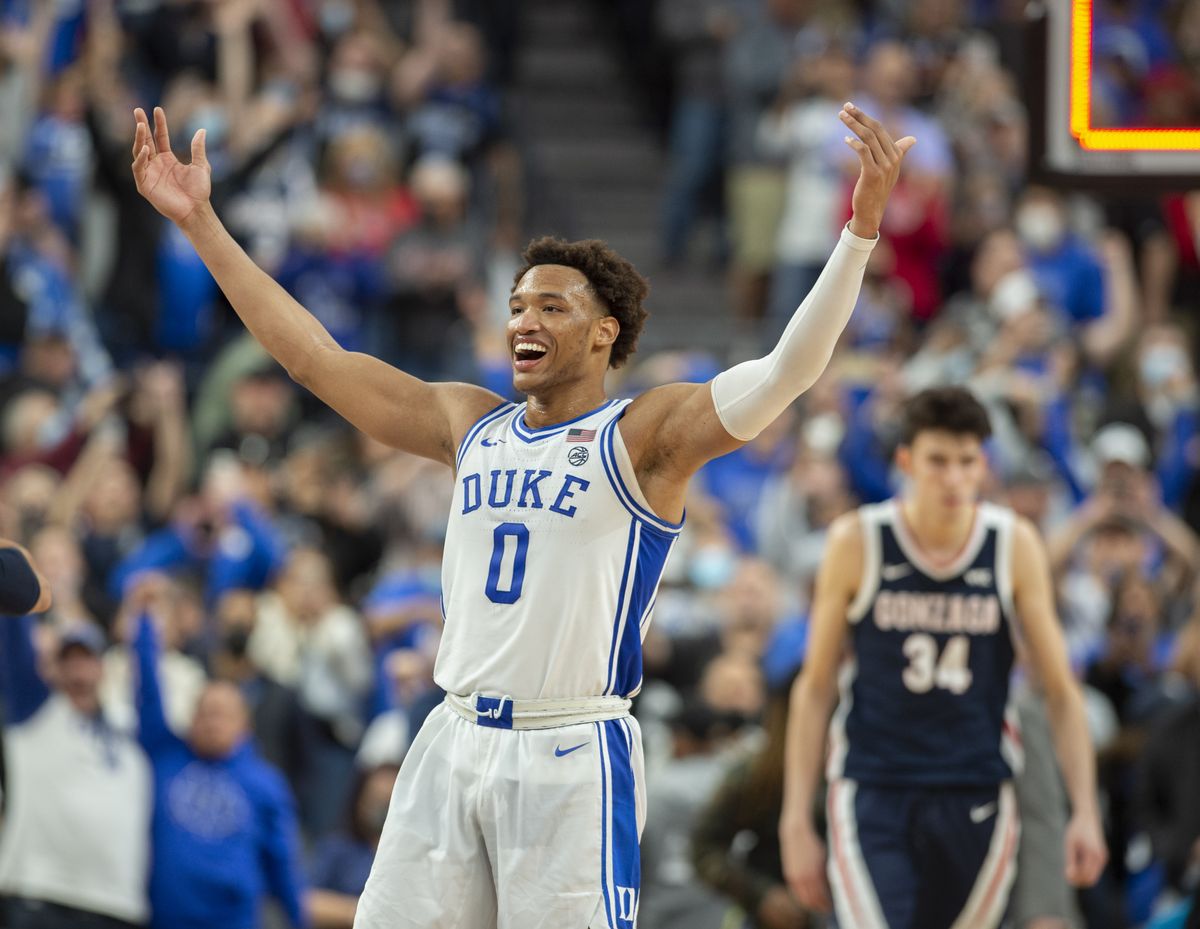 Duke's Wendell Moore Jr. raises his hands as ther clock runs out on the win over Gonzaga in the Continental Tire Challenge Friday, Nov. 26, 2021 at T-Mobile Arena in Las Vegas, Nevada. At right is Gonzaga's Chet Holmgren. (Jesse Tinsley/The Spokesman-Review)
As the dust settled in the Las Vegas desert after No. 1 Gonzaga and No. 5 Duke raced around the T-Mobile court, the Blue Devils emerged victorious in the 2021 Continental Tire Challenge, 84-81. 
Led by freshman phenom, Paolo Banchero, who scored a game-high 21 points, the Blue Devils (7-0) matched the Bulldogs (6-1) pace. 
From the opening tip, both teams ran for 40 minutes. 
GU's Julian Strawther scored 20 points, making 6 of 10 shots and 7 of 10 from the free throw line. 
The Bulldogs usually take care of the ball at a high clip, but Nembhard and Timme had issues holding onto the basketball. Nembhard and Timme had six and five turnovers respectively. 
The Zags are back in action Nov. 29, hosting Tarleton State at 7 p.m.
First half
15:39 - Duke 9, GU 8: Vegas knows a thing or two about putting on a show. Before the tip, the PA announcer had T-Mobile Arena rocking and that energy continued to start the game. The first shot attempt of the game was Holmgren vs. Banchero and Holmgren won the first battle. 
The Bulldogs have started fast, but in a sloppy way. Not quite running the offense they are accustomed to. 
Four separate Zags have two points. 
11:48 - Duke 17, GU 13: The intensity hasn't let up. Duke is shooting almost 50% from the floor. Banchero leads with five points. Bolton leads the Zags with five points and has been their best player so far. A four point game doesn't have much separating the two teams. 
9:24 - Duke 27, GU 18: Banchero has come to play. The freshman has 13 points midway through the first half and the Zags haven't done much to slow him down. Duke is shooting over 50% from the floor. Bolton still the Bulldogs' top scorer with eight points. Dangerous time for GU as Duke is trying to extend its lead. 
6:34 - Duke 34, GU 27: Another five points since the last stoppage of play for Banchero who has found himself wide open on multiple occasions. Bulldogs can't string together any defensive stops, yet, and that is keeping them at distance from getting close to Duke. Another 3 from Bolton gives him 11. 
3:15 - Duke 40, GU 34: Banchero has scored half of the Blue Devils' points. A successful adjustment hasn't been made against the freshman. Bulldogs keeping it close. Holmgren hasn't seen the court very much in this first half. Duke is still shooting over 50% from the floor. 
Halftime
After 20 minutes of an absolute sprint, No. 5 Duke leads No. 1 Gonzaga 45-43. 
The matchup everyone wanted to see: Chet Holmgren vs. Paolo Banchero has been very one-sided as Banchero has 20 points compared to six for Holmgren. 
Banchero has found himself wide open on multiple occasions. 
The Blue Devils are shooting 49% from the floor including 33% from long range. Bulldogs actually shooting better at 51%. 
If the second half promises as much as the first half, this will be the game of the year, at least on the offensive end. Not much defense in this one, or maybe just better offense. 
Bulldogs will look to contain Banchero better and limit their turnovers (six in the first twenty minutes). 
Second half
14:11 - GU 58, Duke 58: Absolute pace in Vegas tonight. Banchero takes a seat, he hasn't scored this half. Strawther has exploded tonight, scoring 18 points, with eight coming in the first 6 minutes of the second half. Only issue this far for the Zags has been some weak passes, but the defense has stiffened up against Banchero and the Blue Devils. 
11:24: GU 64, Duke 61: Strawther's fast break bucket forces Duke to call a timeout. During the break, the PA announcer said tonight's attendance of 20,398 is the largest basketball crowd in the history of the state of Nevada. 
8:25 - GU 70, Duke 66: The second half has been just as exciting as the first. The Bulldogs have rattled the Blue Devils offense this half. Nembhard continues to show his importance to this Bulldogs offense. His 11 assists lead all players. Strawther and Banchero lead all scorers with 20 points. Strawther also has nine rebounds. 
3:45 - Duke 75, Gonzaga 73: Crunch time as the Blue Devils have snagged the late lead. They have felt more confident as of late, more so than the Zags. Foul control will be important to monitor as Strawther, Timme and Watson all have 4 fouls. Williams has 4 for Duke. 
1:51 - Duke 75, GU 73: Bulldogs call timeout before Keels gets two shots from the line. A lot of scrambling players the last few minutes and one large traveling call on Holmgren. Feeling like a last possession kind of game. 
0:41.2 - Duke 80, GU 77: Mark Few calls another timeout after Timme finds Holmgren for an alley oop. 
0:18.8 - Duke 82, GU 79: Zags need to make a bucket. Timme gets the ball down low and is swarmed. He misses and Duke grabs the rebound. 
0:17 - Duke 83, GU 79: Moore makes 1 of 2 from the line. Coach K with the timeout. Zags ball. Need a quick bucket, a 3 would be better. 
0:01 - Duke 83, GU 81: Holmgren with the dunk and Zags foul right away. Zags took too long to find a shot. 
Pregame
Starting 5
Why would they change it now? Gonzaga sticks with its same starting five of Nembhard, Bolton, Strawther, Holmgren and Timme against the Blue Devils.
No. 1 Gonzaga tips-off with No. 5 Duke at 7:30 p.m. on ESPN.
The Bulldogs (6-0) will look for their third top-five win in November against the Blue Devils (6-0), with a win matching Duke's NCAA record of three top-five wins in a month set in 2012-13.
Duke is yet to play a ranked team this season, but is coming off a 107-81 win over The Citadel, and beat Kentucky 79-71 to open the season at the Champions Classic.
Meanwhile, the Zags beat No. 2 UCLA 83-63 last Tuesday, and Central Michigan 107-54 on Monday. It will be GU's last game in Las Vegas before returning to host Tarleton State in the Kennel on Monday.
Series history
Duke holds a 2-1 series lead over GU, with a 76-41 win in 2009, and a 66-52 win in 2015 in the Elite 8 of the NCAA Tournament.
The Bulldogs won the last meeting 89-87 in the 2018 Maui Invitational, taking down the No. 1 Blue Devils behind four blocks in the final 46 seconds.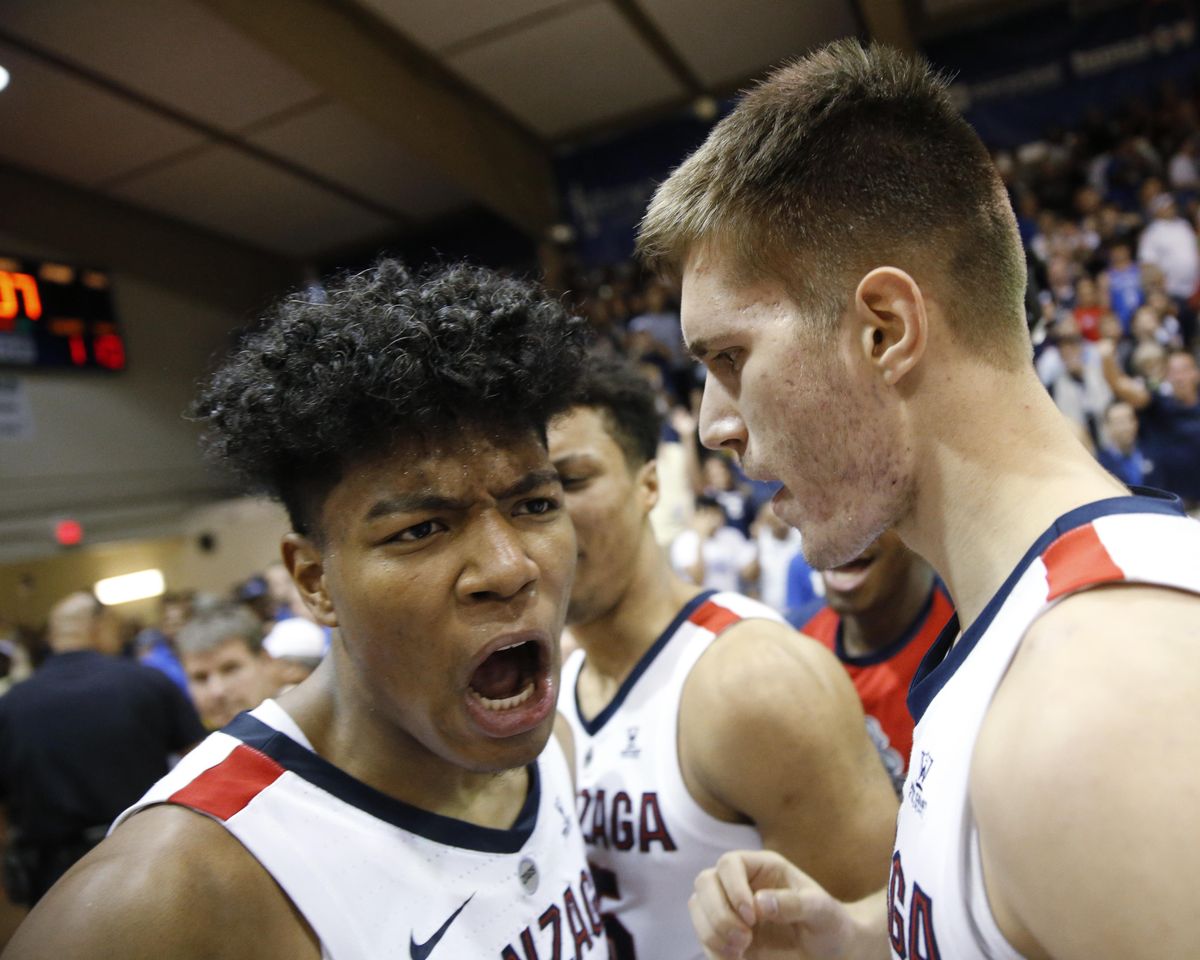 Gonzaga forward Rui Hachimura, left, and forward Filip Petrusev (3) celebrate after Gonzaga defeated Duke 89-87 in an NCAA college basketball game to win the Maui Invitational, Wednesday, Nov. 21, 2018, in Lahaina, Hawaii. (Marco Garcia / Associated Press)
Team stats
Individual leaders 
Game preview
More on the Zags
Local journalism is essential.
Give directly to The Spokesman-Review's Northwest Passages community forums series -- which helps to offset the costs of several reporter and editor positions at the newspaper -- by using the easy options below. Gifts processed in this system are not tax deductible, but are predominately used to help meet the local financial requirements needed to receive national matching-grant funds.
Follow along with the Zags
Subscribe to our Gonzaga Basketball newsletter to stay up with the latest news.
---