Review: Local production 'Hedwig and the Angry Inch' is successful from start to finish
Aug. 1, 2022 Updated Mon., Aug. 1, 2022 at 8:52 p.m.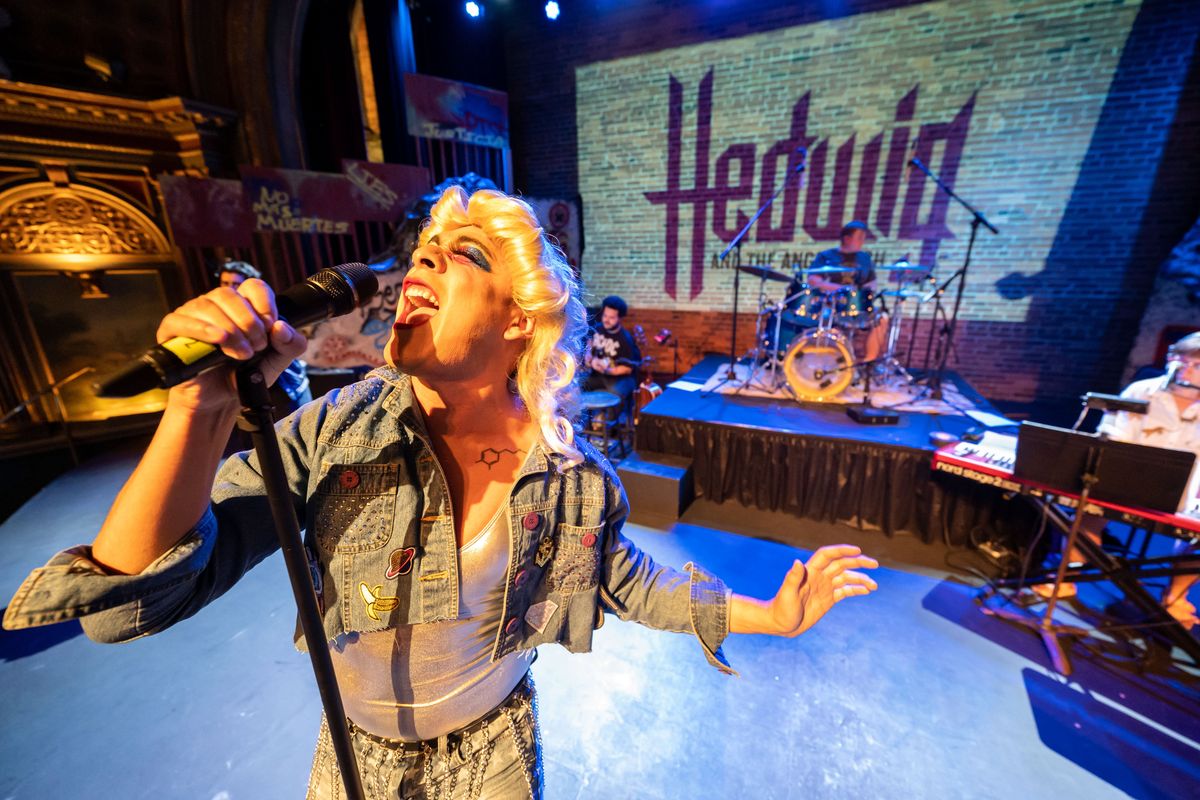 At the Bing Theater, Rio Alberto, playing "Hedwig," sings "Tear me down" during a dress rehearsal scene from the Stage Left and Spokane Ensemble Theater production of "Hedwig and the Angry Inch." (COLIN MULVANY/THE SPOKESMAN-REVIEW)
Stage Left Theater's and Spokane Ensemble Theatre's co-production of "Hedwig and the Angry Inch" was a success from start to finish. The set design, the vocal talent and the audience banter were all tens across the board.
The show opens on Hedwig (Rio Alberto), a genderqueer rising rock star with a tragic past. Reveling in the sudden notoriety she has received from a scandal involving a former lover and a car crash, Hedwig begins to tell the story of how she came to be who, where and what she is.
Accompanied by her husband Yitzhak (Felix Lewis) and the rest of their band, Hedwig weaves her tale through songs and narrative interludes, in a manner heavily influenced by David Bowie's androgynous 1970s glam rock style.
Structured like a rock concert, the show interweaves Hedwig's story and audience banter (updated to include Spokane references) with a series of iconic songs, most of which are still stuck in my head.
It's a shame they were only able to run the show for one weekend. It deserved a larger audience.
"Hedwig and the Angry Inch," presented by Stage Left Theater and Spokane Ensemble Theatre, reviewed July 29 at the Bing Crosby Theater.
Local journalism is essential.
Give directly to The Spokesman-Review's Northwest Passages community forums series -- which helps to offset the costs of several reporter and editor positions at the newspaper -- by using the easy options below. Gifts processed in this system are not tax deductible, but are predominately used to help meet the local financial requirements needed to receive national matching-grant funds.
Subscribe now to get breaking news alerts in your email inbox
Get breaking news delivered to your inbox as it happens.
---