News > Spokane
100 years ago in Spokane: Late spring frost a frustration for local gardeners
May 9, 2022 Updated Mon., May 9, 2022 at 8:57 p.m.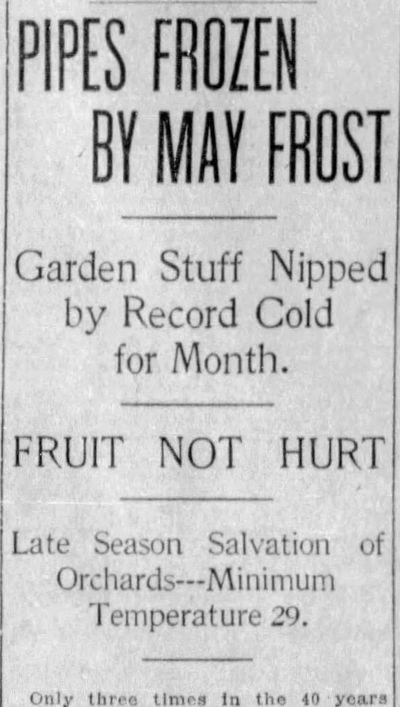 A unusual killing frost froze irrigation pipes and killed garden plants throughout the region.
The Spokane weather station reported a low of 29, and a station in an orchard north of the city reported a low of 23.
So far, the area's apple orchardists were optimistic that it did not damage the trees, because most trees were not yet blooming. It had been a cold spring and "the trees were not as far advanced as usual."
Home gardeners and nurseries were not so fortunate. Tomatoes and asters were badly frosted, and some potato plants, which had emerged early, were "wiped out."
From the radio beat: The Spokane Daily Chronicle was planning to sponsor its first radio concert.
Two popular Spokane singers, Emil Eyer, tenor, and Ruth Sampson, soprano, were scheduled to present a program of concert selections.
This, however, would not be broadcast from the proposed Chronicle broadcast station in the Review tower. That station was still weeks away from completion.
Instead, it would be broadcast from Spokane's only commercial station, at Eighth Avenue and Wall Street, operated by W.G. Irish.
Also on this date
(From the Associated Press)
1869: A golden spike was driven in Promontory, Utah, marking the completion of the first transcontinental railroad in the United States.
1933: The Nazis staged massive public book burnings in Germany.
1941: Adolf Hitler's deputy, Rudolf Hess, parachuted into Scotland on what he claimed was a peace mission. Hess ended up serving a life sentence at Spandau Prison until 1987, when he apparently committed suicide at age 93.
Local journalism is essential.
Give directly to The Spokesman-Review's Northwest Passages community forums series -- which helps to offset the costs of several reporter and editor positions at the newspaper -- by using the easy options below. Gifts processed in this system are not tax deductible, but are predominately used to help meet the local financial requirements needed to receive national matching-grant funds.
Subscribe now to get breaking news alerts in your email inbox
Get breaking news delivered to your inbox as it happens.
---