News > Washington
Windstorm picks up speed; Rattlesnake Mountain sees gusts of 105 mph
Nov. 4, 2022 Updated Fri., Nov. 4, 2022 at 11:15 p.m.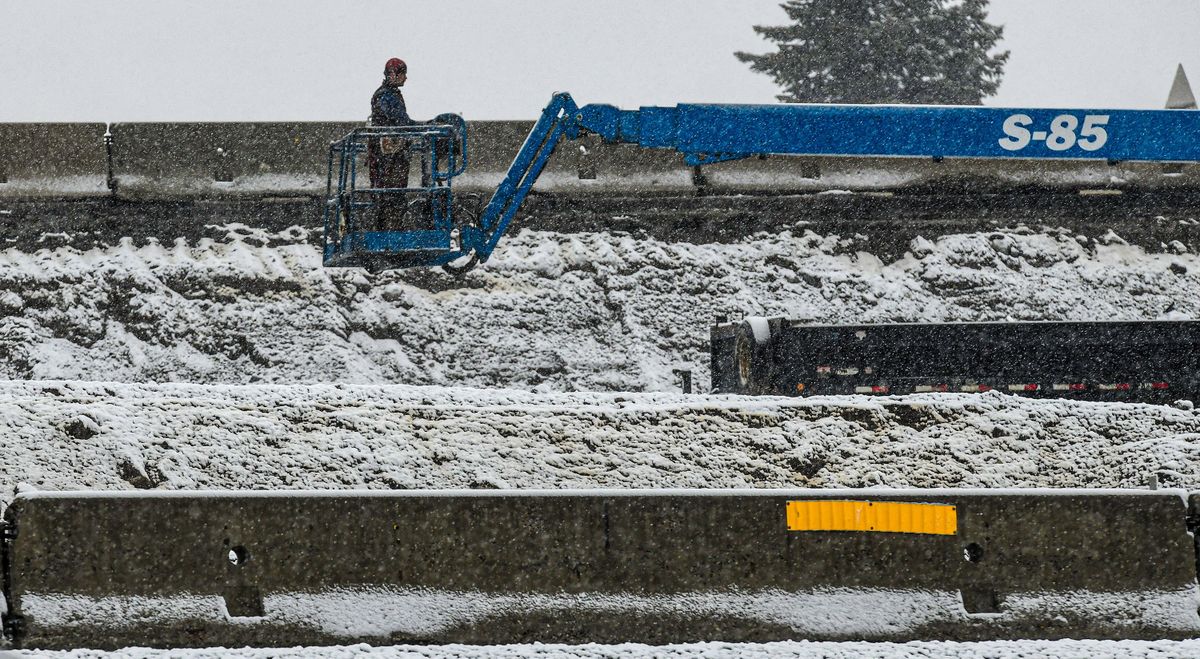 A construction worker braves the rain and snow on Friday in Post Falls. (Kathy Plonka/The Spokesman-Review)
From staff reports
Strong winds caused some damage Friday night in the Spokane area as a powerful storm moved in, leaving residents bracing for potentially widespread electrical outages.
"We're just starting to see the winds picking up," Steve Bodnar, meteorologist at the National Weather Service Spokane, said around 8 p.m. Friday.
Gusts in some parts of Spokane County topped 50 mph by about 10:30 p.m. Friday, the weather service said on Twitter. The worst of the wind was expected between midnight and 5 a.m. Saturday, with gusts possibly reaching 70 mph in the Spokane area, Bodnar said. Atop Rattlesnake Mountain near the Tri-Cities, winds reached an "impressive" 105 mph Friday night, the weather service said in a tweet.
"We are anticipating downed trees, broken branches and power outages," Spokane Mayor Nadine Woodward said in a statement.
Spokane police Lt. Jake Jensen said an officer responded to a possible downed power line around 9:15 p.m. in Browne's Addition. He said officers received several alarm calls from homes and businesses because strong winds blew against doors, for example, triggering the alarms.
Rachael Fewkes, meteorologist at the National Weather Service, said one of her coworkers sent a photo of patio furniture that blew over in Spokane Valley. Other than that and the potentially downed power line Jensen mentioned, no other damage was on the weather service's radar around 9:15 p.m.
The National Weather Service issued a high wind warning that started late Friday afternoon and is in effect until 11 a.m. Saturday.
Sustained power outages are possible. Steven Van Horn, meteorologist at the National Weather Service, said the windstorm appears similar to ones in November 2015 and January 2021 that toppled trees and cut power for many days to tens of thousands in the Inland Northwest.
"These kinds of winds can topple trees and result in scattered to widespread outages," Van Horn said.
If power is out at an intersection, drivers should treat them as a four-way stop, the city of Spokane said.
Bodnar said the wind speeds may resemble the ones in 2015, but there's an important difference.
"This one, although we could see the same magnitude of the gusts, it probably won't last as many hours as we saw in 2015," Bodnar said.
The city coordinated with homeless service providers to help people evacuate from Camp Hope, the tent city along Interstate 90 in East Central.
The city, Empire Health Foundation, Jewels Helping Hands and the Washington State Department of Transportation, which owns the land where Camp Hope sits, offered "voluntary emergency evacuation transportation" to the city's new Trent Resource and Assistance Center at 6:45 p.m., shortly before the gusts were expected to begin.
The wind was expected to test tree limbs already under stress.
With many trees holding green leaves after an unusually warm autumn, the weight of the region's first snow Friday morning caused branches to snap and fall throughout the area. The city said citizens should call 311 to report trees that are blocking roadways. If trees are caught in power lines, residents are asked to call Avista at 1-800-227-9187 and reply "Yes," when asked whether the issue is urgent. Downed power lines can be an emergency, and residents should call 911 in those cases, the city said in a press release.
After the snow fell, Avista reported dozens of outages that left more than 3,000 customers without power as of 3 p.m. Friday and that number was roughly cut in half at 8:15 p.m. Inland Power and Light reported more than 1,100 customers without power around 3 p.m. and that number dropped to about 300 at 8:15 p.m.
Bodnar said he believed most of the outages in Stevens and Ferry counties were from the heavy snow causing trees to lean over and fall on power lines.
Almost 4 inches of snow fell at the National Weather Service office on the West Plains, Bodnar said. Heavier amounts fell north of Spokane and in higher elevations like Clayton, where 6.8 inches was recorded.
Temperatures climbed into the 40s by mid-afternoon Friday and the snowfall turned into rain.
As of 5 p.m., 0.86 inches fell at the Spokane International Airport, Bodnar said. More impressive totals were recorded on the Palouse where 1.64 inches of rain fell and caused flooding.
Extremely foggy conditions were reported in Lincoln County, where a school bus collided with an ambulance Friday on U.S. Highway 2 between Wilbur and Creston, according to the Washington State Patrol and Washington State Department of Transportation Twitter pages. There were no injuries to anyone on the bus and minor injuries to one of the riders in the ambulance, the post stated. The road was closed until about 4:45 p.m.
Local journalism is essential.
Give directly to The Spokesman-Review's Northwest Passages community forums series -- which helps to offset the costs of several reporter and editor positions at the newspaper -- by using the easy options below. Gifts processed in this system are not tax deductible, but are predominately used to help meet the local financial requirements needed to receive national matching-grant funds.
Subscribe now to get breaking news alerts in your email inbox
Get breaking news delivered to your inbox as it happens.
---