'We're all here': Silver Lake woman escapes Gray fire on horseback; family returns to pile of ashes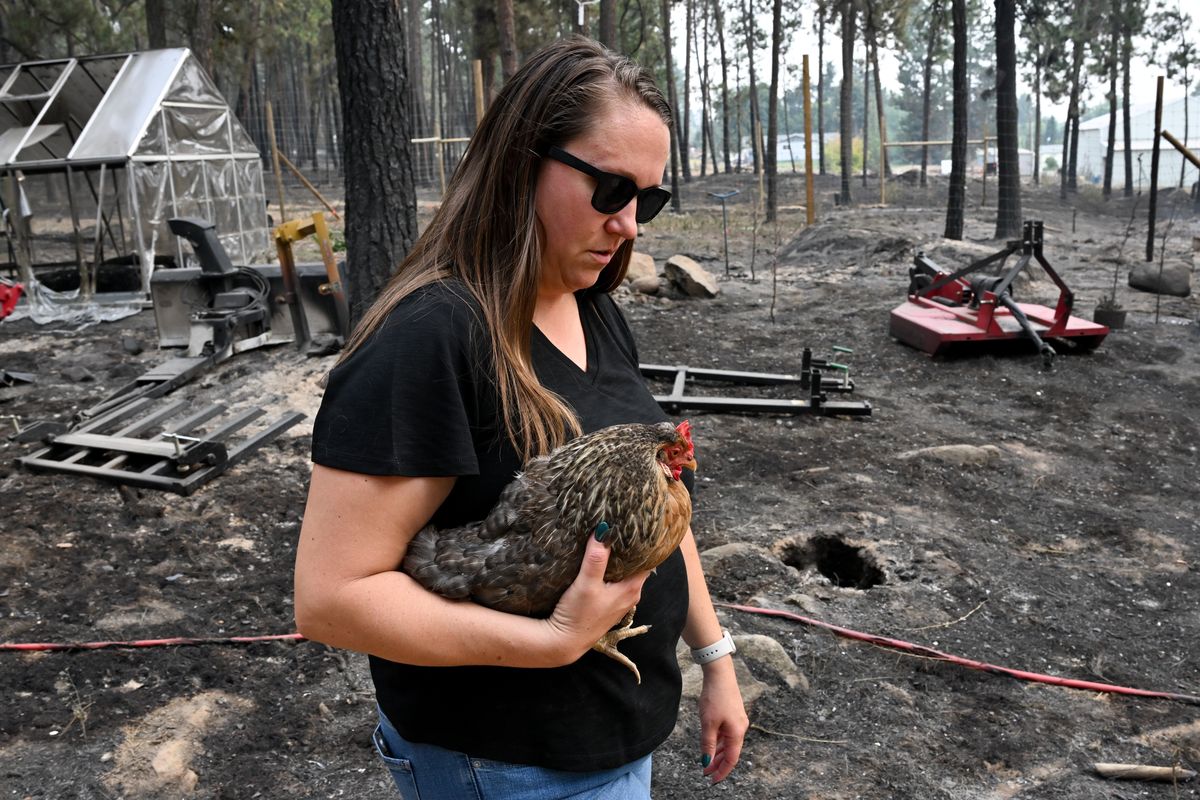 It was a typical Friday for the always-busy Montney family.
Scott was working from the family's Silver Lake home while also preparing to take his 16-year-old son, Garrett, to cross-country camp.
At about noon, he got a notification that a fire had been reported nearby but didn't think too much of it, with multiple large roads and a lake between them and what was then a small blaze.
Two hours later, when Scott went outside to do some trip prep, his eyes stung from the smoke.
He started pulling out the family's motor home and making plans in case they needed to evacuate. His wife, Jessie, called friends with horse trailers to see who might be able to come pick up her nearly 30-year-old horse, Nike.
As the column of smoke moved closer, Garrett ran back and forth to the shore to see if the fire had jumped the lake. Trees burned across the water as the fire moved away from the family's home. Then the wind shifted, the fire whipped back in their direction and the sky went black.
"That's when the sheriff started ripping up and down the road," Scott said.
"When the sheriff came, you could just tell by his facial expression – he was not joking," Jessie added. "Like, this was serious. You need to go."
The only problem: the people coming to evacuate Jessie's horse were 20 minutes away.
Deputies were insistent. The fire had jumped the lake.
"I'm going to have to ride her out," Jessie told the deputy.
"And he's like, 'Ride her out.' "
Jessie grabbed her bridle from the house and ran to her chicken coop.
"I opened the chicken coop and I was like, 'Girls, best of luck,' " Jessie said.
She started saddling Nike, whose name means "goddess of victory," talking to her sweetly as she put the bit in her mouth.
"Nike, I need you to be a good girl," Jessie said. "I need you to get us out of here."
Jessie mounted her in the pen and rode up through her neighbors' property before hitting a caravan of cars fleeing the flames.
A neighbor she had never met before stopped, got out and asked if they needed a ride. She was towing an empty horse trailer.
"They picked us up in the middle of the road," Jessie said. "Nike got in a horse trailer that she had never been in, just loaded right in. And we got out of there."
Less than 20 minutes later, the Montneys' home was consumed by fire.
"I think that all the stars must have aligned, because for us to get out safely on foot like that," Jessie said, taking a deep breath, "it's just kind of a miracle."
As Jessie rode out with Nike, Garrett and Scott herded the family's three dogs, Milo, Koda and Augie, into their camper.
When they pulled out of the driveway, the fire had already reached the edge of their property. Garrett snapped a photo at 3:42 p.m.
At 4:10 p.m. they got a notification that the power had gone out at their house, Scott said. He thinks the house had already gone up in flames.
"It was horrific," Scott said. "The old trope about we left with the clothes on our back and our animals is exactly what happened."
Building a home
The Montneys have lived in Medical Lake for two decades. They raised their three children there and built successful careers working in IT for insurance companies.
In 2020, they sold their home in Medical Lake proper and bought a 10-acre property on Silver Lake. They quickly began making it their own.
Garrett competes internationally in BMX, qualifying for Team USA the last two years. With his sights set on competing in the next Olympics, his parents put in a practice track midway up the property.
A Quonset hut-style shop was home to the family's half-dozen custom BMX bikes and Garrett's gym setup. Each bike is fit specifically to the rider, with adjustments made to the millimeter, Garrett and Scott explained.
Jessie moved Nike out to the property about eight months ago after boarding her for years. She installed a red and white barn-style chicken coop for her flock of eight.
Behind the coop, a small greenhouse was home to her budding garden. Scott spent weeks digging post holes in the rocky ground for a fence to keep the deer out so she could grow her strawberries and tomatoes.
The couple's middle daughter, Lily, 21, lived in a fifth-wheel parked below the house. The perfect "apartment" for a young adult, Scott said.
After nearly three years, the place was starting to feel like home, tailored to the family's needs.
The couple just finished plans for a new insulated shop to be added to the property for storage and a better gym setup for Garrett.
Now, they're starting over.
'Just a pile of rubble'
Late Sunday afternoon, the Montneys crept up Silver Lake Road in their SUV. Crews were repairing power lines as firefighters looked over hot spots.
Up the family's once-shaded driveway, the devastation was clear.
The house was a pile of ashes. The shop collapsed in on itself. Melted metal had run from the remnants of Scott's brand new Ford Lightning pickup. Fiberglass shards sprayed out from the family's boat, with the propeller barely visible under a pile of metal.
Scott slammed the car into park and, like an efficient pit crew, the family sped out of the car hauling water and feed for the chickens Jessie hoped had survived.
An ash-covered chicken hobbled up moments later.
The family knew a little bit of what they were walking into – a neighbor had called and told them their home was gone.
"That was a hard 10-minute call," Scott said.
Then they saw the devastation for themselves when a friend of a friend who is a firefighter sent them photos of the property.
Still, seeing it in person was tough.
One of Jessie's chickens lay dead in the coop. A survivor hid nearby before hobbling out on burned feet.
She stopped behind the coop for a while before Jessie snuck up on her. As Jessie grabbed the bird, she let out a loud cluck before tucking in to Jessie's side.
Up the dirt road, another chicken's body. Jessie let out a sigh as she spotted it. The family walked up the road past the clump of feathers to the back of their property, which they had left largely untouched, purposefully creating an oasis for wildlife. Deer birth their fawns each year in thick brush under the shade of the towering trees. Owls nest overhead.
Now, thick ash floats up with each step Jessie and Scott take. Garrett's shoes quickly turn black as he picks his way through the burned-out woods. What once felt like a secluded forest is now an open field dotted with blackened tree trunks.
As they waded through the piles of ashes, Scott and Jessie didn't despair. In fact, they reflected on how lucky their family was.
"Things can be replaced, but all the living souls made it out safely, except … some of the chickens," Jessie said.
The couple retreated to what they knew on Saturday as they waited to get back to their property, Jessie said. They filed insurance claims from their RV parked in Scott's office parking lot.
Jessie fended off tears most of the day, focusing on doing things to improve their situation. Not wanting Garrett to miss a workout with cross-country season coming up and a big BMX race in two weeks, Jessie went to Fleet Feet on Saturday to repurchase the running shoes she had bought him the day before the fire.
When the store employee looked up her address and saw Medical Lake, "her face just went white," Jessie said.
Jessie told her the story of their escape and the loss of their home.
"And she was just like, 'Oh my god, can I give you a hug?' When she comes over and gives me a hug … I just started bawling," Jessie said. "So apparently someone being nice to me was my trigger."
The employees at the store paid out of pocket for some of the family's gear and gave Jessie and Scott shoes from the return pile. The couple only had the boots they wore when evacuating.
"They were so generous and so kind," Jessie said, eyes filling for the first time since returning home. "I think that's the thing that makes me teary … people are just … I don't know. They're just so generous."
Despite the devastating loss, the Montneys remained positive Sunday.
"Scott and I are so lucky we can both keep working," Jessie said, noting everything was insured. "It's obviously very inconvenient and devastating, but we're going to come out OK."
Garrett dug through the remains of his bedroom and pulled out a set of handle bars. Then, he moved to the crumpled shop where he pulled out the remains of his dad's very first BMX bike.
His collection of jerseys gained by swapping with other riders at international competitions was destroyed. He's particularly upset about the Australia jersey, one that was hard to come by last year.
But like most teenage boys, Garrett had failed to clean out the hand-me-down lima bean green Volkswagen Beetle that somehow survived in the driveway. Inside was his school backpack and his first gift from his girlfriend. In his dad's surviving truck was last year's world's jersey , tucked in a helmet bag.
He held it up for his parents with a smile.
After a walk down to the family's fifth wheel, Scott made a discovery of his own. The orange Le Creuset tea kettle he bought for Jessie years ago had rolled out of the RV during the fire and remained untouched.
While so many precious items and memories are gone, the Montneys are together, and that's all that matters.
"We're all here, and we can just make new memories again," Scott said.
---