Sports > High school sports
Sophomore Jayce Swanson steps up late, lifts Gonzaga Prep boys over Ferris; Bullpups girls handle Saxons in early game
Feb. 3, 2023 Updated Fri., Feb. 3, 2023 at 11:47 p.m.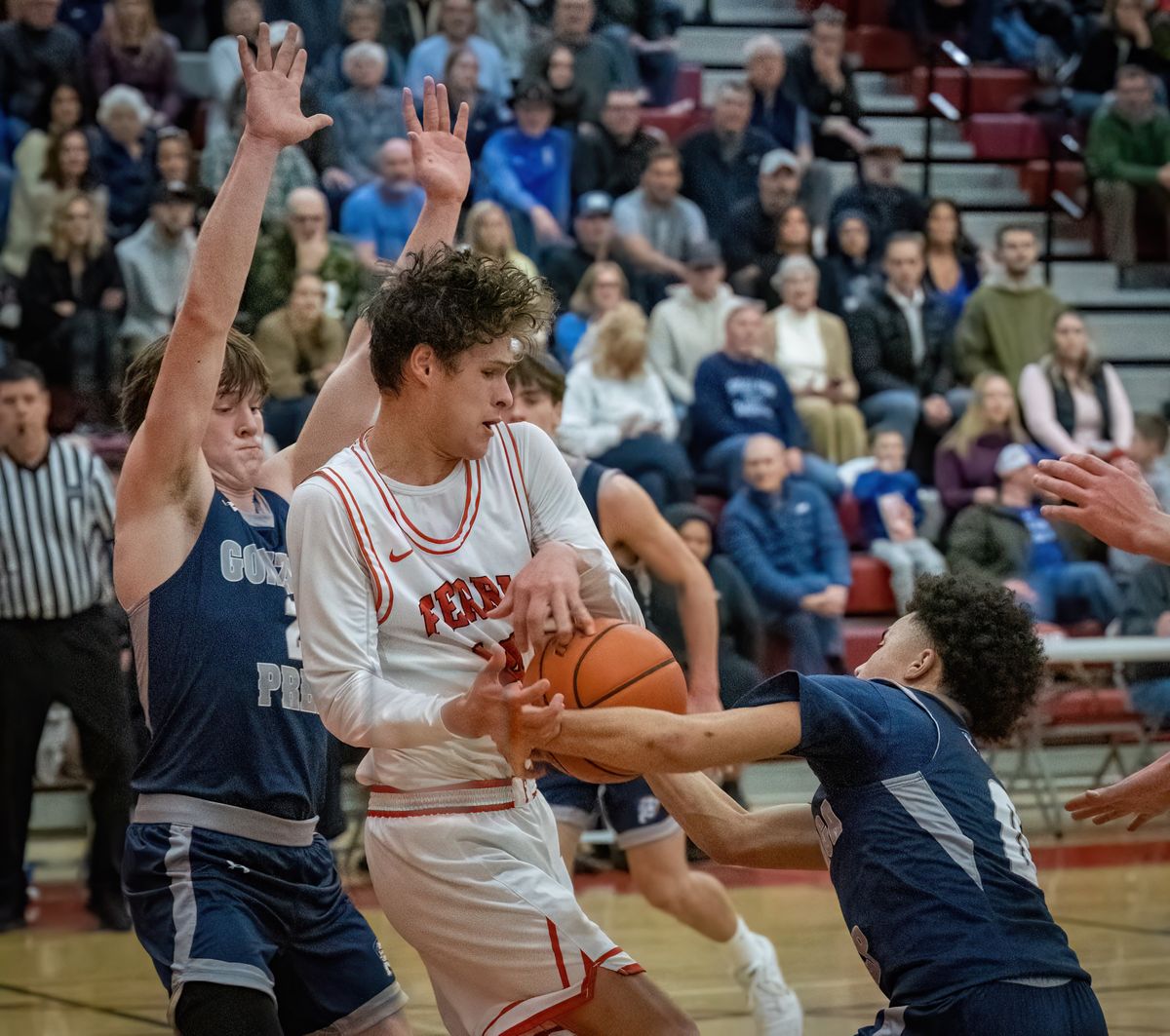 Gonzaga Prep guard Jayce Swanson fouls Ferris guard Dylan Skaife during Friday's Greater Spokane League basketball game at Ferris High School. (Colin Mulvany/The Spokesman-Review)
Gonzaga Prep and Ferris both lost to Mt. Spokane earlier this season, sewing up the Greater Spokane League 4A/3A regular-season title for the Wildcats with one game to play.
The Bullpups locked up the GSL's top 4A seed to the district playoffs weeks ago, so they were playing for pride Friday.
There were still high stakes for Ferris, though.
A win would clinch the No. 2 3A seed behind the Wildcats. A loss would drop the Saxons into a tie with Mead with the last league game to determine who would host a first-round game – and who would have to travel to the Tri-Cities on Feb. 11.
It was tied in the fourth quarter, but a sophomore stepped up in a big way for the Bullpups.
Jayce Swanson nailed a pair of 3-pointers after Ferris clawed its way back and visiting Gonzaga Prep (17-3, 7-1) topped Ferris (14-4, 6-2) 62-50 in what G-Prep coach Matty McIntyre called a "playoff atmosphere."
"Ferris has a very good team," McIntyre said. "A very good defensive team. I was concerned to how we would maybe score, but it was a hard-fought game on both ends and I think it'll serve both teams well moving forward for playoff basketball."
Swanson finished with 19 points. Senior Jamil Miller led G-Prep with 21 points. Dylan Skaife paced Ferris with 20.
"I was feeling it," Swanson said. "Even on shots I was missing, I told myself to keep shooting because it's gonna fall into place."
"We're a team that had to do little things right," Ferris coach Sean Mallon said. "We were missing free throws, block-outs, we were letting Swanson go to work, you know, repeatedly from the same spot. There's just some things defensively we'd like to have back."
The Saxons will have to beat North Central on the road and hope for a Mead loss on Tuesday in order to host a playoff game.
"We approach every game the same," Mallon said. "So, whenever a team talks about the seedings, or standings or whatever, we're very much a one-at-a-time type of group."
The Saxons started the fourth quarter with a 9-3 run to tie the score at 44. But Swanson answered with a pair of corner 3s and his floater in the lane with 1:15 to go made it a six-point game.
"My role is really, like, being a playmaker and creating for my team," Swanson said. "On nights I need to step up, I do step up."
"He teed it up and shot it with confidence," McIntyre said. "And we have a lot of guys that can do that. They were really jamming up the middle and making it hard for us to get inside touch. So, we had to shoot the open ones and shoot them with confidence. And we did that."
The Bullpups made their free throws in the closing moments and were 8 of 10 in the quarter.
"I don't know exactly what our percentage is for the season," McIntyre said. "But you just hope that you make the ones that matter most at the end, and we did that tonight."
G-Prep came out with an 8-2 run at the start of the second quarter, with Swanson and Henry Sandberg hitting 3s. Ferris answered with a 9-2 run, eight coming from Reese Snellman, and the Bullpups led 23-22 at the half.
Skaife hit a 3 early in the third to give Ferris a 27-25 lead, but G-Prep answered with a 10-2 run – seven coming from Miller – to open a seven-point lead. Miller threw down an alley-oop with 40 seconds left in the quarter and the Bullpups led by six entering the fourth.
"We just needed to get a little bit more movement between our bigs on the baseline and the high post and just settle things down," McIntyre said, "but it was a game of runs the entire way."
Girls
Gonzaga Prep 62, Ferris 45: Lucy Lynn scored 22 points and the visiting Bullpups (14-5, 6-2) beat the Saxons (7-12, 2-6) in the early game.
Emmelia Wevers and Kayla Jones scored 10 points apiece for Ferris.
Gonzaga Prep tied Central Valley for the top GSL 4A seed to the district tournament with one game to play. CV holds the tiebreaker with a 65-53 win on Jan. 20.
"That 4A tournament is going to be knock-down, drag-out," Gonzaga Prep coach Geoff Arte said. "You want as many home games as you can get."
Lynn had 12 points in the first quarter as G-Prep raced out to a 21-9 lead. She added six in the second quarter and the Bullpups led 36-24 at halftime.
"All of our kids moved the ball better than we've moved it in a couple of weeks, and she was kind of the beneficiary of that ball movement," Arte said. "When the kid gets hot, you find her."
Ferris used a 9-4 run in the third quarter to get back to single digits, but Taliah Lee (14 points) hit a pair of midrange jumpers and it was 45-33 after three quarters.
Jones made three free throws to get the deficit to eight with 5½ minutes left, but sophomore Devyn Pirwitz (11 points) hit a long 3 to put the lead back to double digits.
"She's a really good shooter," Arte said of Pirwitz. "She's just learning about how fast this game is in Spokane."
Local journalism is essential.
Give directly to The Spokesman-Review's Northwest Passages community forums series -- which helps to offset the costs of several reporter and editor positions at the newspaper -- by using the easy options below. Gifts processed in this system are not tax deductible, but are predominately used to help meet the local financial requirements needed to receive national matching-grant funds.
Subscribe to the sports newsletter
Get the day's top sports headlines and breaking news delivered to your inbox by subscribing here.
---