Sports > High school sports
GSL Wrestling Championships: Mead cruises to 3A title behind five champions; Pullman edges West Valley in 2A
Feb. 4, 2023 Updated Sat., Feb. 4, 2023 at 9:26 p.m.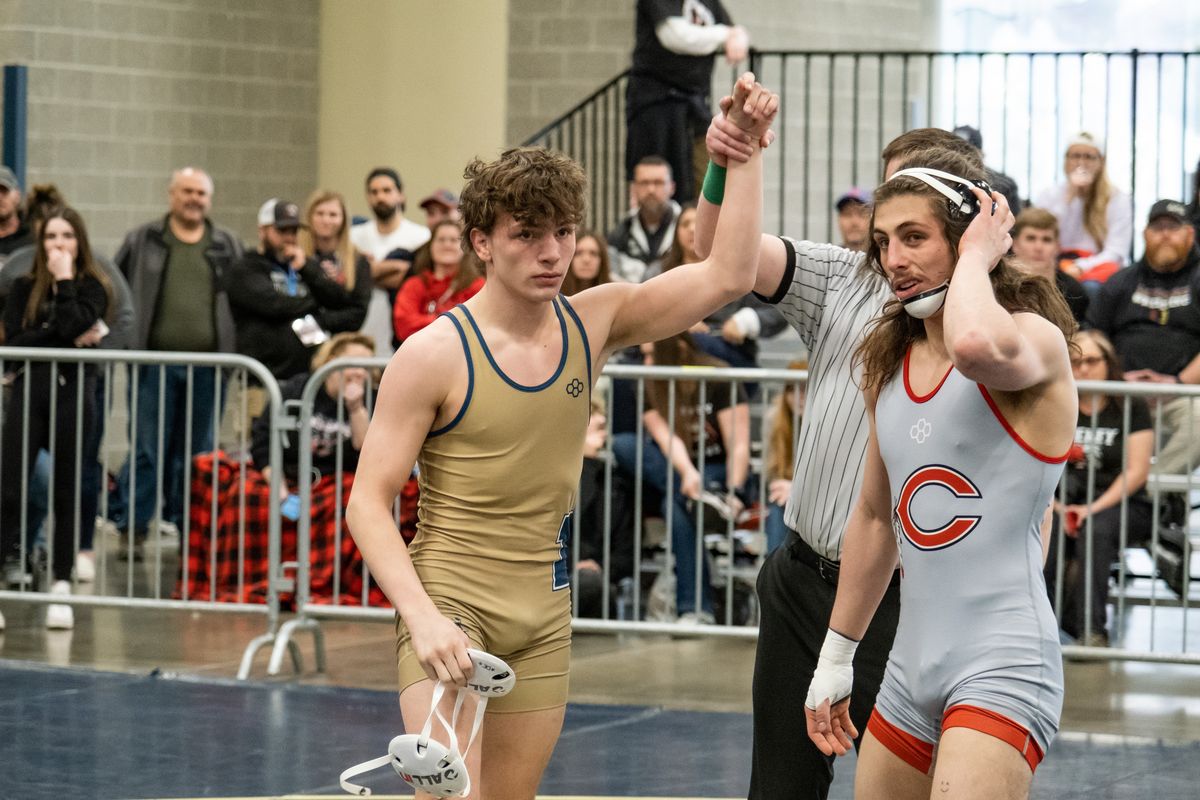 Mead's Josh Neiwert, left, celebrates Saturday after defeating Cheney's Joe Showalter at the GSL's district 3A wrestling tournament. (Madison McCord/For The Spokesman-Review)
After each dealing and taking their blows during the Greater Spokane League regular season, the 3A co-champions – Mead, Mt. Spokane and University – were eager to see how they stacked up against one another in the postseason.
On Saturday at the Spokane Convention Center, Mead proved to the Wildcats, Titans and any other 3A foe that it is still the defending state champions for a reason.
The Panthers amassed 423 points behind five champions to claim the Greater Spokane League's district 3A team championship title ahead of Mt. Spokane (336) and U-Hi (328).
"I was really impressed with our guys this weekend," Mead coach Phil McLean said. "Our strength is our depth where we have two really good kids in almost all of the weights and they all compete hard. So, we have depth and quality, but it was the depth that shined through today."
That depth means the Panthers will send 22 wrestlers into next weekend's regional round at Juanita High School in Kirkland as the top six placers in each weight in 3A advance from districts. The Wildcats and Titans will advance 18 wrestlers apiece.
"It's only going to get tougher, and the door is going to be even more narrow," McLean said. "Each tournament changes. This is a tournament for teams with good depth, where next week it thins out a bit because everyone has hot rods. And then at state it's really tough, so it could be a different tournament and result each week."
Of Mead's five champions, none was as efficient as Josh Neiwert. The 132-pound junior pinned Cheney's Joe Showalter in just 32 seconds. After transferring from Gonzaga Prep over the summer, Neiwert said he's fitting in perfectly at Mead.
"We don't just have one varsity guy and then that's it. There are two or three guys behind each of us that can compete," he said. "It's been really fun to become a leader on this team and just to be a part of it."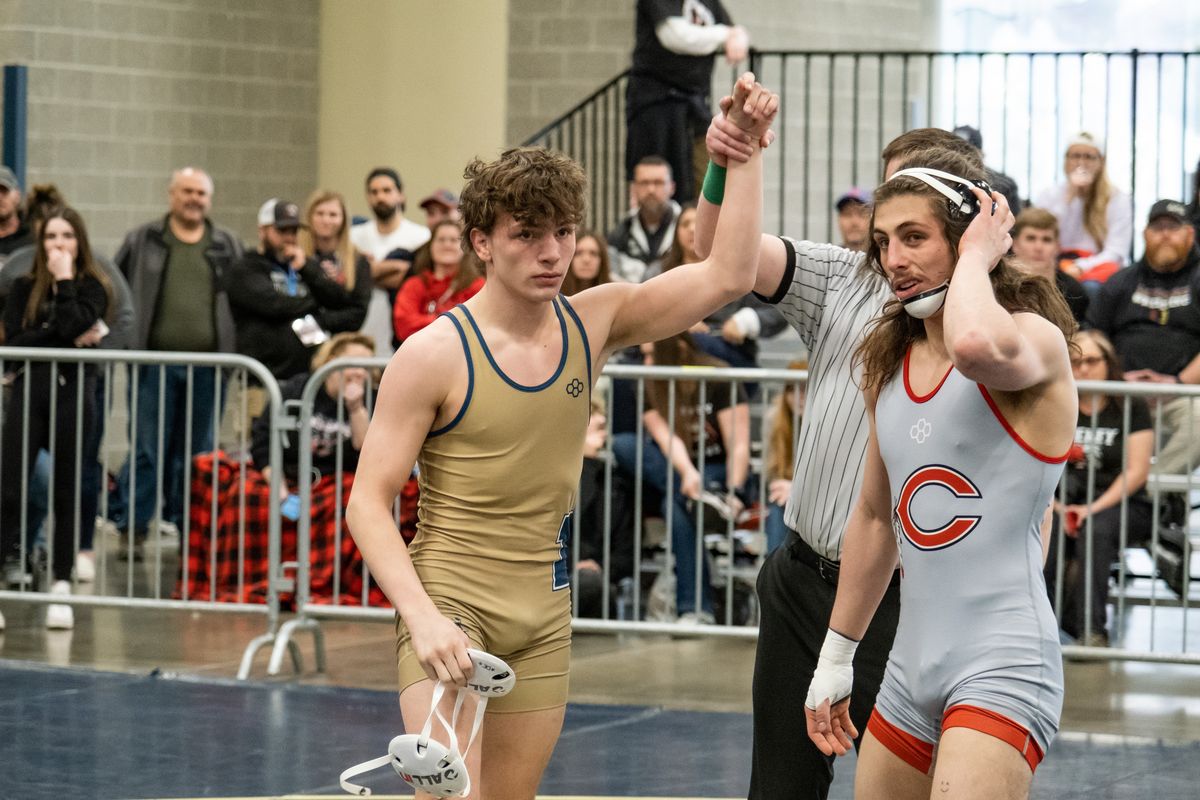 Mead's Josh Neiwert, left, celebrates Saturday after defeating Cheney's Joe Showalter at the GSL's district 3A wrestling tournament. (Madison McCord/For The Spokesman-Review)
McLean said Neiwert, who took second place at State 4A last year with the Bullpups, brings an understanding to the team of what it takes to succeed in the postseason.
"He's a kid that can flat-out wrestle," McLean said. "We've brought him along throughout the season with the team concepts, but there is no doubt that he can wrestle and win matches."
Another wrestler who continued his winning ways was U-Hi 106-pounder Czar Quintanilla.
The freshman standout, who claimed a Tri-State title earlier this season, dispatched top-ranked Tanner Crosby from Mt. Spokane via pin in just under a minute.
"It was a good feeling to get through, but I still know there is a lot of work to be done," Quintanilla said.
"My coaches and brother helped me a lot through this first step and now I just want to get to state."
Quintanilla was one of three champions for the Titans, who have to look ahead to regionals while keeping an eye on the status of senior standout Q'veli Quintanilla.
Q'veli, who has been sidelined for the past few weeks with a knee injury, advanced to the semifinals before bowing out of the tournament and settling for a sixth-place finish. That placing though means that the two-time state champion will advance to regionals and have a shot at returning to state if he can overcome his injury.
Jarom Liljenquist was one of four champions for Mt. Spokane. Ridgeline's Tyson Ramsey and Cheney's Dalton Taylor also claimed district titles.
"It's tough to wrestle those really good kids week to week," McLean said. "They get closer and everyone studies, so it's really important to win matches like this both mentally and for the next week in seeding where a lot of different things can happen."
Pullman squeaks to 2A title; Central Valley tops in 4A
If it had to come down to the last match to determine a district title, Pullman would love to have junior standout Ivan Acosta on the mat.
Luckily for the Greyhounds, the matches lined up just right for Acosta's 15-0 technical fall victory over Clarkston's Bodee Thivierge at 145 pounds to hand Pullman the district 2A team title by a single point – 265.5-264.5 – over West Valley.
"I really tried to emphasize to myself and our team that every match matters and every little mistake can have a big impact," Acosta said. "Our main focus was just staying in the moment and on the match ahead of us."
The Greyhounds finished with three champions and will send 12 wrestlers to Saturday's regional meet at East Valley High School.
Having the Knights host the regional is a benefit to all GSL schools but is especially important for EV's Alonzo Vargas.
"It feels really good to get this done and stay at home for the next one, but the job isn't finished," said Vargas – the reigning Tri-State champion at 285 pounds. "I still need to put the effort in at practice and in matches to get better and keep advancing."
In the district 4A tournament, Central Valley had seven champions and finished with 350 points to fend off second-place Lewis and Clark (317). The Bears will send 13 wrestlers to Saturday's regional at Gonzaga Prep, as only the top two placers at districts advanced.
LC had four champions and advanced 10 to regionals. Gonzaga Prep had three winners and four earned regional berths.
Rogers girls third in subregional
Savannah Taylor and Ellabelle Taylor took home championships and Rogers finished third in a small-school subregional at Liberty High School in Spangle.
University's Libby Roberts (105 pounds), North Central's Kilee Callaghan (145) and Mead's Baylie Conner (190) claimed individual titles at the 4A/3A subregional in Richland.
Deer Park takes 1A title
Deer Park finished with three champions and amassed 310 points to top Riverside and Lakeside in the District 7 1A tournament at Freeman High School.
The Eagles finished with four individual champions. Riverside matched DP's trio of winners.
Local journalism is essential.
Give directly to The Spokesman-Review's Northwest Passages community forums series -- which helps to offset the costs of several reporter and editor positions at the newspaper -- by using the easy options below. Gifts processed in this system are not tax deductible, but are predominately used to help meet the local financial requirements needed to receive national matching-grant funds.
Subscribe to the sports newsletter
Get the day's top sports headlines and breaking news delivered to your inbox by subscribing here.
---