News > Nation/World
Biden hammers Republicans on economy, eyes 2024
Jan. 26, 2023 Updated Thu., Jan. 26, 2023 at 8:57 p.m.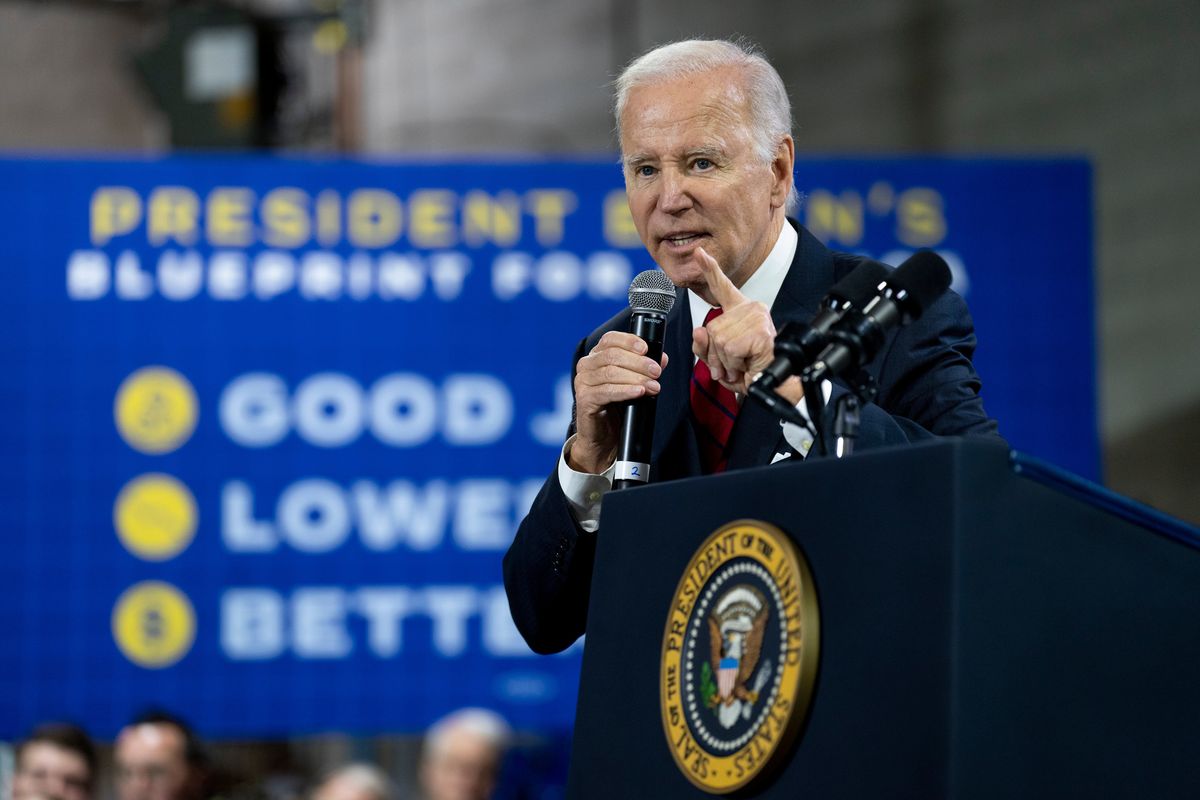 President Joe Biden delivers remarks on the economy at the Steamfitters Local 602 union hall in Springfield, Va., on Wednesday. (DOUG MILLS)
WASHINGTON – President Joe Biden assailed House Republicans in an address Thursday over their tax and spending plans, including potential changes to popular retirement programs, as he ramps up for what is likely to be a run for re-election.
The president's speech, in Springfield, Virginia, was his latest attempt to reframe the economic narrative away from the rapid price increases that dogged much of his first two years in office and toward his stewardship of an economy that has churned out steady growth and strong job gains.
Speaking in a steamfitters union hall for what aides billed as the president's first major economic speech of the new year, Biden sought to take credit for the strength of the labor market, a falling inflation rate and news from the Commerce Department on Thursday morning that the economy grew at an annualized pace of 2.9% at the end of last year. And he cast House Republicans and their economic policy proposals as roadblocks to continued improvement.
"At the time I was sworn in, the pandemic was raging and the economy was reeling," Biden said. He then ticked through the actions he took to aid in the recovery. Those included $1.9 trillion in pandemic and economic aid; a bipartisan bill to repair and upgrade roads, bridges, water pipes and other infrastructure; and a sweeping industrial policy bill to spur domestic investment in advanced manufacturing sectors like semiconductors and speed research and development to seed new industries.
Biden denounced Republican proposals to replace federal income taxes with a national sales tax, curb safety-net spending and risk a government default by refusing to raise the federal borrowing limit without deep spending cuts. Why, he asked, "would Americans give up the progress we've made for the chaos they're suggesting?"
"I will not let anyone use the full faith and credit of the United States as a bargaining chip," Biden said, reiterating his refusal to negotiate over raising the debt limit. "The United States of America – we pay our debts."
But the president also sought to reach out to working-class voters – in places like his native Scranton, Pennsylvania – who have increasingly voted Republican in recent elections. Biden said those voters have been left behind by U.S. economic policy in recent years, and he tried to woo them back by promising that his policies would continue to bring high-paying manufacturing jobs that do not require a college degree to people who feel "invisible" in the economy.
"They remember, in my old neighborhoods, why the jobs went away," Biden said. He then vowed to "build an economy where nobody's left behind – and I mean it: nobody."
The speech built on a pattern for Biden, who has found the new and narrow Republican majority to be both a political threat and an opportunity.
Republicans in the chamber have begun a series of investigations into Biden, his family and his administration. They have also demanded deep cuts in federal spending in exchange for raising the borrowing limit, a position that risks an economic catastrophe given the huge sums of money that the United States borrows to pay for its financial obligations.
The president has refused to tie any spending cuts to raising the debt limit and has called on Congress to increase the $31.4 trillion cap so that the nation can continue paying its bills and avoid a federal default.
But Biden, who is facing a divided Congress for the first time in his presidency, is increasingly acting as if the newly empowered conservatives have given him a political opening on economic policy. As he prepares for a likely re-election bid in 2024, he is seizing on the least popular proposals floated by House members to cast himself as a champion of the working class, retirees and economic progress.
House Republicans have not yet released a detailed or unified economic agenda, and they have not made a clear set of demands for raising the debt limit, though they largely agree that Biden must accept significant spending curbs.
But members and factions of the Republican conference have pushed for votes on a variety of proposals that have little support among voters, including raising the retirement age for Social Security and Medicare and replacing the federal income tax with a national sales tax.
Biden has sought to brand the entire Republican Party with those proposals, even though it is not clear if the measures have majority support in the conference or will ever come to a vote. Former President Donald Trump, who has already announced his 2024 bid for the White House, has urged Republicans not to touch the safety-net programs.
But important factions in the Republican Party continue to push for cuts to the growth of those programs in the name of reducing future accumulation of debt, and Biden has been happy to cast them as the true contrast to his economic agenda. He has pointedly refused to cut safety-net programs and has threatened to veto such efforts.
"The president is building an economy from the bottom up and the middle out, and protecting Social Security and Medicare," Karine Jean-Pierre, the White House press secretary, told reporters this week. "Republicans want to cut Social Security, want to cut Medicare – programs Americans have earned, have paid in – and impose a 30% national sales tax that will increase taxes on working families.
"That is what they have said they want to do, and that is clearly their plan."
The focus on Republicans has allowed Biden to divert the economic conversation from inflation, which hit 40-year highs last year but receded in the past several months, though it remains above historical norms.
Progressive groups see an opportunity for Biden to score political points and define the economic issue before the 2024 campaign begins in earnest. That is in part because polls suggest Americans have little appetite for Social Security or Medicare cuts – and far less focus on the national debt – than House Republicans do.
"It is a political gift," said Lindsay Owens, executive director of the Groundwork Collaborative, a liberal nonprofit in Washington.
Biden's speech Thursday waded deep into policy details, including the acreage of western timber burned in fires linked to climate change, the global breakdown of advanced chip production and the average salary of new manufacturing jobs.
This article originally appeared in The New York Times.
Local journalism is essential.
Give directly to The Spokesman-Review's Northwest Passages community forums series -- which helps to offset the costs of several reporter and editor positions at the newspaper -- by using the easy options below. Gifts processed in this system are not tax deductible, but are predominately used to help meet the local financial requirements needed to receive national matching-grant funds.
Subscribe now to get breaking news alerts in your email inbox
Get breaking news delivered to your inbox as it happens.
---