Sports > High school sports
State 4A/3A boys: Mt. Spokane's 3A championship dreams end against O'Dea; Gonzaga Prep advances to 4A fourth-place game
March 3, 2023 Updated Fri., March 3, 2023 at 10:31 p.m.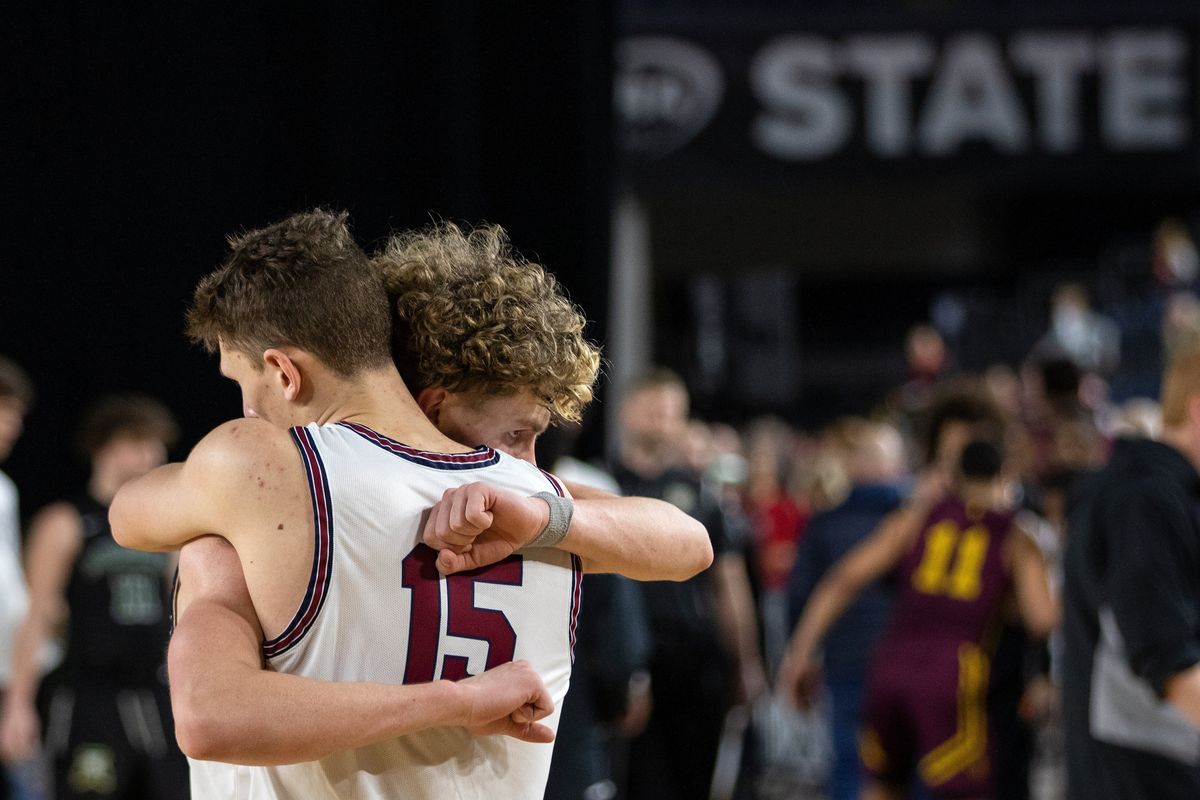 Mt. Spokane's Maverick Sanders, front, and teammate Ryan Lafferty hug after their loss to O'Dea in the semi-finals of the 3A Boys State Basketball Tournament in Tacoma, Wash., on Friday, March 3, 2023. (Patrick Hagerty)
TACOMA – It's become a familiar story when Spokane-area teams come across the state for the State 4A and 3A tournaments.
Regardless of record or resume, Greater Spokane League teams are ofter regarded lightly in matchups against usually bigger and presumably faster competition.
It was no different this week. Even though top-seeded Mt. Spokane entered the tourney with just one loss, folks were still surprised with the ease in which the Wildcats dispatched 10th-seeded Bellevue 77-43 in a physical contest.
Friday's Wildcats matchup against O'Dea presented a different challenge than the small but feisty Bellevue squad, with the Fighting Irish suiting up seven players at 6-foot-5 or better, including 6-10 post Miles Goodman and 6-8 wing Miles Clark.
In the end, it was one quarter of poor shooting against a stingy defense that did in the No. 1 seed.
Mason Williams scored 14 points – 12 in the second half, including some big free throws late – and O'Dea edged the Wildcats 57-52, ending Mt. Spokane's championship dreams.
"You can't not have a great quarter and expect to move on," Mt. Spokane coach David Wagenblast said. "I'm really proud of our kids in back-to-back years, competing at the highest level. You couldn't ask for anything better in terms of being a coach and looking at your kids who go out there and just left it all out there."
The game was tied at 30 at halftime, but Mt. Spokane made just two baskets in the third quarter and shot 24% in the second half.
The Wildcats were down as much as 10 points early in the fourth quarter, but they made it a one-possession game with less than 1 minute left before another miss undid them.
"Even though the ball didn't go in the basket, we certainly showed our true character, never giving and up making it all the way till the last play of the game," Wagenblast said.
Ryan Lafferty led Mt. Spokane (24-2) with 26 points, shooting 11 of 12 at the line, and Maverick Sanders added 18.
But O'Dea's length and aggression certainly altered the Wildcats' offense.
"They're a hassle, anytime you go against 6-10, 6-8, 6-8," Wagenblast said. "That's a heck of a high school basketball team."
The Wildcats' active defense gave O'Dea (21-8) fits in the first quarter when Lafferty took the offensive reins. He scored on penetration twice, got to the line twice and hit a 3-pointer for 11 first-quarter points. Mt. Spokane led 22-14 after one quarter.
The lead reached 10 midway though the second quarter on a turn-around jumper by Sanders, getting him to double digits in the first half. O'Dea made an 11-point run to take the lead late in the quarter, ended by a spin move from Lafferty, and it was tied at 30 at the half.
O'Dea's Williams had six points early in the third quarter as the Irish built a 40-35 lead and Wagenblast called timeout.
Lafferty hit a late 3-pointer, just the second field goal of the quarter for the Wildcats, and Mt. Spokane trailed by eight entering the fourth quarter.
Lafferty's fadeaway baseline jumper made it 51-50 with 2:51 left. The Wildcats missed on back-to-back possessions, and Williams made four straight free throws to build a five-point lead with 1:13 to go. Sanders scored, then drew a charge to take the ball back with 44.8 seconds left and the Wildcats down three.
But Lafferty's runner didn't go, O'Dea grabbed the rebound and Ryan Jackson converted both ends of a 1-and-1 to seal it.
4A
(5) Gonzaga Prep 72, (8) Richland 63: Jamil Miller scored 20 points and added 12 rebounds and the Bullpups (23-5) eliminated the Bombers (22-5) in a fourth-place bracket game.
G-Prep faces 10th-seeded Camas in the fourth-place game Saturday at 8 a.m.
"It feels great, you know, I get to keep playing my last year high school," Miller said. "We're gonna come out and play hard."
Henry Sandberg scored 18 points and Jayce Swanson added 15 for G-Prep. Richland's 6-10 junior post Lucas Westerfield had 18 points, 15 rebounds and five blocked shots .
Richland started the game with a 10-0 run, ended when Miller went coast-to-coast for a one-handed slam. Jase Vopalensky hit a 3-pointer at the horn and the Bombers led 18-9 after one quarter.
The Bullpups started the second quarter with a nine-point run to tie the score. They hit six 3-pointers in the quarter, including Swanson's buzzer-beater, and led 36-28 at the half.
"We kept it together as a team," Miller said. "You know, we've been playing together for a while. We just got through it."
Miller hit a long 3-pointer at the third-quarter buzzer to put G-Prep up 54-40 . He had eight points in the fourth, including 4 of 4 at the line, to seal it.
Local journalism is essential.
Give directly to The Spokesman-Review's Northwest Passages community forums series -- which helps to offset the costs of several reporter and editor positions at the newspaper -- by using the easy options below. Gifts processed in this system are not tax deductible, but are predominately used to help meet the local financial requirements needed to receive national matching-grant funds.
Subscribe to the sports newsletter
Get the day's top sports headlines and breaking news delivered to your inbox by subscribing here.
---