Sports > High school sports
State 4A/3A roundup: Mt. Spokane boys top exciting day for Greater Spokane League in Tacoma; Gonzaga Prep boys, Mead girls also win
March 4, 2023 Updated Sun., March 5, 2023 at 2:05 a.m.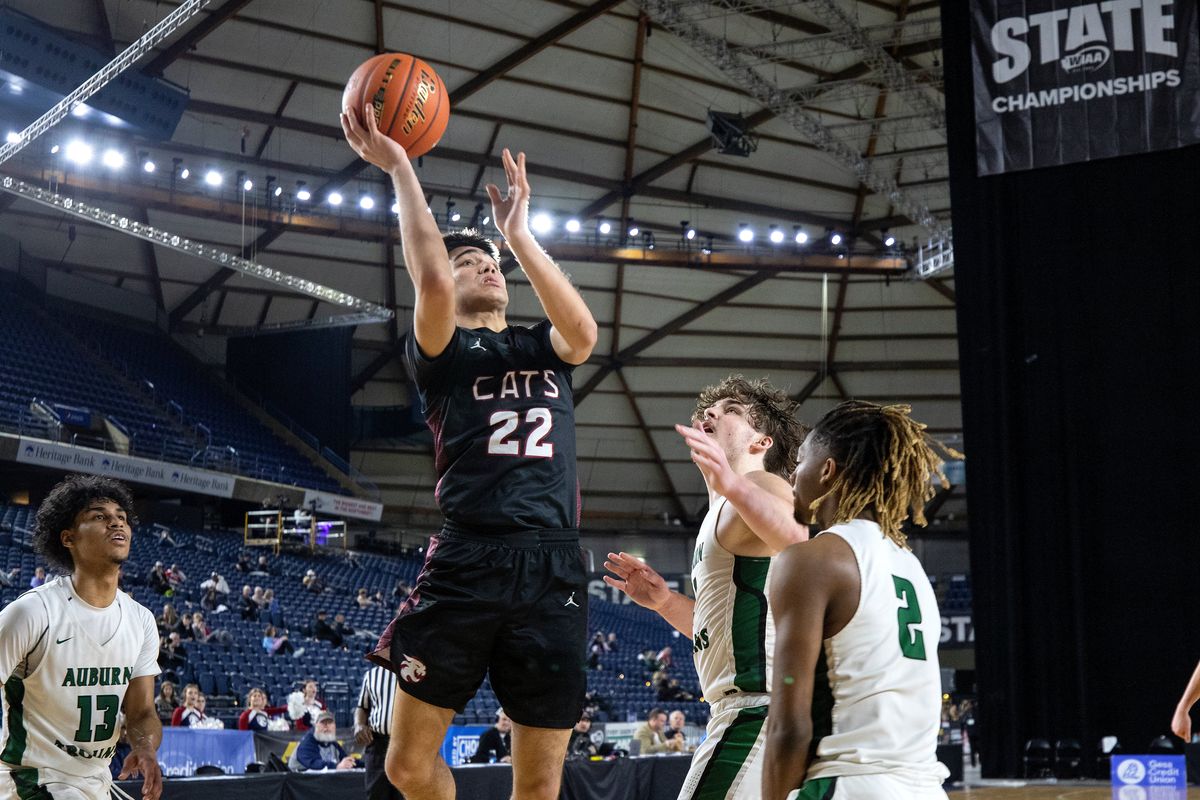 Mt. Spokane's Nalu Vargas, middle, puts up a shot in front of three Auburn defenders during action in the 3A Boys State Basketball Tournament on Saturday, March 4, 2023, in Tacoma, Wash. Mt. Spokane outscored Auburn 21-3 in the 4th quarter for the come-from-behind 60-51win to take 3rd place. (Patrick Hagerty)
TACOMA – It was an exciting day for Greater Spokane League basketball on the final day of state play despite no teams playing for a title. All three teams that did play in Tacoma, however, came home winners.
In the final game of the day for the league, Mt. Spokane's boys erased a nine-point deficit after three quarters and beat Auburn 60-51 to earn the State 3A third-place trophy.
"So proud of our kids to finish the way you want to finish on a Saturday, last day of the season, going out as winners – even though we were not playing in the 5 o'clock game," Mt. Spokane coach David Wagenblast said.
The Wildcats (25-2) did not allow a field goal in the fourth quarter, outscoring Auburn (21-8) 21-3.
"I did not know that," Wagenblast said. "We just made a concerted effort as a team – to just be locked in and finally just really get after it on the glass."
"They're a good team on offense, but holding a good team like that to no points in a quarter is huge," Wildcats junior Ryan Lafferty said.
"Stay locked in on 'D,' that's what we do," GSL 4A/3A MVP senior Maverick Sanders said. "That's what we pride ourselves on."
Lafferty scored 19 points, Sanders totaled 18 with 13 rebounds and Andrew Rayment added 16 points. Tyrell Nichols led Auburn with 17 points, and Luvens Valcin added 16.
Mt. Spokane led 33-28 at halftime, but Nichols hit a pair of 3s early in the third quarter and Auburn went up by one point. Nichols' third 3-pointer of the quarter made it 48-39 entering the fourth quarter.
Mt. Spokane went on a 10-2 run at the start of the fourth quarter to make it 50-49, and Andrew Rayment's contested layup gave the Wildcats a lead they didn't relinquish. Lafferty added back-to-back 3-pointers for a cushion.
"It was getting toward the end of the shot clock on both of them," Lafferty said. "I had the confidence in myself. I knew I was the one who wanted to shoot it."
"We really just tried to go as much high-low to Sanders and Rayment as we could," Wagenblast said. "And then obviously, you know, Ryan hits two huge shots in a row."
4A
Gonzaga Prep's seniors were determined to go out on a win.
Jamil Miller scored 17 points with nine rebounds, Carter Verret had 12 points and seven boards, and Jackson Floyd added nine points. It led to a 59-51 win in the state fourth-place game over Camas, which was playing in its first trophy game since 1964.
It's the ninth time G-Prep boys basketball has finished fourth or higher.
Junior Henry Sandberg added 15 points with three 3-pointers for the Bullpups.
"End the state tournament with the 'W,' it always feels good," Miller said.
"We could be at the top with the rest of them, but just to step on the court one last time with our brothers and get a win means a lot," Floyd said.
"This is when basketball transcends just playing the game," G-Prep coach Matty McIntyre said. "I thought the kids showed an incredible amount of pride and character bouncing back after a tough loss.
"We competed the last two days and we earned the fourth-place trophy. That meant something to us."
The Bullpups trailed by three points after one quarter. They started the second quarter on a 9-2 run but went scoreless for 3 minutes and the Papermakers led 29-26 at halftime.
G-Prep came out firing in the third quarter. Verret scored inside twice, Sandberg made a 3 and the Bullpups went up 39-33 after a 13-4 run. The Papermakers got it back to four late in the fourth quarter but got no closer.
"My three years at Prep, you know, Matty works us real hard," Verret said. "He wants to push us harder than a normal program, and that's why we've been so successful. It just feels great to end my career on a win."
"I just could not be more proud of those three seniors," McIntyre said. "All three of them, I'll be forever grateful for all of their efforts."
Girls
After a semifinal loss Friday for the second consecutive season, Mead coach Quantae Anderson talked about the Panthers' opportunity to "finish higher than we did last year."
It wasn't easy, trailing by 16 early in the fourth quarter.
"Gosh, is that what it was?" Anderson asked. "I know we're down by a lot. But we just kept fighting and fighting every play."
After a ferocious comeback, Teryn Garnder converted a three-point play with 0.7 seconds remaining as the fourth-seeded Panthers knocked off No. 2 Arlington, and Washington State commit Jenna Villa, 69-67 to take home the third-place trophy after finishing fifth last season.
With 6 seconds left and down one point, Gardner took a pass at the top of the key, drove to the left and made a contested, scooping layup. She watched the ball drop from a prone position after getting knocked down.
"I saw it go down and I was like, 'No way, like, that's so cool.' To finish the layup and seal it was super cool."
Mead senior Teayona Hoard stole the inbounds pass to ice it.
"Just a flood of emotions," Hoard said. "Happy, excited. I was just excited that they had no chance of getting it back and shooting and winning."
Gardner was the tournament's leading scorer by average.
"I just kind of looked at the clock really quick and there was like 3 seconds on it," she said. "So, I was like 'OK, we gotta get this, we got to make this shot. This is our chance.' This is the moment we've been waiting for, in the moment I've been preparing for my whole life."
Mead scored 28 points in the fourth quarter, nine by Gardner and 10 from junior Miah Cyr, who hit three 3-pointers in the quarter.
Gardner, the GSL 4A/3A MVP, led Mead with 17 points, nine rebounds and five assists. She finished her junior season four points shy of 1,000 for her career. Cyr added 13 points and freshman Addison Wells Morrison had 11.
"It's been fun to give it all for our team in our last game together," senior Natalie Braun (six points, five rebounds) said.
Samara Morrow led Arlington with 21 points while Villa finished with 20 points with 12 boards.
Local journalism is essential.
Give directly to The Spokesman-Review's Northwest Passages community forums series -- which helps to offset the costs of several reporter and editor positions at the newspaper -- by using the easy options below. Gifts processed in this system are not tax deductible, but are predominately used to help meet the local financial requirements needed to receive national matching-grant funds.
Subscribe to the sports newsletter
Get the day's top sports headlines and breaking news delivered to your inbox by subscribing here.
---