Sports > Gonzaga basketball
Drew Timme's milestone day brings Gonzaga scoring record, another WCC title; three Zags named to All-Tournament team
March 7, 2023 Updated Tue., March 7, 2023 at 10:14 p.m.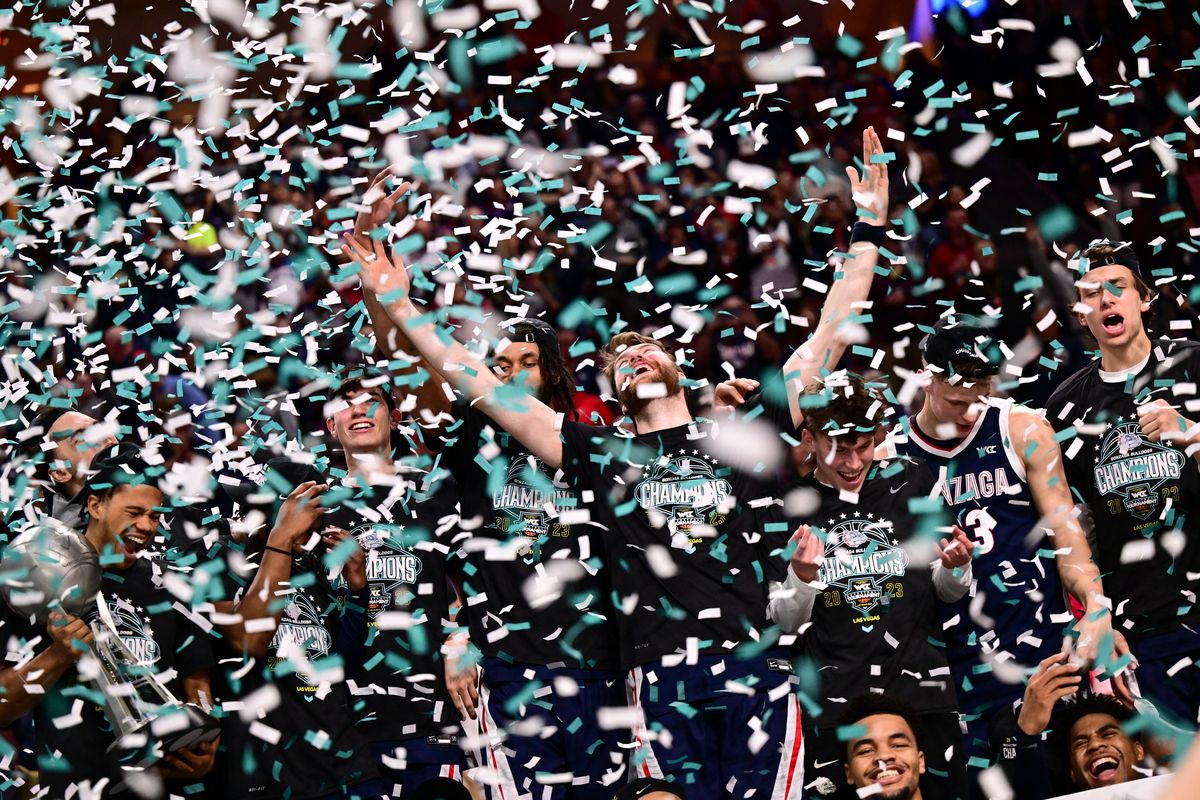 during the second half of a WCC tournament championship basketball game on Tuesday, March 7, 2023, at the Orleans Arena in Las Vegas, Nev. Gonzaga won the game 77-51. (Tyler Tjomsland/The Spokesman-Review)Buy a print of this photo
LAS VEGAS – All in all, a rather fine Tuesday for Drew Timme.
The Gonzaga senior forward was named first-team All-America by The Sporting News in the morning. About 12 hours later he climbed to the top of the GU's all-time scoring list, breaking a record held by Frank Burgess for 62 years. To cap it off, Timme was voted most outstanding player of the West Coast Conference Tournament after Gonzaga's 77-51 blowout victory over Saint Mary's in the championship game at Orleans Arena.
"I can't even describe it," Timme said during the trophy presentation. "I'm leaving here four for four on (WCC) championships. That's what we do over here at GU, baby."
Timme entered Tuesday's game with 2,192 career points after scoring 17 in GU's semifinal victory over San Francisco on Monday. He needed five points to surpass Burgess, who amassed 2,196 in three seasons from 1959-61.
Timme's field goal with 14:18 left put him even with Burgess and set up the milestone basket. It was a play the nimble-footed Timme has probably made hundreds of times in his four seasons at Gonzaga. He snagged a pass on the left side of the lane, quickly assessed the defense, took one dribble to the middle of the paint and smoothly connected on a jump hook with 10:17 remaining.
Gonzaga fans have witnessed similar plays by Timme throughout his four seasons, but this one was far from ordinary. It gave Timme 2,198 career points and the top spot alone on the program's scoring list. Jim McPhee, who is third with 2,015 points, is the only other Zag to reach 2,000 career points.
"I knew he was going to get it," senior forward Anton Watson said. "I didn't know when, but what a good night to get it, on championship night. He deserves it. He's one of the all-time Zags and I'm glad he's my best friend because he's a one-of-a-kind person."
During the awards ceremony near midcourt, coach Mark Few called Timme "honestly one of the all-time greats that's ever put on a uniform, nothing but a winner and just an incredible competitor."
A few minutes later, as his players cut down the net, Few added, "What an amazing career and run. Hopefully we'll keep it going. He's a one-of-a-kind player."
Timme has an extra COVID-19 season of eligibility available, but he announced recently that he was "ready for a new challenge" and won't return to Gonzaga next season. He didn't mention the NBA during a segment on his Gimme Timme podcast, but his intentions seemed pretty clear.
Asked if there was a chance he might transfer to another school to use a fifth year, Timme made it crystal clear that's not his plan, even though he would probably be in line for significant name, image and likeness (NIL) money.
"No, I'm done with college," he said. "That (the NBA) is the goal. The NBA is the dream, that's where I want to be. I've done my time in college. I've had a hell of a career. I've had a hell of a time.
"I'm going to get my degree and I'm good you know."
Timme is climbing up the WCC record book, too. He passed Loyola Marymount's Terrell Lowery for sixth on the WCC's all-time list. Lowery scored 2,201 points from 1988-92. Timme finished with 18 points against the Gaels to boost his career total to 2,210. Pepperdine's Colbey Ross is No. 5 with 2,236.
Timme had six rebounds and shares fifth on the school's career list with Ronny Turiaf with 859.
Timme, Watson and Strawther on All-Tournament team
The Zags' convincing win over the Gaels was rewarded with three All-Tournament selections: Timme, who was named most outstanding player, Watson and Las Vegas native Julian Strawther. San Francisco guard Khalil Shabazz and Saint Mary's wing Alex Ducas also received All-Tournament honors.
Timme averaged 17.5 points, seven rebounds and 3.5 assists in two games.
"He doesn't get nearly enough credit for what he does," Timme said of Watson. "He's the heart and soul of this team. He's our MVP and nothing makes me happier to see my best friend get the recognition he deserves."
Watson contributed 14.5 points, 8.5 rebounds and four assists. He scored 20 in GU's semifinal win over San Francisco.
"I've definitely been playing at a different level," Watson said. "I'm feeling more confident in my game, my teammates are allowing me to have that confidence and they let me play the way I've been playing. It's helped me be a leader and carry this team a little bit."
Strawther has celebrated three WCC titles in his hometown in three seasons as a Zag.
"We do a good job of protecting my home turf," said Strawther, who averaged 12.5 points in the tournament. "Hopefully we're back here (in Las Vegas) for the (West) regional."
Local journalism is essential.
Give directly to The Spokesman-Review's Northwest Passages community forums series -- which helps to offset the costs of several reporter and editor positions at the newspaper -- by using the easy options below. Gifts processed in this system are not tax deductible, but are predominately used to help meet the local financial requirements needed to receive national matching-grant funds.
Follow along with the Zags
Subscribe to our Gonzaga Basketball newsletter to stay up with the latest news.
---