Sports > Gonzaga basketball
Dave Boling: Mark Few stayed patient during early-season struggles to guide his team back to 'Zags standards'
March 16, 2023 Updated Thu., March 16, 2023 at 6:25 p.m.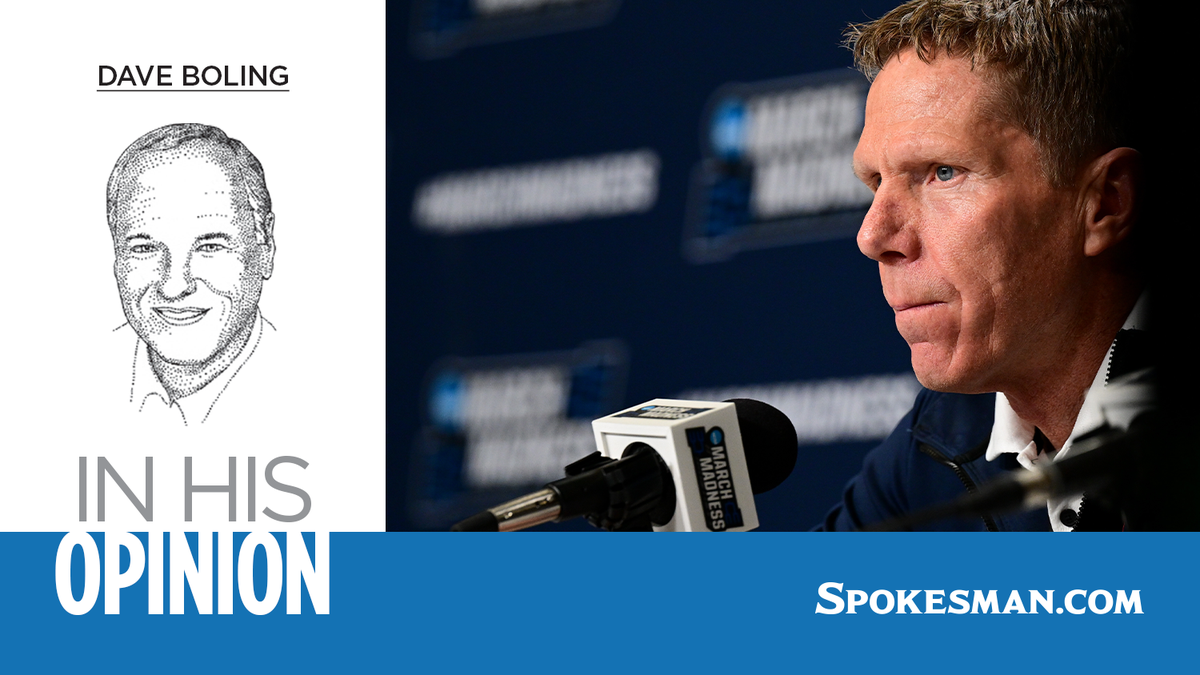 DENVER – Outsiders might think that losing games was the problem. But that was only a symptom.
The root cause of Gonzaga men's basketball struggles early this season was the failing to meet "Zag standards." There is one ultimate arbiter, and he saw trouble.
Coach Mark Few is the only person still there from the start, the one who knows the secret and highly coveted formula of getting Gonzaga basketball to where it is, and the exact quality of play and effort required to keep it there.
It's a weighty encumbrance, being keeper of the flame and consecrated canon. It's been on his shoulders 24 years, which also makes him most responsible for the detection and repair of any weakening of the foundation.
Expectations have grown more exacting with success. No. 1 rankings, wonderful, but dropping out of the top 10 – hey, Few, what's the problem? Final Fours, great, now how about that national championship?
The Zags have long been national news. Nothing goes uncritiqued. Every tearer-downer has a keyboard.
Last fall, three early losses saw the Zags nosedive in the polls and fired up gleeful Zags haters across the internet, who sensed their long-forestalled predictions of demise were finally imminent.
It made this an unusual and difficult season for the team and the coach. But his team's revival – as it heads into its first-round NCAA Tournament game against No. 14-seed Grand Canyon – has been so thorough and rewarding that Few said: "it kind of makes you believe in coaching again."
Kind of makes you believe in coaching again.
Few was addressing the media at the NCAA interview dais at Ball Arena, voice hoarse at typical March levels, lozenge rattling among his molars. It gave this affirmation to his craft a sense of gravity, almost like a renewal of coaching vows a year in advance of his Silver Anniversary.
Wonderful, of course, to hear his depth of satisfaction at his team's progress, but it felt almost an apostasy that belief in his mission might have been shaken at some point. Had that faith been threatened this season?
"This team was under some pretty heavy scrutiny early in the year, and rightfully so," Few said Thursday, conceding that a lot of it was coming from him.
"I always say you've got to hit Zags' standards, and they were not in a lot of areas. So, I always feel that's my job to kind of be the heavy in that regard. Sometimes it's not all fun and games being the papa bear of that group. It made for some long practices, some long weeks, some long months."
So the papa bear had to growl for months (explains the sore throat) while still being supportive. The challenge for Few and the staff, he said, was to not let the players be overwhelmed by their own disappointment. "(They) were beating themselves up pretty good mentally."
Challenges? They're new every year. Few recalled the demands of the '21 season as perhaps even greater, considering they had to figure out how to sustain momentum and enthusiasm through the COVID restrictions.
"We didn't have any fans," he said. "Try to get your team up each and every night, when you're ranked No. 1, and there's literally nobody in your home gym. That was hard. Then to sit in the same floor of a hotel (tournament bubble) for 31 days in Indy and not get tired of each other, and continually keep making up things to stay excited and stay focused and not lethargic, that was hard."
No question, a lot of coaches around the country would be glad to trade problems with Few, along with the money and prestige and accolades. All rewards are attended by commensurate pressures, of course.
The relevant point is that he and his staff again arrived at solutions. At No. 9 in the country and a No. 3 seed in the West Region, the Zags are being picked by many to advance to their third Final Four.
"Lo and behold, (they) have held up to the expectations put upon by the program, and here we are back in March and they're playing their best," he said.
An accomplishment in its own right. And reinforcement that the value is in the process, and at the heart of it for Few is sustaining accepted standards and finding ways to fit players into a blueprint unique in modern college basketball.
Contemporary players both face and create new challenges. Newer Zags are different, Few has noted recently. Every player has demands and needs. His job is to reach them. If he has to become a surly papa bear some times, then so be it. If he has to be the bad guy, OK.
This meshing of coach expectations and player deliverance over the course of a season is crucial to a team's growth.
Does this connection of coaches to their players actually help a team win games?
Apparently.
But maybe more important, it gives them all reasons to believe they can.
Local journalism is essential.
Give directly to The Spokesman-Review's Northwest Passages community forums series -- which helps to offset the costs of several reporter and editor positions at the newspaper -- by using the easy options below. Gifts processed in this system are not tax deductible, but are predominately used to help meet the local financial requirements needed to receive national matching-grant funds.
Follow along with the Zags
Subscribe to our Gonzaga Basketball newsletter to stay up with the latest news.
---