Sports > WSU basketball
TJ Bamba, a star guard and Washington State team captain, declares for NBA draft and enters transfer portal
March 27, 2023 Updated Mon., March 27, 2023 at 8:50 p.m.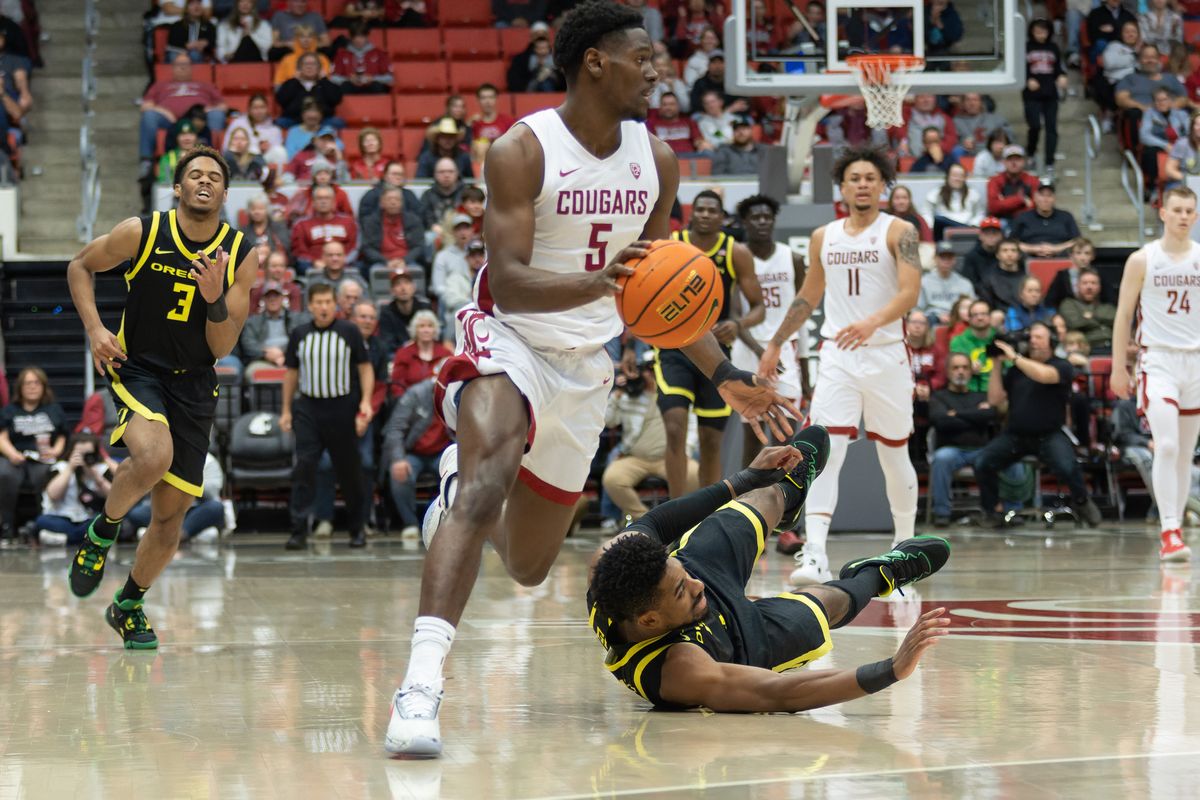 Washington State guard TJ Bamba (5) breaks away from Oregon forward Quincy Guerrier in the first half of a Pac-12 game Feb. 19 at Beasley Coliseum in Pullman. Bamba declared for the NBA draft and entered the NCAA transfer portal on Monday. (Geoff Crimmins/For the Spokesman-Review)Buy a print of this photo
PULLMAN – TJ Bamba, who became a team captain and breakout star last season at Washington State, is pursuing new opportunities.
The guard announced Monday through Twitter that he is declaring for the NBA draft and entering the NCAA transfer portal. Bamba will gather feedback from professional teams over the next two months while preserving his collegiate eligibility and considering transfer options. June 1 is the deadline for college players to withdraw from the NBA draft pool.
Bamba appeared in 86 games and started 51 for the Cougars over the past three seasons. He made a significant jump this year, averaging a team-high 15.8 points per game and earning an All-Pac-12 honorable mention nod.
The 6-foot-5, 215-pound combo guard played with an injured hand throughout the back half of the season, but had some of his most impressive performances down the stretch. Bamba shined during the Cougars' seven-game winning streak late in the year, scoring 15 or more points in five of those games – including a career-high 36 points in a road win over Washington on March 2.
Bamba led the Cougars (17-17) in field-goal attempts on the season and knocked down an efficient 42.6% of his shots. A versatile scorer, Bamba was at his best when he drove to the basket, but he was also effective from beyond the arc, shooting 55 of 148 (37.2%) from 3-point range.
He doubled as WSU's strongest perimeter defender, and added 3.7 rebounds and 1.7 assists per game.
Coach Kyle Smith named Bamba a captain before the season and often spoke highly of the junior's maturity and leadership qualities.
Initially a role player, Bamba emerged as a standout defender during his sophomore season, then blossomed offensively and became a well-rounded player. He started four games as a freshman and averaged 4.2 points and 1.6 rebounds per game. Bamba captured a full-time starting job late in his sophomore season. He made 16 starts, and averaged 7.7 points and 3.4 rebounds per game that year.
Originally from the Bronx, New York, Bamba played the final two years of his prep career at Abraham Lincoln High in Denver. He came to WSU as a three-star prospect and one of the program's top-20 recruits since 2000, according to 247Sports.com.
Bamba is the third WSU player to enter the transfer portal since the season ended with a loss to Eastern Washington in the first round of the NIT. Backup center Jack Wilson announced his intentions to transfer one day after that game. Center Dishon Jackson, who made 19 starts between 2020-22 but missed this season due to an unspecified medical issue, entered the portal Friday.
Forward Mouhamed Gueye, an All-Pac-12 first-teamer, is also testing the NBA draft waters. Gueye is a top-50 draft prospect, per ESPN. Bamba's name isn't showing up on mock drafts.
Bamba could elect to return to WSU but assuming he departs, the Cougars will be left with a major hole to fill. WSU will presumably scour the transfer portal for an experienced guard or two.
The Cougars will need to either add a new star in the backcourt, or develop their returners. As of now, Justin Powell will return for his senior year after starting every game and averaging 10.4 points and 2.8 assists against just 0.9 turnovers per game last season. Jabe Mullins, a shooting specialist, made eight starts and averaged 8.4 points per game this year after transferring in from Saint Mary's.
WSU's other guards are young but have potential. France native Kymany Houinsou and Spokane product Dylan Darling were rotational pieces off the bench as true freshmen last year. The Cougars had high expectations for second-year point guard Myles Rice but he missed the season as he battled cancer. Rice was pronounced cancer-free recently and could be a fixture in WSU's lineup next season.
Local journalism is essential.
Give directly to The Spokesman-Review's Northwest Passages community forums series -- which helps to offset the costs of several reporter and editor positions at the newspaper -- by using the easy options below. Gifts processed in this system are not tax deductible, but are predominately used to help meet the local financial requirements needed to receive national matching-grant funds.
Subscribe to the sports newsletter
Get the day's top sports headlines and breaking news delivered to your inbox by subscribing here.
---