A 'full circle moment' Spokane native returns in national tour of Les Misérables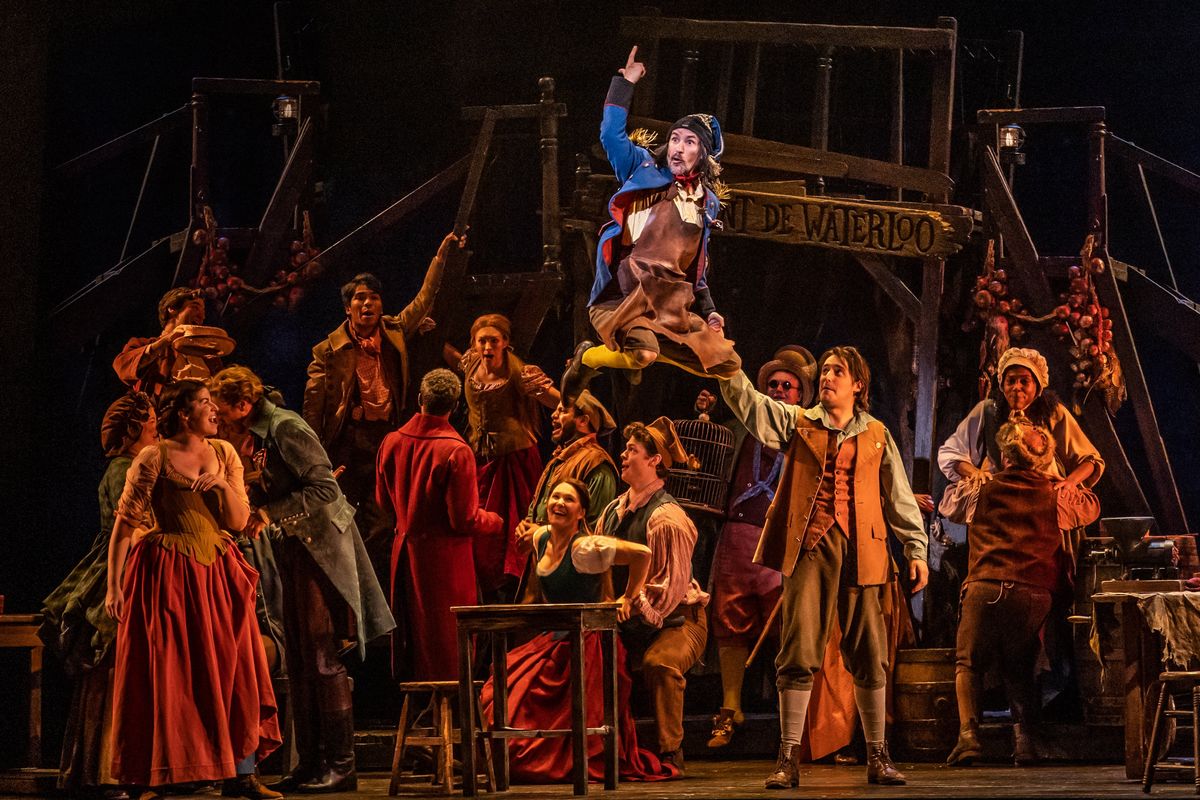 Just a few years out from graduating Central Valley High School, Christopher Tamayo is headed back to his hometown as part of the Les Misérables national tour.
Having been on the road in the ensemble of the iconic musical's revival tour for over a year, Tamayo is excited to perform for his family and friends in Spokane – many of whom have not seen him in a show since graduating high school.
"It feels familiar, but I'm also just genuinely excited to be performing back home. Especially when Thanksgiving is around the corner and everyone will be home," he said of the upcoming Nov. 14-19 performances at Spokane's First Interstate Center for the Arts.
Tamayo called it a "full circle moment." He saw his first national tour of a Broadway musical at the theatre while he was in high school – the first national tour of Newsies. He also saw Les Misérables for the first time in a high school production at University High School in Spokane Valley.
"I remember being awestruck by seeing those high school performers. And I hope Les Misérables is able to inspire a new generation of theatergoers," he said. "Les Mis continues to be just very relevant with its themes of redemption and the perseverance of the human spirit."
The memory is part of the whirlwind romance Tamayo had with musical theater at Central Valley. It was a hobby and then vocation he "almost accidentally" fell into.
As a teenager his school had mislabeled a course and he found himself in a class on musical theater when he had signed up for another course. A requirement of the class was he had to audition for the school musical. He got a part and has "never left theater since," he said.
Tamayo never imagined he would become an actor professionally until he participated in the 2015 inaugural season of the Spokane Valley Summer Theatre under the direction of Yvonne Johnson.
"Immediately I recognized him as a tremendous talent," Johnson recalled. "Christopher is beyond a triple threat. He's really a quadruple and beyond."
Through her mentorship Tamayo realized he wanted to pursue his passion for theater professionally. She connected him to the top musical theater programs in the country and helped him prepare for his auditions. The two have kept in contact as he went on to study musical theater at the University of Michigan.
"The greatest joy in my life in the arts is mentoring. And whenever anyone has asked about my success, I point to the mentoring of students and what little I've done to help them succeed and realize their dreams," she said.
After being unable to perform for much of his time in college due to the pandemic, Tamayo flew to New York to do a showcase – a requisite display of talent for industry agents and casting agents. Despite not yet having representation, he auditioned for the Les Misérables national tour and booked it.
Johnson said it is "very rare" for an individual to immediately book a national tour after graduating with a degree in musical theatre. Tamayo said it was "validating" of his decision to dedicate his life to the craft.
"It is so daunting, being a professional actor. And this tour has given me a stability at the outset of my career," Tamayo said.
Johnson said she is excited to see Tamayo soon and celebrate his success.
"I've been very blessed and fortunate in my life to be able to work with thousands of young people. And Christopher I consider one of my theater sons," she said.
Tamayo isn't the Washingtonian performing with the tour. Actress Delaney Guyer, a Washington native from Everett, has been acting and performing her whole life, and is starring as the character of Cosette in the current run of Les Misérables.
Les Misérables runs from Tuesday through Saturday, Nov. 18, at the First Interstate Center for the Arts. Tickets can be purchased at broadwayspokane.com.
Yvonne Johnson's name was misspelled in an earlier version of this story.
---