It's Ellen Week with her annual show, a return to 'General Hospital' and a Hallmark sequel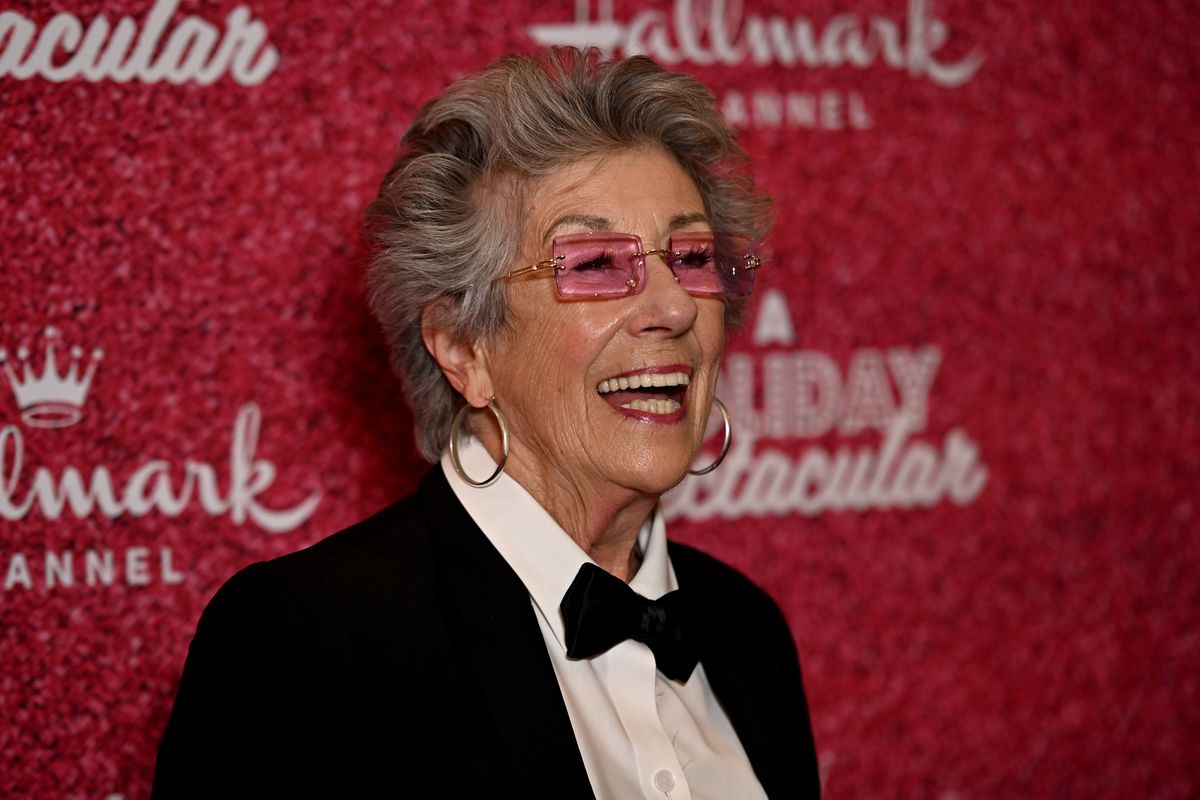 The fall is always a busy time for Ellen Travolta.
Since 2013, the longtime Coeur d'Alene resident and actor who has starred on TV, stage and in movies has spent the months leading up to Thanksgiving working on her annual Christmas show at the Coeur d'Alene Resort. And now, after a decade of creating, producing and most of the time starring in the show, she's ready to step away.
This year's show, "Christmas Eve," which opens Friday and runs through Dec. 17, will be her last. As proof of how beloved this Christmas tradition has become, it is completely sold out, and hit that mark in record time.
It's also the tent pole of an extraordinary creative weekend for the 84-year-old who has been acting since her teen years. The Christmas show opens on Friday. On Thursday – Thanksgiving Day – the first of her three-episode return to "General Hospital" airs. Then on Saturday, she will be seen on the Hallmark Channel in "Haul Out the Holly: Lit Up," the sequel to last year's smash hit entry in Hallmark's beloved Christmas movie catalog.
"Thursday, Friday and Saturday are Ellen days," Travolta said with a laugh. "Not snow days. Ellen days."
It's been a fortuitous 18 months, Travolta said. In addition to all this other work, she also taped an episode of "Going Home," the Pure Flix series about hospice nurses produced by Rich Cowan that films in Spokane.
"Other than having Hallmark on my bucket list, it's come from people. I don't pursue a career anymore. I don't have an agent that I call and say, 'What's going on? Anything for me?' I haven't done that in years," she said. "It's just serendipitous that Hallmark came. Then Rich Cowan called and asked me if I would do 'Going Home,' and that was as great experience. It's so much fun to do. There's no angst in it for me. And now another Hallmark, then out of the blue Rena Sofer called and said 'Would you come back (to "General Hospital") if they asked you?' So it's been old friends remembering.
"It's been a real run. Then to be on the stage, which is always the biggest challenge," Travolta added. "It's like everything. A soap, a feature and a live show."
A return to Port Charles
In December 1993, a woman named Lois Cerullo arrived in Port Charles, New York, the fictional town at the heart of ABC's long-running daytime soap, "General Hospital." Lois, played by Sofer ("NCIS," "24"), was a brash band manager from Brooklyn who married Ned Quartermaine (Wally Kurth), a son of Port Charles' leading (and richest) family.
Being a soap opera, there was plenty of deception, blackmail, love affairs, betrayal and drama over the ensuing years, and Lois became a fan favorite, winning a Daytime Emmy for her work.
There also was a memorable mother, in this case Lois' mother, Gloria, played by Travolta.
Travolta played Gloria for three seasons as a recurring character, commuting from Coeur d'Alene to Los Angeles to tape her episodes. When show producers started talking to Sofer about coming back to "General Hospital" as Lois, Sofer had a condition: Travolta would come back, too.
"As soon as we made the deal, I said to the executive producer, 'You have to bring Ellen Travolta back,' " Sofer said. "If you think the fans are going to enjoy me being back, you have to bring this woman back.
"And you know what? It was 1,000% selfish. I just wanted to see her. I haven't seen her in so long. I missed her. She is the mother of my dreams. She is the mother I wish I had been blessed with in real life, and the fact that I got to have her as my mom for three years, and I get to have her again, and get to call her mom, it's the greatest thing in the world."
Sofer not only insisted her TV mom rejoin her on the show, she insisted her TV mom stay with her when in Los Angeles for the shoot.
"I said, 'You are staying with me, and I will drive you to work. I mean, you're not going to work without me. We'll go to work together and I'm not very comfortable sharing you, but it you have to see other people, that's fine,' " Sofer said, laughing. "It was kind of like a prison for her. A nice prison, a paid prison. I am the biggest fan of Ellen Travolta on this planet. I am a fan of hers personally and professionally. She is somebody I would do anything for."
Travolta shot three episodes in two days, a rapid pace she found challenging.
"They move along, and you'd better move along too or you're going to be left," she said. "They do one, maybe two takes and they're moving on."
In addition to getting to work with Sofer again, Travolta was surprised to see other familiar faces on the "General Hospital" set on the Prospects Studios lot in Los Angeles.
"It was old home week," Travolta said. "There was a stage manager and camera people and casting people who were still there. They probably were in their 20s when they were starting, like Rena, and I was in my 50s. A lot of them were there, and a director I knew, so it was really wonderful to be welcomed back in the fold."
Sofer said it was amazing to watch.
"There were people on the show who came out of the woodwork just to get their picture taken with her. I've been there for a couple months, and nobody has asked that of me," she said. "I don't take it personally, but the woman at the front, who every day meets us at the security desk and tells us what dressing room we're in, she really couldn't be more bothered with me at all. She doesn't remember my name ever. I mean EVER. She goes, 'Name?' And I'm like seriously? But Ellen is there for two days. By the second day, she's hugging Ellen, she knows her name, Ellen knows her name, they're so sweet, and she's like 'Oh, Ellen, you're in the best room today, it's this room and it's right near me, and if you need anything else, let me know. Then she turns to me and goes, 'Name?' "
Gloria's first episode airs Thursday. The show is off-air on Friday for football, but the story arc will pick up the following Monday and Tuesday.
"I had a ball," Travolta said. "Everybody was so kind and showed such respect for the fact that I was on 30 years ago. I felt very comfortable and I felt very appreciated."
Hauling out the holly, again
Travolta also had a family feel this past spring, when she returned to the suburbs of Salt Lake City to film "Haul Out the Holly: Lit Up" for the Hallmark Channel. Featuring the same cast and director, Maclain Nelson, as last year's "Haul Out the Holly," the film continues the story of Emily (Lacey Chabert), who came home for Christmas only to find her parents leaving for the holiday and her neighborhood HOA determined to get Emily into the spirit of the sea son. They do, and along the way she falls in love with Jared (Wes Brown), who took over from her father as HOA president and therefore, head Christmas merry-maker.
This year, a new couple moves to the block, threatening the balance of power in this tight-knit cul-de-sac. Travolta returns to Evergreen Lane as Mary Louise, one of Emily's enthusiastic neighbors.
"I think it's going to be a lot of fun," Travolta said. "At one point we look like we're in the opening shot of 'West Side Story,' we have matching jackets."
Both films were made fairly close together, the first in July 2022 and the sequel in March and April 2023, which helped maintain conviviality among the cast.
"It feels like a family," Travolta said. "We had dinners. We had weekends off, but because it was the end of COVID, they really suggested that we did not leave town, so we stayed, and we had wonderful times."
This second experience with Hallmark was as good as the first.
"They take very good care, and you are a part of that Hallmark family," she said. "They have just treated me like gold. I am so happy when I do that. And I hope there's one more. I certainly have a great time."
A lot of her positive experience, she said, starts with the star of the show, Chabert.
"I believe the star of the show sets the pace and the tone. When she doesn't complain, neither does anybody else," Travolta said. "It's how she treats everyone. She is a wonderful leader. She's respected and respectful. She gives 100 percent."
She also gives a lot of credit to the director, Nelson.
"He is terrific. He just does wonderful things. He'll turn the smallest thing into a moment. He has a great gift for comedy, and is a wonderful director for actors," she said.
"I'm looking forward to seeing the movie. I think it's going to be really funny."
'Christmas Eve'
"I would say 2022-23 has been quite impressive," Travolta said. "This is my last year doing the Christmas show, and there's a bittersweetness about that, but it's time to pass the baton."
It's become a tradition for people to give part of their holiday over to Travolta, the Couer d'Alene resort, and a cast of actors and musicians. Opening night becomes a night to watch the holiday parade, enjoy the fireworks, then settle in for an hourlong bite of entertainment. Other days find the show enjoyed in combination with shopping, dining, strolling the boardwalk or taking a North Pole cruise.
"A lot of people stop me and say 'It starts my Christmas,' " Travolta said. "It's got locals' letters, lovely voices. It's very simple, but it just works."
Travolta's involvement in the holiday show at the Coeur d'Alene Resort dates back to 2013. For the previous couple of years, Coeur d'Alene Summer Theater had organized holiday entertainment as a fundraiser. But after the theater company shut down and was reorganized under new leadership, the resort holiday show was in limbo. Travolta stepped in and produced a show that featured vocalist Mark Cotter singing holiday songs, and her late husband, Jack Bannon, telling stories. In recent years, she has solicited stories from local audience members to share and woven those into a show that includes singing and plenty of good cheer.
This year's theme is "Christmas Eve," and Travolta will be joined at various points in the 15-show run by her daughter, Molly Allen, her sister, Margaret Travolta, vocalists Ruth Pratt and singer-pianist Jen Shotwell, accompanied by Kristina Phillips on bass and Craig Catlett on saxophone.
She still is amazed that there is not a ticket left to be had.
"My sister-in-law is so funny. She said, 'You're the Taylor Swift of 80-year-olds,' " Travolta said with a laugh. "You could scalp those tickets! I feel a great support from this community, from Spokane, this whole area. It's more than that. There's a personal. … I have lived here a long time. I am a part of this community, and I feel their respect and support and appreciation. And I have a lot of gratitude for them."
---