Friday Night (High)lights: Shadle Park says 'Not so fast,' comes away with big win in new downtown stadium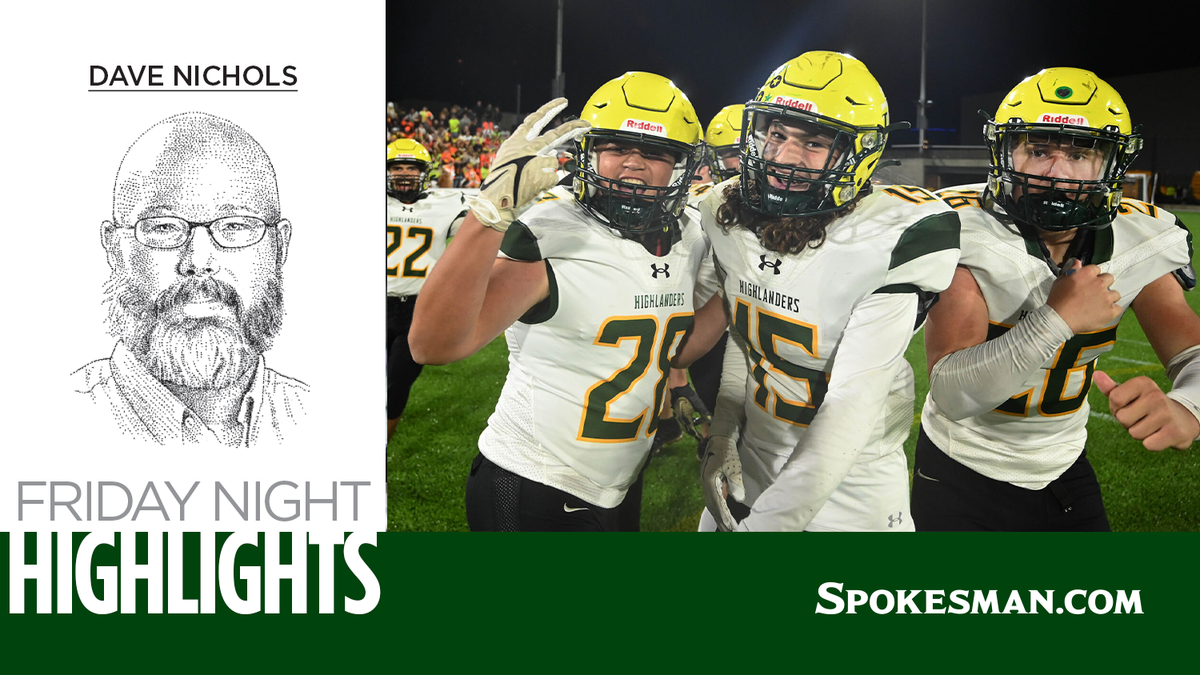 It was a big week around here with the opening of ONE Spokane Stadium, the impressive new facility for outdoor sports on the north bank in downtown. And there were a lot of important and entertaining football games across the area.
Here are our weekly five thoughts (plus one) about the football performances across the Greater Spokane League and Eastern Washington.
Marquee matchup
The Rogers-Shadle Park showdown was at the new stadium Friday, and both the game and the building lived up to the billing.
Off to their longest unbeaten start since 1968, the Pirates would have clinched just their fourth winning season since 1970 with a win. That will have to wait.
The Highlanders (4-1, 2-1) trailed 22-0 early in the second quarter but kept chipping away behind big doses of quarterback Kaden Hooper running, pulling it out 36-35 in overtime. Hooper carried 28 times for 143 yards, with 108 in the second half.
Shadle's defense held explosive QB Aaron Kinsey to 57 yards rushing and 95 yards passing for the Pirates (4-1, 1-1).
"We definitely didn't play well to start the game, but our guys got after it," SP coach Jim Mace said.
"It was a hell of a ballgame," Rogers coach Ryan Cole said.
Border battle
In a battle of teams with state aspirations ranked in the top five by the respective media polls, Mt. Spokane (5-0) spotted Post Falls (4-2) 13 points but dominated in the second half to come away with a 29-13 win in Idaho.
TJ Haberman tossed two touchdown passes, including an 11-yard strike to Bode Gardner, and finished 21 of 32 for 272 yards. Gardner made nine catches for 179 yards.
"When I first looked at the schedule, I hated that our nonleague week was Week 5," Mt. Spokane coach Terry Cloer said. "But I think this game came at just the right time."
Close call
Gonzaga Prep (4-1, 4-0) outlasted Ridgeline on the road, but by all accounts it was a closer game than the 27-14 score would indicate.
The Falcons (3-2, 3-2) thought they had tied it at 14 in the fourth quarter, but a penalty on a fourth-down play brought a touchdown back. The Bullpups scored on a 76-yard touchdown run by wingback Jonah Keller on the next play.
Ridgeline's Brayden Allen scored on a punt return to make it one-score game late. The Falcons got the ball back, but quarterback Landon Garner was hit throwing and a scoop-and-score by G-Prep linebacker Camden Fletcher on the last play of the game provided the margin of victory.
Bounce back
Jimmy Frahm carried 20 times for 122 yards and a touchdown, and Mead (2-3, 2-2) bounced back in a big way from a disappointing loss to G-Prep by shutting out Central Valley (2-3, 2-2) 28-0. The Panthers got a big boost from starting quarterback JJ Leman's return – he went 14 of 27 for 154 yards and a touchdown toss.
Prime placement
West Valley (4-1, 3-0), with a win over Shadle already, put itself in a good position in the 2A division with a 41-21 win over rival East Valley. The Eagles remain undefeated in league with games against 1A Riverside and winless North Central in the coming weeks before a showdown against Rogers on Oct. 19.
The new joint
We covered two games on Thursday and one on Friday at the new downtown stadium, and we came away impressed in just about every conceivable manner. The parking was ample, free and close, there's not a bad seat in the house and the building gave off a special vibe to all who enjoyed any of the three contests.
Spokane Public Schools and the Public Facilities District went through a lot of negotiating, debating and planning with plenty of complaints, headaches and distractions along the way. But everyone involved in the project – not the least of which the 200 or so workers who over the past two weeks put the finishing touches on the construction and cleanup – can hold their heads high and puff out their chests with pride over this jewel of a sports venue in downtown Spokane – where it was meant to be from the beginning.
Even a monsoon-like rainstorm late in Thursday's nightcap couldn't dampen the spirits.
"For SPS, you know, all the schools within the school district … to be a part of something like this and to be able to open up ONE Spokane Stadium was something that we will always cherish," North Central coach Aaron Woods said Thursday.
---