The six candidates for Central Valley School Board discuss legislative advocacy, parent's rights in candidate forum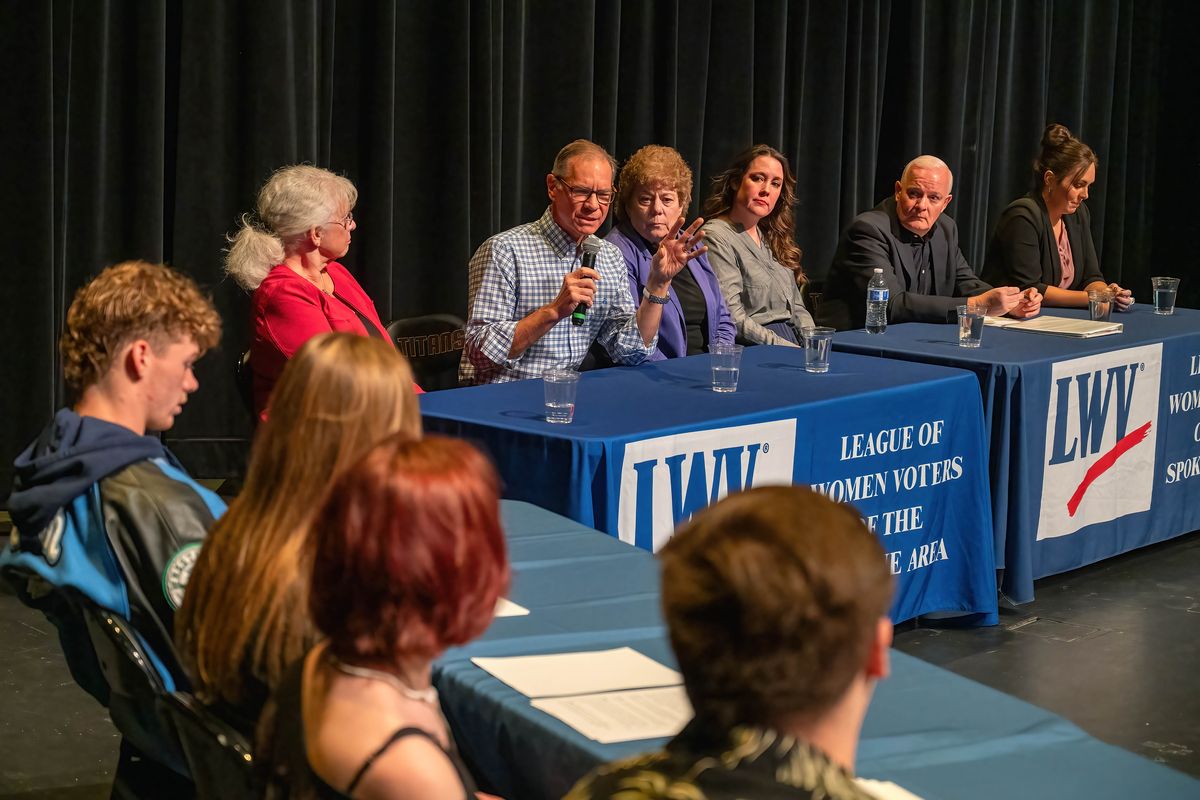 Curriculum, local control and parents' role in education dominated conversation among candidates in a student-moderated Central Valley School Board election forum Monday evening.
Hosted by the League of Women Voters, the six candidates vying for all three seats on November ballots took the stage in University High School's theater. Five students, each representing a district high school, asked candidates their burning questions. The event drew over 100 attendees.
On student and parental freedom in academics, incumbent in District 3 Debra Long highlighted the diverse array of classes in tech, career training and activities available to students that enhance their school day and lives beyond graduation. Acknowledging parental involvement, Long highlighted that parents can opt for their students to not attend certain classes.
Her challenger, district parent Stephanie Jerdon, echoed support for these classes and the value they bring to students in fostering connection to school.
"You want to be excited and fired up, because that's what's going to help you be successful and actually internalize the things that you're learning," Jerdon said.
Keith Clark, incumbent in the fourth district whose granddaughter has special needs, mentioned the expansion on special education that has happened in the district throughout his 16 years on the board.
Anniece Barker, his challenger who spearheaded the campaign to challenge the statewide comprehensive sex education curriculum in 2020, said she'd devote time on the board looking to expand the pathways to graduation.
Incumbent Cindy McMullen, who touts the longest experience of the trio with 32 years, mentioned the importance of fact-based content in school curricula without censorship, so that students can learn to think critically and discern honesty during the age of AI and fake news.
Her challenger, physical therapist Jeff Brooks, also spoke on curriculum, a core focus of his campaign. If elected, he said he would hone in on robust math, science and history programs to raise test scores in these areas.
Candidates were also asked how they would weigh community interests with state laws school board members take an oath to follow.
All challengers shared similar sentiments about adequately informing community members on state legislation and school board policy before it is finalized. Jerdon said the community should be asked to comment on topics after viewing presentations in school board meetings. Brooks said the board should meet with parents before they're bound by laws when they pass.
"It's very frustrating when you don't find out about a policy until two or three months later and then you're being told, 'This is what's going to happen,' " Brooks said.
"We combine community involvement with following the law by having those conversations ahead of time and not in the rear, trying to figure out as a community about what we're going to do with what we're left with now," Barker said.
Long, who has served in leadership roles in the state school board's association that lobbies the Legislature, said that's easier said than done. Often, policy is passed at the "eleventh hour," or buried in another piece of legislation that's passed before board members have time to react.
Long and McMullen highlighted the district's current actions in transparency: recording school board meetings, posting online agendas and minutes, and sending information home to families.
Incumbents endorsed all the district currently does in curriculum adoption, such as forming a committee of family, community and educators to select the best curriculum on all topics. A curriculum is then piloted in classrooms, vetted by teachers and students. Concerns over classroom content can all be addressed if a parent speaks up, and students can receive alternate study materials .
"Parents also have options to review that curriculum in the classroom while it's being taught," Clark said.
"All they have to do is ask," McMullen said.
All candidates except Brooks said they supported levy renewals. Brooks argued academics aren't meeting standards to justify property taxes.
---