Winger Ty Cheveldayoff brings experience, leadership to Spokane Chiefs following NHL camp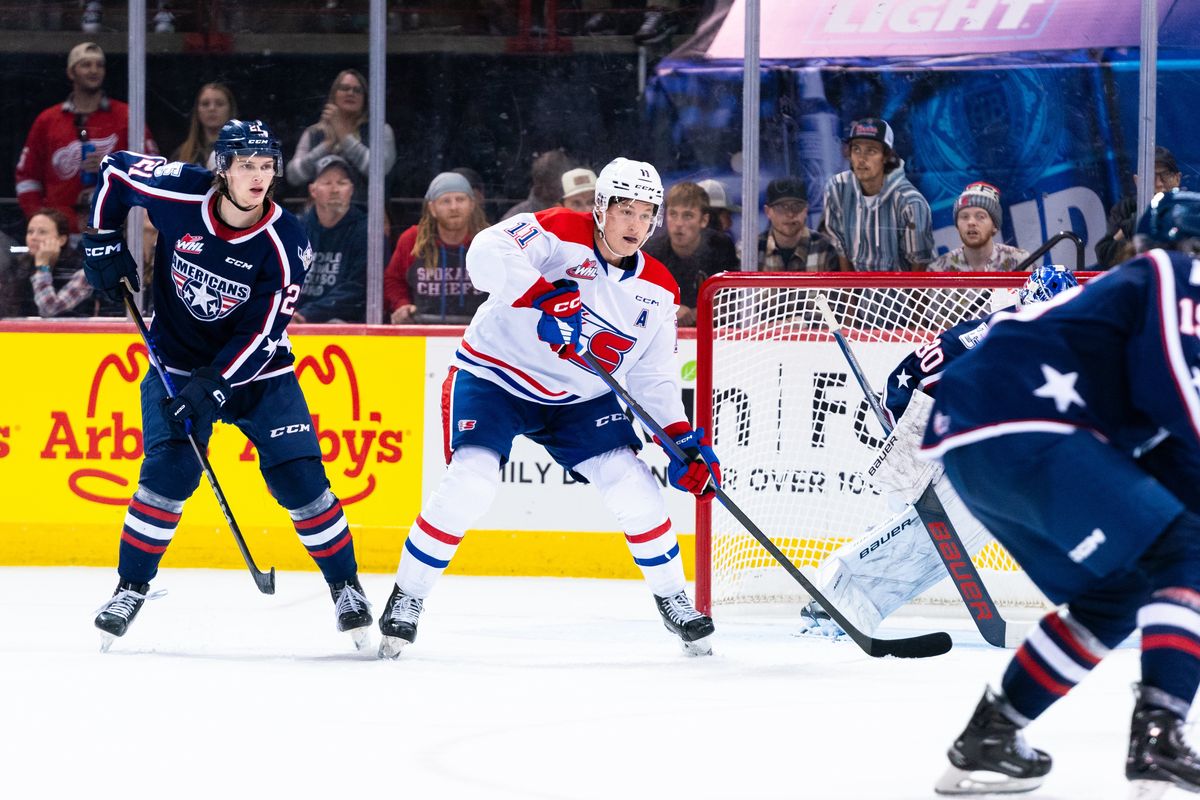 A lot of 20-year-olds spend their summers on vacation or working a part-time job. Ty Cheveldayoff isn't a typical 20-year-old.
He spent much of his summer and early fall preparing for, and participating in, rookie camp with the NHL's Vegas Golden Knights.
Rookie camp went so well he was then invited to the NHL camp and carried himself well among the pros.
"It was an unreal experience," he said. "I'm super grateful for the opportunity that Vegas gave me and I think I proved that I can play at that level."
When he was returned to the Spokane Chiefs for his final season in juniors, he brought back with him the lessons learned with the Knights – and the confidence that comes with scoring a goal in an NHL preseason game.
"It was nice to get one," he said, adding that Chiefs teammates sent him the video the Knights shared on social media. "I looked at it a bit afterward, but I just kind of put it behind me and tried to score a couple more."
A Stony Plain, Alberta native, Cheveldayoff said he had family in Vegas to watch him play in the NHL preseason.
"My dad came down to Vegas and was watching us – he watched the first two games and a bit of the third, so it was nice to see him, and for him to be able to see that goal and see me in that jersey. It was really cool."
Cheveldayoff looks the part of a pro. Listed at 6-foot-3, 220 pounds, he stands head and shoulders above most of his 16- and 17-year-old teammates and opponents. He also brings a variety of skills that lengthens the line combinations for Chiefs coach Ryan Smith.
"You can tell he's been out of pro camp. He's got a pro approach," Smith said.
Cheveldayoff tried to soak everything in.
"If I can just bring back anything that I learned, it's just be the best leader I can be."
Cheveldayoff said the biggest lesson he learned was how to comport himself at the pro level.
"Just how much goes into the game away from the ice, off the ice, and how quickly things can change in the game, and how fast the game is played and how fast people think," he said. "The main thing was how much guys put into the game away from the rink and how they are able to set themselves up for long careers and stay in the league and make a living – because it's a business."
Cheveldayoff earned his shot with the Chiefs and the Knights, Smith said, despite not being selected in the WHL bantam draft.
"He's come a long way here since he was 17 up until his 20-year-old year," Smith said. "He knows that his window is closing and individually wants to have a strong season, but he's a great teammate. He works hard at practice and works hard in the in the weight room."
Cheveldayoff's versatility is one of his biggest attributes on the ice.
"He does a lot of things for us," Smith said. "He's a net front on the power play, he can kill penalties. He can take faceoffs, which he's really strong at because of his physical abilities being able to get inside on those. He allows us to juggle the lines around a little bit. … He just makes us better."
Cheveldayoff understands that his age, time at NHL camp and experience at the WHL level thrust him into a leadership role.
"When I was a young guy, you would always look up to those older guys and the guys who have been to camps like I have," he said. "Guys that have been through this league and been through all the ups and downs in the long season, the grind it is. For me, being younger, I was always looking up to those guys. I can just be someone that these guys can look up to and if they have any questions to come ask me and not be afraid to ask questions.
"There's obviously stuff I need to learn work on myself, but if I can be a voice for young guys that if they need anything, it's huge."
The biggest adjustment for many younger players is going from a 35- or 40-game bantam or midget season to a full WHL season.
"It's a long season, 68 games, and there's so much that goes into taking care of your body and eating right and making sure you feel good and preventing injuries," Cheveldayoff said. "I think it's a big jump for anyone coming into this league. Take it day by day and learn everything you can."
Another adjustment is going from being the best player on a bantam team to a team full of those best players.
"Everyone in this league is good, and everyone as you move on is good and just keeps getting better," Cheveldayoff said.
"You just have to be confident your own abilities. You can be the best player you can on the ice, but when you get into a setting like this, it's everything that you put into it. And if you want to get stronger, you got to be in the gym. If you want to work on your mobility, you got to be in the in the training room stretching and stuff like that. If you want to get a better shot, you got to work on it after (practice)."
---