No. 2 Montana State misses late field goal, No. 9 Idaho secures 24-21 win in battle of Big Sky title contenders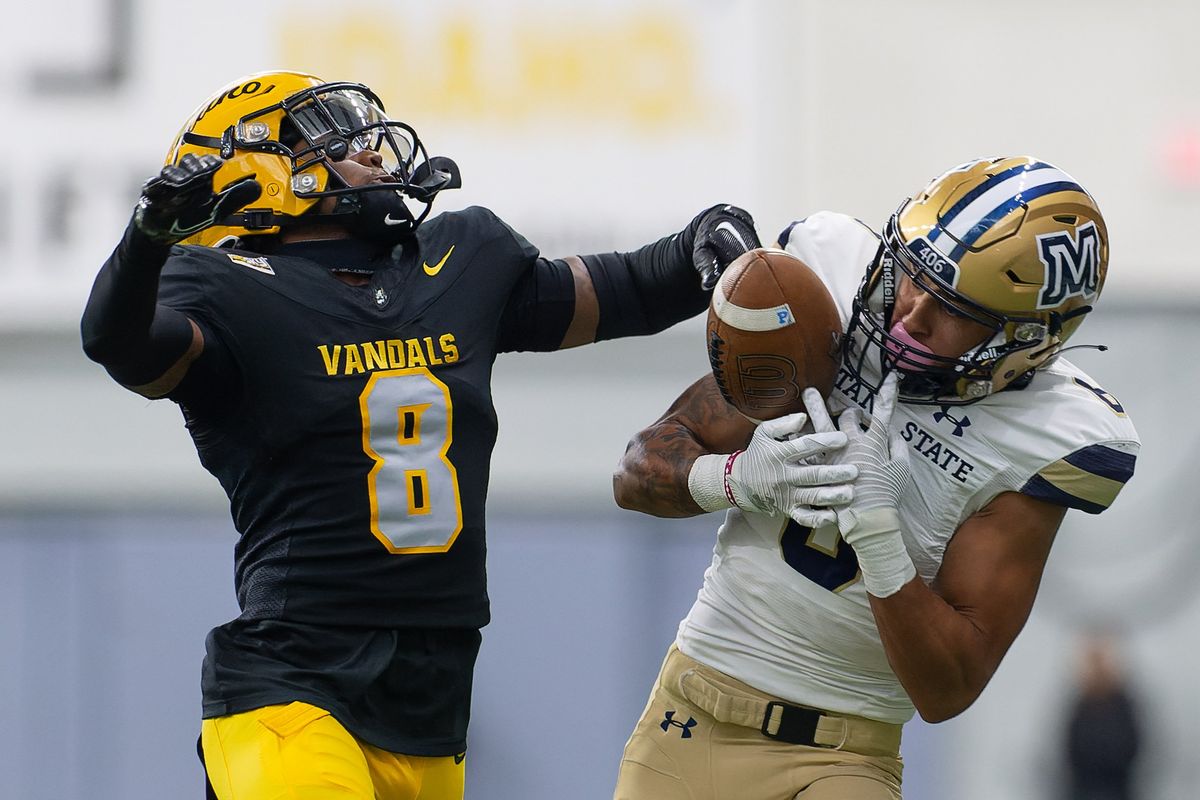 MOSCOW, Idaho – The Idaho Vandals secured one of their biggest home wins in program history, establishing themselves as bona fide Big Sky title contenders and Football Championship Subdivision sensations in the process.
The ninth-ranked Vandals knocked off the Big Sky favorites, pocketing a statement win while shaking up the FCS landscape. Idaho outlasted No. 2 Montana State for a 24-21 victory in a back-and-forth thriller on Saturday afternoon at the Kibbie Dome.
It was the most impressive feat for the Vandals (6-2, 4-1 Big Sky) under coach Jason Eck, who has turned Idaho into a formidable FCS program in just two years.
"To see a game like that in the Kibbie Dome, to beat the No. 2 team in the nation – awesome," Eck said.
"The future is bright, and we're going to keep building this and making it better."
The Vandals' defense closed out the signature victory, holding firm in the red zone against arguably the best offense in the FCS.
The Bobcats (6-2, 4-1), trailing by three, began their final possession with 2:47 remaining. They marched all the way to the Vandals' 18-yard line before Idaho defensive end Malakai Williams broke through for a sack to stall the series.
"As soon as we saw (our offense score), we knew what we had to do," Williams said. "We knew we had to pour it all out onto the field."
Montana State kicker Brendan Hall missed wide on a 43-yard field-goal attempt with 18 seconds left. After a couple of kneel-downs, the Vandals' sideline rushed the field in jubilation as the Kibbie Dome's sellout crowd roared.
"It's a very big win for us," Idaho quarterback Gevani McCoy said. "This puts us right back where we want to be, and this is a great game to bounce back off of our last game (a 23-21 home loss to Montana on Oct. 14)."
McCoy shined on the Vandals' final series, guiding a 10-play, 75-yard scoring drive to retake the lead for the final time after the teams had traded scores throughout the second half.
McCoy completed the possession with a perfect third-down pass. He fired a strike to the front corner of the end zone to Hayden Hatten, who brought in a back-shoulder grab between two defenders for a 12-yard, go-ahead score.
"I can't believe that there's another quarterback in FCS football better than Gevani McCoy," Eck said. "That throw he made, it was pretty well-covered. They had two defenders there, and he threaded it right through. Amazing, amazing play."
"When you have a guy like (McCoy), who can throw the ball there, you just gotta execute," Hatten said. … I was praying that it was coming to me."
It was a strong finish and a strong start for Idaho, which controlled the first half. The Vandals built a 10-0 lead and limited Montana State's potent offense to 52 yards.
"The defense came out and absolutely killed it," Hatten said.
The Bobcats went three-and-out on their first three possessions while Idaho held the ball for nearly 18 minutes on its second and third drives combined, totaling 130 yards on 31 plays in that stretch.
"We wanted to run the ball and play keep-away, especially against a team whose offense is as good as Montana State's," Eck said.
The Bobcats woke up in the second half, scoring back-to-back touchdowns to open the third quarter. Montana State went up 14-10, but Idaho responded with another long scoring drive to retake the lead.
Montana State answered with a 75-yard touchdown possession to jump ahead 21-17 midway through the fourth quarter. But McCoy was clutch in crunch time, completing 5 of 7 passes for 48 yards on the Vandals' winning series.
McCoy completed 22 of 29 passes for 229 yards and two touchdowns. Hatten recorded 63 yards, and Terez Traynor tallied 48 receiving yards and caught a TD pass early in the second quarter. Idaho tailback Anthony Woods had 64 yards and a third-quarter TD on 20 carries.
The Vandals played a turnover-free game and dominated time of possession , holding the ball for 41:27 against 18:33 for the visitors.
Montana State quarterback Tommy Mellott finished 12 of 24 for 191 yards and tossed two touchdown passes. Usually an efficient rusher, Mellott didn't have much room to run as the Vandals' defense turned in its finest effort of the year.
The Bobcats, who entered the game as the No. 1 rushing team in the nation (325 yards per game), totaled a season-low 128 yards on the ground. Montana State also had the No. 2 total offense in the nation and the No. 1 scoring offense in the FCS. The Bobcats' scoring and yardage totals were both their second-lowest outputs of the year.
"That's one of the best statistical offenses I've ever coached against," Eck said. "To put together a plan to hold them to 128 rushing yards, when only one team had kept them under 300 all year, what a plan.
"I'm just very proud of our guys. It was a gutsy effort against a great team. That team is gonna go far in the playoffs."
If the win was any indication, the Vandals are set up to make a run in the playoffs. The victory should move Idaho into the FCS top five and put the Vandals in a good position to contend for a Big Sky championship.
"This puts us right back in the driver's seat," Hatten said. "This puts us right back where we want to be."
With their toughest games behind them, the Vandals will be favored in each of their last three games. Up next, they'll visit winless Northern Colorado for a noon kickoff Saturday.
---