Deputies ask for tips on missing 22-year-old whose car was found in Dishman Hills area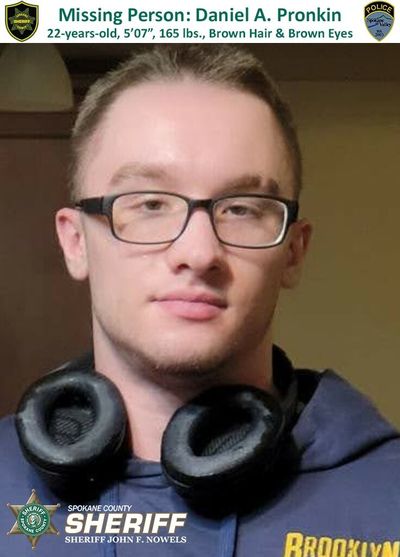 From staff reports
Deputies are asking for help finding a 22-year-old Spokane Valley man whose car was abandoned in the Dishman Hills area last week.
Daniel A. Pronkin was last seen leaving his North Willow Road home around 2:15 p.m. Sept. 6, according to a news release from the Spokane County Sheriff's Office. A family member reported Pronkin missing Saturday, saying the behavior is "highly unusual" for him.
Just after midnight Tuesday, deputies responded to 8509 E. Appleway Blvd. for a report of a suspicious vehicle. The car, later determined to be Pronkin's red Honda Civic, had been there since the day after he was last seen, deputies said.
The car was locked, and a wallet and phone were on the front seat, the release said. There was no sign of criminal activity and no indication of where Pronkin may have gone.
Deputies searched the area, including with an unmanned aerial system and used a PA system, to no avail. They are unsure whether he could still be in the Dishman Hills area or whether he may have left with someone.
Pronkin is white, 5-foot-7 , 165 pounds, and has brown hair and brown eyes. He wears glasses and was last seen wearing a black and gray shirt and dark pants.
Anyone with tips is asked to call Crime check at (509) 456-2233 and reference No. 10136524.
---