Under pressure from Risch and others, Biden administration terminates WSU-led virus research program over risk concerns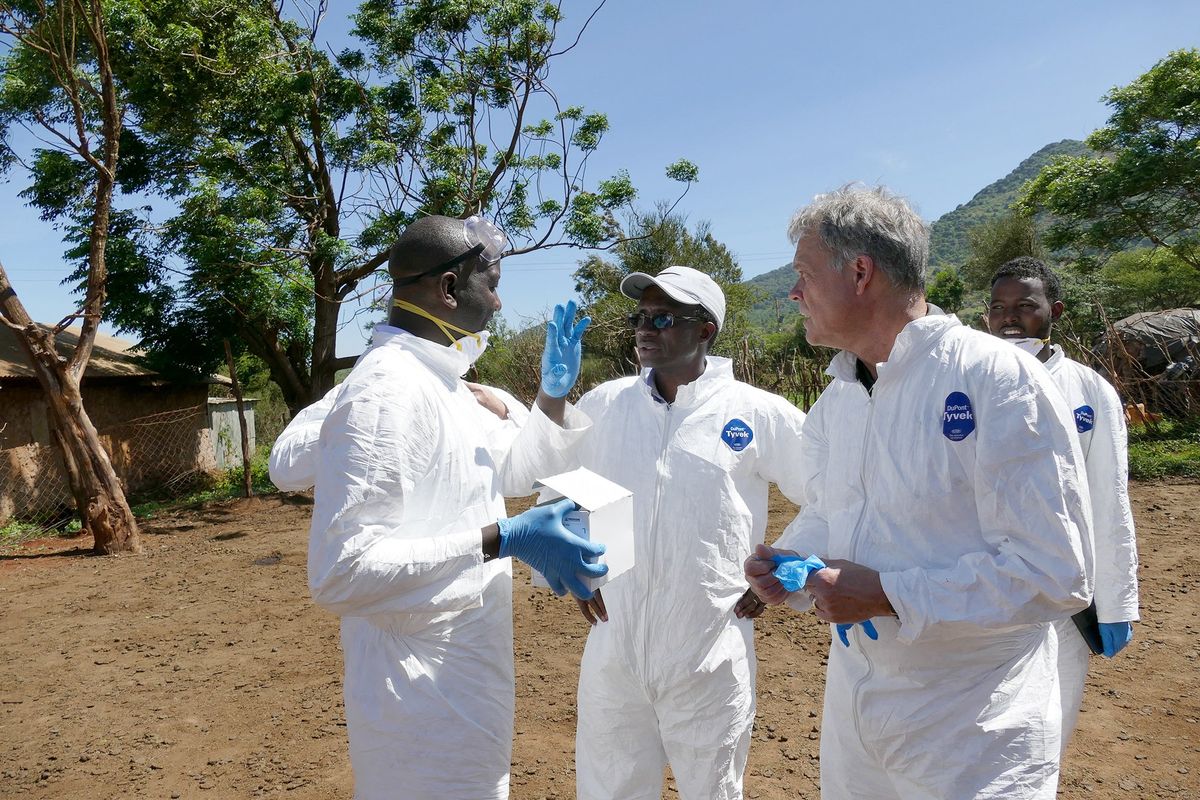 WASHINGTON – The Biden administration has ended a program led by Washington State University intended to track down viruses that could pose a threat to humans, after an influential Idaho senator and other critics raised concerns that the work could increase the risk of an accidental disease outbreak.
The U.S. Agency for International Development, or USAID, quietly began working with WSU researchers in July to wind down the program, according to the researchers and a statement from the agency. The decision was first reported by The BMJ, a publication of the British Medical Association.
"USAID appreciates Washington State University's partnership and looks forward to ways we can work together in the future," the agency said. "The decision is in no way a reflection on the performance or capability of the prime partner, WSU, or its consortium of partners."
Sen. Jim Risch of Idaho, the top Republican on the Senate Foreign Relations Committee, had questioned the wisdom of the international development agency funding virus-hunting efforts since the program was announced in October 2021. In a statement Sept. 8, he said the risks of such research "far outweigh the benefits" and he was glad the Biden administration had heeded his concerns.
"USAID should not be engaged in virus hunting overseas," Risch said. "Not only is this outside the agency's purview, but USAID does not have the adequate oversight and control mechanisms in place to ensure any viruses that are found are protected and won't cause catastrophic outbreaks."
In response to questions from The Spokesman-Review, USAID said in a statement that the COVID-19 pandemic has led the agency and the whole U.S. government "to assess priorities and approach to pandemic preparedness," including "the relative risks and impact of our programming."
In interviews with The Spokesman-Review, two of the lead researchers at WSU's College of Veterinary Medicine acknowledged the risks associated with their work but said the project was intended to help researchers in Latin America, Africa and Southeast Asia do important disease surveillance work as safely as possible.
"I'm disappointed that we're not moving forward, because we could have done a lot of good with this, but it just got tangled up in some politics we couldn't control," said Tom Kawula, director of WSU's Paul G. Allen School for Global Health.
In October 2021, USAID announced that WSU would lead a five-year, $125 million project called DEEP VZN – short for "Discovery and Exploration of Emerging Pathogens – Viral Zoonoses" – to collect more than 800,000 samples, mostly from wildlife, and identify and catalogue viruses that could someday spread to humans. But critics say that work could make it more likely, not less, that a virus could jump from animals to humans.
The project was intended to focus on building the capacity of local partners in five countries: Kenya, Senegal, Peru, Vietnam and Thailand. A consotrium led by WSU also included the University of Washington; Washington University School of Medicine in St. Louis; PATH, a Seattle-based global health nonprofit; and FHI 360, a global development nonprofit based in North Carolina.
Kawula said most of the project's budget would have been spent by the subcontractors, not directly by WSU. The consortium spent about $7.6 million on the initial phase of the project, he said, with $3.2 million for WSU.
The U.S. government had funded similar programs for more than a decade, including an earlier project called PREDICT, which had identified about 1,200 novel viruses and supported research at laboratories around the world. One of those labs was the Wuhan Institute of Virology in China, which U.S. intelligence agencies have concluded is at least a plausible source of the initial outbreak, although the pandemic's origin may never be clear because of a lack of transparency from the Chinese government.
In a letter to USAID Administrator Samantha Power in November 2021, Risch and Sen. Lindsey Graham, R-S.C., suggested that the PREDICT project had created more risk than reward.
"While we have long supported efforts to bolster global health security and prevent pandemics, there is scarce evidence that this particular effort made the American people safer or left us better prepared to respond when a real pandemic occurred," the senators wrote. "If you have evidence to the contrary, please share it with us."
According to reporting in The BMJ, officials at the White House National Security Council shared those concerns and pushed to shutter DEEP VZN. A spokesman for the National Security Council did not respond to questions about its role in the decision.
Kawula said the criticism of the PREDICT project – which funded research at the Wuhan Institute of Virology that manipulated coronaviruses found in bats, making them more dangerous to humans – sullied the reputation of DEEP VZN. WSU did not participate in PREDICT.
"I think this project maybe got conflated with other ones that people are looking at and asking whether or not we have learned the lessons we needed to learn before we engage in something like this," he said. "My hope is we're just taking a step back to look at this and make sure everyone is on board with how we're going to proceed."
In a follow-up letter in February 2022, Risch and Graham thanked the USAID chief for providing more information but asked the agency to stop all work on DEEP VZN. USAID, they wrote, "does not exercise the level of control over its grantees and sub-grantees that research of this nature surely requires, and has not adequately considered the national security implications of its efforts to identify and characterize pathogens with pandemic potential."
In May, Risch wrote a third letter to Power, thanking her agency for working to address his concerns and adding stricter safeguards to DEEP VZN, but he said he remained concerned that USAID still doesn't have enough oversight and control over the organizations that carry out its projects.
"Even if that level of control could be attained over the coming days, weeks, months, or years – which is highly unlikely – I remain unconvinced that hunting novel viruses would or should ever fall within the core competency of the U.S. government's lead development agency."
Rep. Cathy McMorris Rodgers, R-Spokane, has led additional oversight of virus-hunting programs as chair of the House Energy and Commerce Committee, which has jurisdiction over biomedical research. McMorris Rodgers has requested information on the subject from USAID, the Government Accountability Office, the National Institutes of Health and the Centers for Disease Control and Prevention, but she did not call for DEEP VZN to be terminated.
On Friday, McMorris Rodgers announced that the Department of Health and Human Services had notified her panel that the department had debarred the Wuhan Institute of Virology for 10 years, a move she called "long overdue" in a joint statement issued with other GOP members of the committee.
Guy Palmer, WSU's senior director of global health and a professor of pathology and infectious diseases, said he and his colleagues met with staff from the offices of McMorris Rodgers and Washington's Democratic senators, Patty Murray and Maria Cantwell, as well as Risch's staff. The WSU team was confident they could address the lawmakers' concerns about DEEP VZN, Palmer said, and was disappointed when USAID decided to end the project.
"This doesn't really affect our commitment to pandemic preparedness and our global programs," Palmer said, adding that WSU will remain one of 10 government-funded centers for research in emerging infectious diseases.
"It's disappointing for us, because I think there's a strong need for U.S. leadership in biosafety and biosecurity and safe and secure data management. Just because we don't do it doesn't mean that another country won't."
Kawula said the Chinese government continues to seek out novel viruses, but without the safety and transparency standards WSU researchers hold themselves to.
While DEEP VZN was terminated before the researchers began collecting samples, Kawula and Palmer said they had already developed plans for biosafety, biosecurity and secure and transparent data management that they hope will strengthen disease surveillance in the five partner countries.
That capacity is important, Palmer said, because it helps identify potential threats early enough to prepare – for instance, by canceling elective hospital procedures to make room in intensive-care units.
He cited the example of the omicron variant of COVID-19, which was identified in South Africa in November 2021, roughly a month before the first case appeared in the United States and caused a surge in infections.
But not everyone in the field agrees that the risk is worth the benefits. In April, the leader of an earlier virus-hunting project funded by the U.S. government in Thailand – where researchers were repeatedly bitten by bats – told the Washington Post he believed the work was too dangerous, even with safety measures in place. The researcher told the paper he still supports surveillance of viruses circulating among humans but not seeking out previously unknown viruses that could infect people as a result of the research.
"Whenever you collect any sample, there is some level of risk," Kawula said, emphasizing that DEEP VZN was largely about helping researchers around the world minimize that risk while doing work intended to save lives.
Most virus samples would have been collected from dung or other sources that don't require catching live animals, he said.
"It's a calculus, and I think everybody probably has maybe a different benchmark," Kawula said. "I don't think finding a dead animal is what should be our sentinel that we have a disease outbreak."
Palmer said he hopes the termination of DEEP VZN isn't the end of U.S.-backed efforts to identify viruses before they infect humans.
"I have great confidence that not only WSU, but U.S. institutions in general, can do this in a safe and effective manner better than other countries. We have that level of expertise, and it's acknowledged globally."
---