Berkly Catton, a projected high pick in next year's NHL draft, ready to lead Chiefs in second WHL season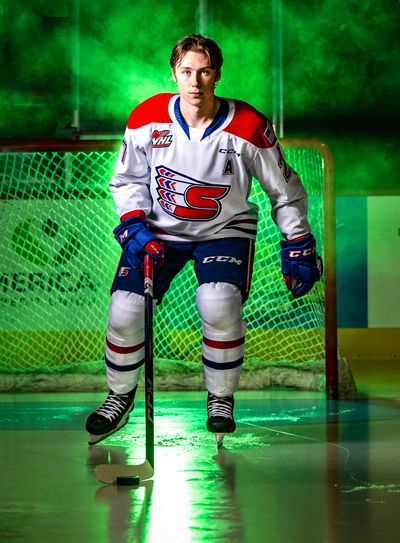 If his youthful face didn't give it away, it would be easy to forget Berkly Catton is just 17 years old. His maturity, presence and natural leadership abilities belie his tender age.
And then, there's his play on the ice.
Catton's skill level forced him to grow up quickly.
"When I was younger, I'd always play up in age group," he said. "I was two to three years younger than the other guys."
He still is.
As a Western Hockey League rookie at 16 last season, Catton scored 23 goals with 32 assists in 63 games.
"It's not easy for a 16-year-old to play in the league, let alone to have to go up against the top players and then try to contribute," Chiefs general manager Matt Bardsley said.
"You don't see these kinds of players that often. We're lucky to have him and he's special," Chiefs coach Ryan Smith said.
Catton went No. 1 overall to the Chiefs in the 2021 WHL bantam draft after scoring 15 goals with 25 assists in 21 games with his U18 team in his hometown of Saskatoon, Saskatchewan, during the 2021-22 season. What put him on the map was a 58-goal season with 50 assists – in 30 games – as a 13-year-old.
Combine that with his success last season, and Catton ranks in the top half-dozen prospects heading into next year's NHL draft. As a youngster, he never saw that as a possibility.
"No, I'm gonna be honest, probably not," he said. "I just love the game of hockey so much. It's my favorite thing to do. It's never a chore or anything going out to play. Obviously, throughout the years I've noticed I've kind of climbed the ladder a little bit in that sense. But no, I would have never imagined this point, but it's pretty cool to be here."
He said he started thinking around age 12 or 13 that he might be able to play the game professionally.
"Once, you know, everyone starts to get a little bit bigger, hockey starts to get more realistic," he said. "And my game kind of translated pretty well. Then, you know, to the WHL it translated pretty well, too. So, I think that's kind of when I noticed, even just in the last couple years here."
There will be a lot of attention on Catton this year, from scouts and the media. No one doubts Catton's ability to handle the additional distractions.
"He's focused on the task at hand," Bardsley said. "I think like anybody, he's human. You're gonna hear about things, see things, but that's not going to affect him. I think he's just going to continue to do what he wants to do or needs to do."
The extra attention on Catton will carry over to the team. Bardsley said the team has five or six other players who are eligible for the draft this year.
"It's great for 'Berk,' great for the organization, but it's great for his teammates, because everyone's gonna be looked at," he said.
The draft next year will be a momentous occasion for not only for Catton, but for his family .
"It'll be surreal, you know," he said. "I think that night, it'll be for me but mostly for the people around me. My grandpa will be there, my grandma, my parents. Without all of them, I wouldn't be anywhere even close here. So that night I think it'd be obviously about me, but behind the scenes, it'll be all about them."
Catton's father built him a rink in the backyard before he could walk.
"He's been the one who's brought me into it," Catton said. "Our bond throughout the years has gotten so much stronger and a lot of it is through hockey. I think that's kind of helped as it's something we share and love."
Catton isn't the biggest player on the ice – he's listed at 5-foot-11, 164 pounds – but he's a strong skater and "sees the ice," according to Bardsley.
"I think his hockey sense is elite," Bardsley said. "His skating – he's got great edge work. He can transition up the ice quickly when he's on the attack. His deception with the puck. He's real focused as an individual and as a player he wants to get better. And then his puck skills are elite as well."
"He sees the ice, he reads plays, he's one to two steps ahead of the game at times and when he has the puck, it's a bit mesmerizing for everybody," Smith said.
Catton gave a self-scouting report.
"I would have to say I'm a fast player – not just the way I skate. But the way I think the game and stuff. I'd say, thinking the game would probably be my strongest thing. And then I have a high compete level, which allows me to make plays and drive the game."
He almost begrudgingly acknowledges how good a player he is.
"Yeah, I think I know I'm a good player. I don't know," he said. "It's not like it's something I think about too much. I kind of just go and play and I don't really read the press clippings or anything too much. I just go and play."
"I think he has a grasp of where he is and amongst his peer group and even in our league," Smith said. "I'm not sure that he understands quite how good he is and that maybe that's a good thing, you know? That keeps you humble."
Following his impressive season last year, Catton was named to Team Canada for the 2023 Hlinka Gretzky Cup, the annual international under-18 tournament for elite prospects. He was selected as captain of the team and led the tournament with eight goals and 10 points.
"He showed at the Hlinka tournament that he could score," Bardsley said. "He's an incredible playmaker because of his vision, but it was good to see at the Hlinka his ability to finish and score timely goals, big goals for his team."
"What he did this summer with Team Canada, and even back last year at the U-17 (World Championships), you know, he was a captain and a leading scorer," Smith said. "And then as an underage at the U-18 Worlds, he handled himself well. And then Hlinka, I mean, he just kind of took off."
For all his accolades, Catton knows there are areas of the game where he can improve.
"I think everything could get a little bit better with my game," he said. "But, you know, the defensive side. 'Preoffense.' Defense, it's just a way to get the puck. If you have better defense, the more you're going to have the puck. I think just kind of knowing where to be and my spots, maybe getting a little bit grittier in the defensive zone and then, you know, just obviously getting stronger."
"It's something he needs to work on," Smith said. "And it's not the fun part of the game. But it's hard to say that to a guy that has the puck so much. He needs to understand that when he doesn't have (the puck), how to get it back."
As good a playmaker as Catton is, Smith would like to see him even more assertive when he has the puck in deep.
"We talked a little bit last year that his shot was something that we thought he could maybe get away more and improve, and he sure has worked on it in the summer. … Even in practice, he's using it a lot more."
"The puck comes off his stick with great velocity," Bardsley said. "He's got real good accuracy on it, which just makes him even more dangerous – because everyone knows he can make plays. But the fact that he can finish as well, makes it pretty tough for opposing teams."
Off the ice, Catton said he's a "pretty simple guy." He likes to golf, he's not into video games and has a wide variety of musical tastes – "all over the map," he said. "Someday, we'll be listening to music from the '60s and the next will be listening to modern. It's all over the place."
Catton and roommate Conner Roulette are learning to play guitar – and the two share a love for "old movies."
"I've always been a big movie guy," Catton said. "We're on the road so much. I'm watching 'Star Wars' right now with him.
"I've never really watched any (science fiction), but he says it's pretty good, and it's been good so far. We're trying to get through all the big movies of the past."
---