Carter Steinwand helps Clarkston ruin North Central's inaugural game at ONE Spokane Stadium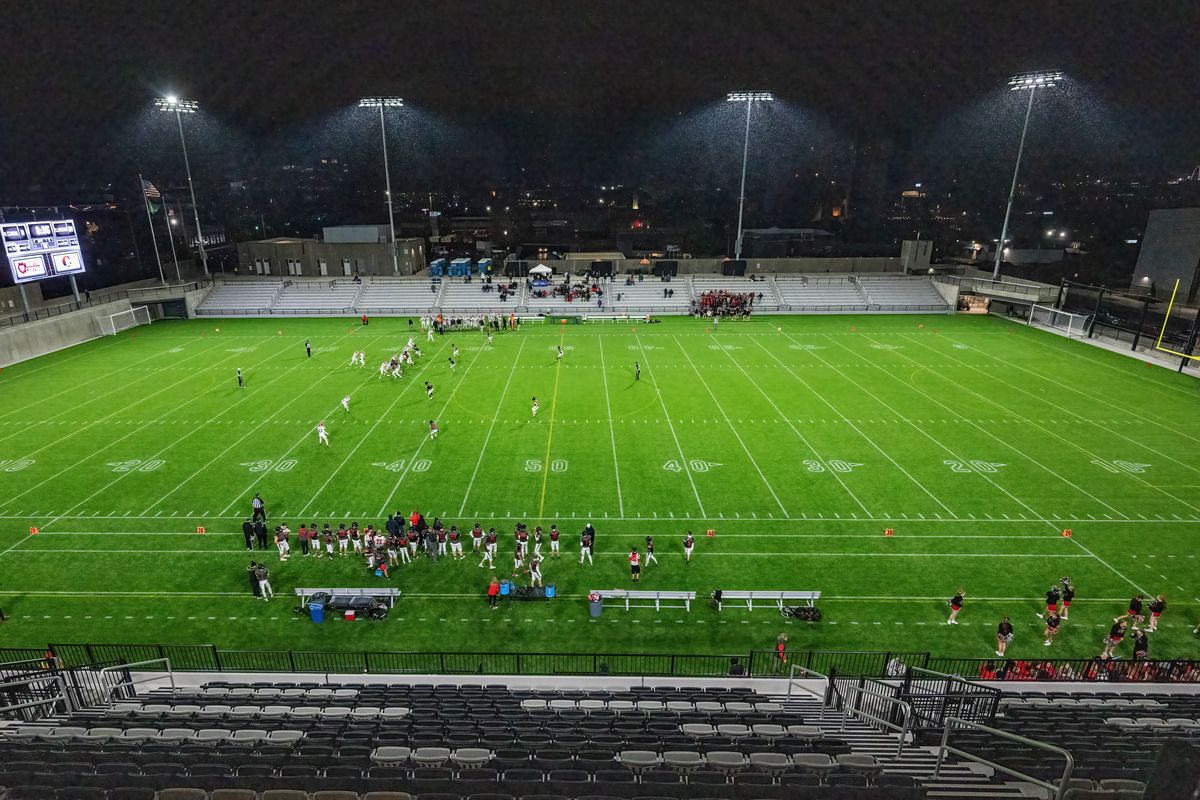 For three years, the Spokane Public Schools members of the Greater Spokane League have been nomads, playing their "home" games during the day on campus, in the stadiums of their opponents or at another unoccupied facility. On Thursday night, that all changed.
With the completion of ONE Spokane Stadium on downtown's north bank, the five SPS schools – Ferris, Lewis and Clark, North Central, Rogers and Shadle Park – finally have a place to call home.
North Central drew the lucky card to host the first football game at the new venue. Unfortunately, the visitors played spoilers for the inauguration.
Carter Steinwand threw three touchdown passes, two to Ryken Craber, and Clarkston beat the Wolfpack 28-0 in GSL 2A play.
Steinwand finished 16 of 26 for 166 yards, while Craber had six catches for 63 yards. 
"It's always nice to get big win against another league opponent," Steinwand, the senior quarterback, said. "So just keep moving, moving up in the rankings in our league."
The outcome matters, bit the bigger picture of the opening of the stadium took a lot of the focus.
"For SPS, you know, all the schools within the school district, North Central, our program, the North Central community; to be a part of something like this and to be able to open up ONE Spokane Stadium was something that we will always cherish," NC coach Aaron Woods said. 
"We just wish the outcome was a lot different."
The Wolfpack had a change to practice in the stadium last week ahead of the game. Woods told his players to savor the experience. 
"There's not that many times you're gonna have those moments in your life. And this is something that they'll always remember. And so will I."
"The atmosphere tonight was awesome," Clarkston coach Brycen Bye said. "I told the kids before the game and at halftime this is like a small college level atmosphere. It was loud. It was really loud. The they did a great job on the stadium. And our kids did a really good job of showcasing Clarkston football in front of a big crowd."
Bye talked about the potential for home field advantage for the city schools. 
"It's cool for those guys to just have a place that they can call home," he said. "And it's a really, really cool place to call home. So, if I was those guys, I'd be super excited about what they've got going on here in Spokane."
"Driving by for the first time everyone's got super excited," Steinwand said. "It's real nice. It was just really fun, just the atmosphere brought with it."
North Central (0-5, 0-3) moved into Clarkston territory on its first drive but turned it over on downs at the Bantams 36. Clarkston (3-2, 2-2) followed with a seven-play, 64-yard drive that culminated with a Steinwand 12-yard touchdown pass to Craber.
The Wolfpack went backward on their next possession and a short punt set up Clarkston at the NC 30. The Bantams had fourth-and-goal at the 6, but Steinwand's pass was overthrown, and NC kept it a one-score game.
Steinwand gained 15 yards on a scramble, then hit Hayden Line on a deep down-and-out route. Line stayed in bounds and raced down the sideline for a TD and 14-0 lead with just more than 7 minutes in the half.
"Carter is just a really, really special player," Bye said. "And there's times even as coach I just have to learn to trust him. And there's even three or four plays in there that I just told him to call his own play."
NC sophomore quarterback Trevelle Jones hit Matthew Campbell for 10 yards, and a horse collar penalty added 15 yards to the Clarkston 37. Jones hit Nick Elliott down the middle for 30 yards to reach the red zone.
With fourth-and-1 at the Clarkston 4, the Wolfpack opted for a 21-yard field-goal attempt by Biru Thang with 1 minute, 39 seconds left in the half, but it went wide right.
Clarkston took advantage. Steinwand carried for 14 yards and hit Marcisio Noriega for 19 to midfield. A pass interference penalty took it to the 35, then Steinwand hit a wide-open Craber for a 17-yard TD pass with 12 seconds left in the half and a 21-0 lead.
Clarkston took the second-half kick and went 58 yards in seven plays, the last Milo Kunnap's 37-yard touchdown run.
North Central moved the ball to the Clarkston 12, but Line picked off Jones at the 5 and returned it to the Bantams' 40.
Overall, Woods was happy with his young quarterback's play for the most part. 
"He was under a lot of pressure all night, wish we did a better job of protecting him. But you know, he made plays with his feet. He made plays with his arm. We just didn't make plays when they when they mattered the most."
---