'He is a Spokandian; he is your family': Spokane Indigenous activist shot in New Mexico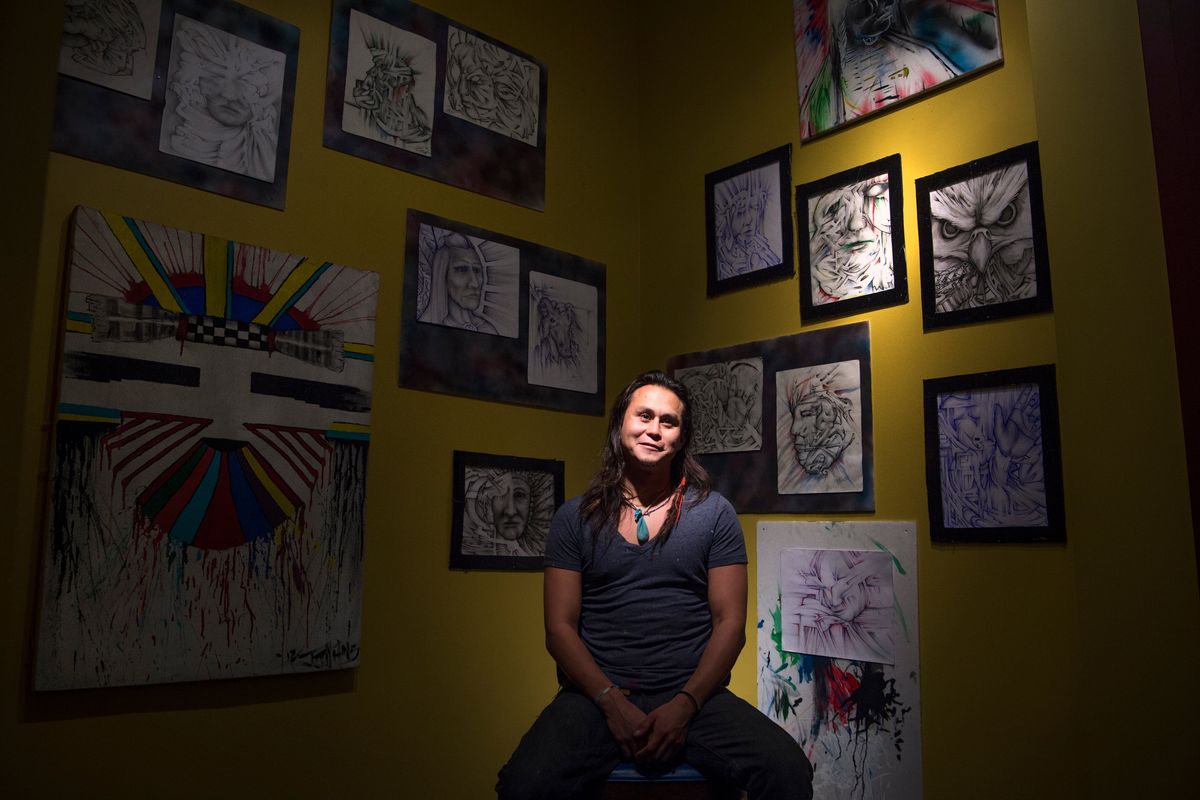 Just before a Spokane Indigenous activist was shot during a rally in New Mexico Thursday, his friend Phreddie Lane had texted him, "I love you, bro."
Jacob Johns was participating in the rally outside a Rio Arriba County building in Española, New Mexico, Lane said. The event was meant to celebrate the decision by the city to pause the process to install a controversial statue of Juan de Oñate, a Spaniard conquistador.
At some point during the rally, a man wearing a "Make America Great Again" hat, who was identified by authorities as 23-year-old Ryan Martinez, pulled out a handgun from his waistband and shot Johns, according to the Albuquerque Journal, which was present for the incident. New Mexico State Police said in a news release Friday afternoon Martinez was arrested on charges of attempted first-degree murder and aggravated assault with a deadly weapon.
The Albuquerque Journal said a Facebook profile apparently belonging to Martinez depicted him in a MAGA hat with insults issued toward China and Joe Biden.
New Mexico Attorney General Raúl Torrez's spokesperson sent The Spokesman-Review his statement on the shooting, strongly condemning what he said was a "cowardly act of violence."
"There is no excuse and no place for political violence in America. Regardless of our diverse political views, we must remain committed to the rule of law and the right of every citizen to express themselves without fear," Torrez said.
Johns, who is Hopi and Akimel O'odham, was flown to a hospital and rushed into surgery, according to a Gofundme for him and his teenage daughter. The Backbone Campaign, an organization where Johns works, wrote that his spleen, liver and diaphragm were damaged. He is intubated and expected to be in the intensive care unit for several days, the Campaign said. Johns came out of surgery Friday, and his family is flying from Washington state to New Mexico to be by his side.
Lane and Johns had become fast friends in 2018 after traveling state by state together for Lummi Nation's House of Tears, a group that provides "healing, honor and protection of sacred sights," Lane said. He was a former council member for Lummi Nation, just west of Bellingham. Lane works as the road manager for House of Tears.
When Lane texted Johns on Thursday, he told him he was at a "stand-in" in New Mexico. That's when Lane responded with love.
Later that day, Lane got the news that Johns was shot. He was shocked, he said – but not entirely.
"This stuff happens on the front lines," Lane said. "Always we have to be wary of protecting ourselves from things like this. … Have your guard up."
Lane recalled when the two were traveling in their House of Tears van. They had just finished their Totem Pole Journey, meant to oppose fossil fuel projects and restore health to the Snake River salmon runs. They were on the way back home when they discovered someone had removed lug nuts from each of the van's tires.
"They covered it up so it looked like an accident. These are our realities," Lane said. "We have fought back. We have fought pipelines. We have fought for our salmon."
In 2010, Johns chose to be paroled in Spokane, where his mother lives. He was released from prison in Arizona after serving an eight-year sentence for aggravated assault with a deadly weapon on an officer when he drove home drunk and ignored police when they tried to stop him. The chase ended when he crashed into a police car, according to previous reporting from The Spokesman-Review.
But he changed his life. Johns received his cosmetology degree, displayed his art at the Spokane Falls Indian Encampment Powwow and was offered an art exhibit at the University of Washington. His popularity skyrocketed since. He heads Native American art at Studio One Eleven and is a community organizer for the Backbone Campaign, an organization that uses "creative strategies and artful activism to manifest a world where life, community, nature, and our obligations to future generations are honored as sacred," according to their website.
Karen Mobley, a local artist and consultant, told The Spokesman-Review that she is still shaken up from the news she described as "horrific." She works next to Johns in the art scene pretty regularly, she said, and admires his ability to "run toward trouble," as opposed to standing back and watching.
"A lot of people don't have that courage and fearlessness to stand up for things," Mobley said. "Things that are important to our people and our world."
A longtime member of the Unitarian Universalist Church of Spokane, he has been vocal during climate change protests in Spokane, has painted murals on Spokane city walls, has fundraised for Indigenous groups through selling his paintings, organizes social justice rallies, and more.
He just finished painting a mural in the Howard Street underpass on Sept. 19 to celebrate voting rights restoration for recently incarcerated people on National Voter Registration Day. Johns was also present at the Standing Rock pipeline protests in North Dakota.
In just two months, he was scheduled to lead an Indigenous Wisdom Keepers Delegation to discuss solutions to climate change.
"His home is there in Spokane. He tries to help out everywhere he can. Any community mural, anything grassroots. He is a real warrior," Lane said. "That's what warriors do, standing up for Mother Earth. I know that's what he's doing that for – his daughter, and all of mankind."
Lane is waiting for updates on his friend's condition. He said as the community waits, they pray.
"More than anything, I hope this can bring our communities together," Lane said. "We are all Americans. All of us. We got more in common than we do the difference.
"We can't let this be normal. He is a Spokandian; he is your family."
---