Corey Kispert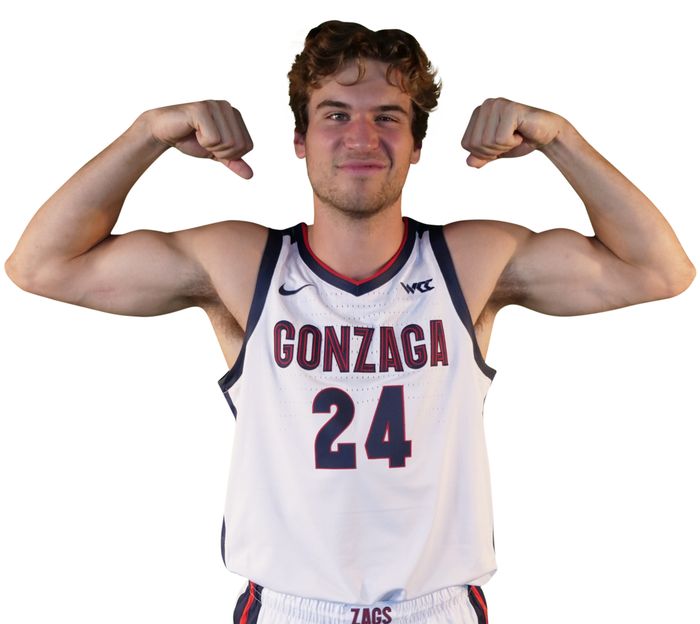 Jersey: 24 Position: G
Age: 21 Height: 6-7 Weight: 220
Hometown: Edmonds, Washington, United States
Birthdate: March 3, 1999
Bio: Helped King's High win a pair of Washington 1A state championships. Missed second half of his senior season with broken bone in right foot. Averaged 23.9 points, 6.8 rebounds, 3.4 assists and 2.3 steals as a junior. Rated as a four-star recruit and No. 72 nationally by Scout.com. Rated No. 81 by Rivals.com. Ranked as a two-star recruit by ESPN.com. Earned 3.96 grade-point average. Picked Gonzaga over Virginia and Notre Dame.
Jr.

Scouting report:
One of the team's most experienced players. Projected starter at wing position. Steady contributor that figures to assume larger role, particularly at the offensive end. Provides bigger, stronger option at wing position. Scored 28 points in Oct. 19 scrimmage against Michigan State. Named to Julius Erving Small Forward of the Year Award preseason watch list.
So.

Scouting report:
Started 36 games. Averaged 26.1 minutes, 8.0 points and 4.1 rebounds. Shot 37.4% on 3-pointers and 61 of 104 field goals came behind the arc. Led team at 87.5% from the free-throw line. Committed just 32 turnovers in 37 games. Season-high 17 points vs. North Dakota State. Hit four 3-pointers and scored 16 points against BYU and Baylor. Named Academic All-West Coast Conference.
Fr.

Scouting report:
Started at wing in first seven games before suffering sprained ankle against Incarnate Word. Scored in double figures in first six games. Missed two games with ankle injury. Averaged 6.7 points, 3.2 rebounds and 19.4 minutes. Made 46 percent from the field, including 35 percent beyond 3-point arc. Posted first double-double with season-high 23 points and 10 rebounds in win over Portland on Jan. 25. Played 46 minutes and scored 15 points in double-overtime loss to Florida. Scored 10 points in regular-season rout over Ohio State.
Career Stats
Per Game
Team
G
GS
MPG
PPG
RPG
APG
SPG
BPG
TOPG
PFPG
FG%
3P%
FT%
17-18
Gonz
35
7
19.4
6.7
3.2
0.7
0.3
0.2
0.6
1.0
.460
.351
.667
18-19
Gonz
32
31
26.1
8.3
4.0
1.1
0.6
0.5
1.0
1.9
.432
.370
.875
Career
67
38
22.6
7.5
3.6
0.9
0.4
0.3
0.8
1.4
.445
.362
.765
Totals
Team
G
GS
Min
FGM
FGA
3PM
3PA
FTM
FTA
OR
REB
A
Stl
Blk
TO
PF
Pts
17-18
Gonz
35
7
679
86
187
40
114
24
36
37
111
26
10
6
22
36
236
18-19
Gonz
32
31
835
92
213
54
146
28
32
28
129
35
19
15
31
60
266
Career
67
38
1514
178
400
94
260
52
68
65
240
61
29
21
53
96
502
Game Logs
| | | | | | | | | | | | | | | | | | |
| --- | --- | --- | --- | --- | --- | --- | --- | --- | --- | --- | --- | --- | --- | --- | --- | --- | --- |
| Date | Opp | Result | Min | FGM | FGA | 3PM | 3PA | FTM | FTA | OR | REB | A | Stl | Blk | TO | PF | Pts |
| 11/6 | IdaSt | W 120-79 | 28 | 5 | 10 | 4 | 8 | 0 | 0 | 4 | 6 | 4 | 0 | 1 | 1 | 1 | 14 |
| 11/10 | TxSo | W 104-67 | 32 | 2 | 7 | 1 | 5 | 2 | 2 | 2 | 8 | 0 | 0 | 0 | 1 | 2 | 7 |
| 11/15 | TexA&M | W 94-71 | 23 | 3 | 7 | 1 | 3 | 1 | 1 | 1 | 3 | 1 | 0 | 3 | 0 | 3 | 8 |
| 11/19 | @Ill | W 84-78 | 32 | 2 | 6 | 1 | 5 | 2 | 2 | 2 | 5 | 0 | 0 | 0 | 2 | 4 | 7 |
| 11/20 | Ari | W 91-74 | 33 | 1 | 5 | 1 | 5 | 0 | 0 | 0 | 3 | 3 | 0 | 0 | 2 | 2 | 3 |
| 11/21 | Duke | W 89-87 | 22 | 3 | 6 | 1 | 3 | 0 | 0 | 2 | 4 | 1 | 1 | 0 | 1 | 4 | 7 |
| 11/26 | NDakSt | W 102-60 | 26 | 6 | 10 | 5 | 7 | 0 | 0 | 0 | 2 | 2 | 1 | 0 | 0 | 0 | 17 |
| 12/1 | @Cre | W 103-92 | 31 | 3 | 8 | 2 | 4 | 0 | 0 | 1 | 4 | 0 | 0 | 0 | 3 | 2 | 8 |
| 12/5 | Wash | W 81-79 | 31 | 4 | 10 | 3 | 9 | 2 | 2 | 0 | 3 | 3 | 0 | 0 | 0 | 2 | 13 |
| 12/9 | @Tenn | L 73-76 | 37 | 4 | 6 | 3 | 4 | 2 | 2 | 2 | 9 | 1 | 0 | 0 | 2 | 2 | 13 |
| 12/15 | @UNC | L 90-103 | 28 | 2 | 3 | 0 | 1 | 0 | 0 | 0 | 1 | 1 | 2 | 0 | 1 | 5 | 4 |
| 12/18 | Tx-Ar | W 89-55 | 26 | 3 | 7 | 2 | 5 | 4 | 4 | 1 | 3 | 2 | 2 | 0 | 1 | 4 | 12 |
| 12/21 | Denver | W 101-40 | 27 | 5 | 12 | 3 | 8 | 0 | 0 | 0 | 4 | 2 | 0 | 0 | 3 | 1 | 13 |
| 12/28 | NortAL | W 96-51 | 29 | 4 | 8 | 2 | 5 | 0 | 0 | 0 | 2 | 2 | 1 | 1 | 0 | 1 | 10 |
| 12/31 | CS-Bk | W 89-54 | 30 | 1 | 6 | 1 | 5 | 0 | 0 | 0 | 3 | 0 | 1 | 1 | 1 | 1 | 3 |
| 1/5 | SantaC | W 91-48 | 26 | 3 | 6 | 2 | 4 | 1 | 2 | 1 | 4 | 1 | 2 | 0 | 2 | 4 | 9 |
| 1/10 | Pac | W 67-36 | 25 | 1 | 6 | 0 | 5 | 2 | 2 | 0 | 4 | 0 | 2 | 0 | 1 | 1 | 4 |
| 1/12 | @SanFr | W 96-83 | 20 | 1 | 3 | 1 | 1 | 0 | 0 | 0 | 2 | 0 | 0 | 0 | 0 | 0 | 3 |
| 1/17 | LyMnt | W 73-55 | 27 | 4 | 8 | 1 | 4 | 3 | 3 | 1 | 4 | 2 | 1 | 1 | 1 | 2 | 12 |
| 1/19 | @Por | W 89-66 | 22 | 4 | 8 | 3 | 7 | 0 | 0 | 2 | 5 | 1 | 0 | 1 | 0 | 5 | 11 |
| 1/24 | @SantaC | W 98-39 | 23 | 5 | 9 | 3 | 6 | 0 | 1 | 0 | 2 | 0 | 0 | 0 | 0 | 0 | 13 |
| 1/31 | @BYU | W 93-63 | 30 | 6 | 9 | 4 | 6 | 0 | 0 | 1 | 5 | 1 | 1 | 1 | 0 | 0 | 16 |
| 2/2 | SD | W 85-69 | 16 | 1 | 5 | 0 | 2 | 0 | 0 | 0 | 1 | 1 | 2 | 0 | 1 | 2 | 2 |
| 2/7 | SanFr | W 92-62 | 23 | 1 | 6 | 0 | 3 | 3 | 3 | 5 | 7 | 2 | 0 | 2 | 0 | 2 | 5 |
| 2/9 | StMry | W 94-46 | 27 | 3 | 6 | 3 | 5 | 1 | 2 | 1 | 6 | 0 | 0 | 0 | 1 | 2 | 10 |
| 2/14 | @LyMnt | W 73-60 | 22 | 1 | 4 | 1 | 4 | 1 | 2 | 0 | 3 | 2 | 1 | 1 | 1 | 2 | 4 |
| 2/16 | @SD | W 79-67 | 19 | 3 | 4 | 1 | 2 | 1 | 1 | 0 | 4 | 0 | 0 | 0 | 1 | 1 | 8 |
| 2/21 | Pepper | W 92-64 | 28 | 1 | 6 | 1 | 5 | 2 | 2 | 0 | 2 | 0 | 0 | 1 | 1 | 1 | 5 |
| 2/23 | BYU | W 102-68 | 22 | 2 | 4 | 1 | 2 | 0 | 0 | 0 | 7 | 0 | 0 | 1 | 0 | 1 | 5 |
| 2/28 | @Pac | W 86-66 | 25 | 3 | 6 | 1 | 4 | 0 | 0 | 0 | 4 | 1 | 0 | 0 | 0 | 1 | 7 |
| 3/2 | @StMry | W 69-55 | 20 | 1 | 3 | 0 | 2 | 0 | 0 | 1 | 4 | 1 | 1 | 0 | 3 | 1 | 2 |
| 3/11 | Pepper | W 100-74 | 25 | 4 | 9 | 2 | 7 | 1 | 1 | 1 | 5 | 1 | 1 | 1 | 1 | 1 | 11 |