Joel Ayayi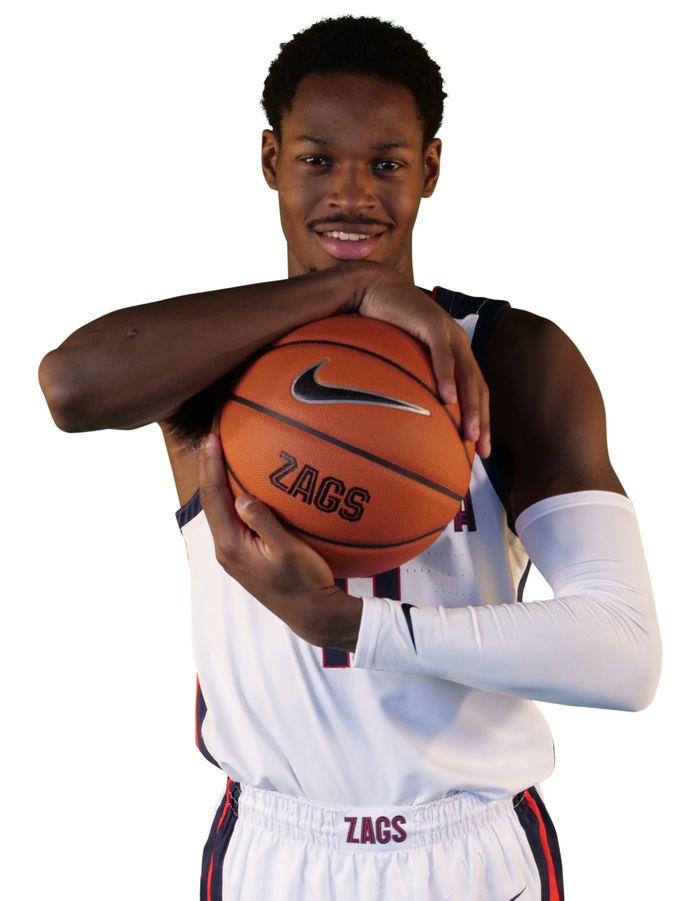 Jersey: 11 Position: G
Age: 20 Height: 6.416666666666667-5 Weight: 180
Hometown: Bordeaux, Nouvelle-Aquitaine, France
Birthdate: March 5, 2000
Bio: Name pronounced JOE-el EYE-yigh-YEE. Product of France's national institute of sport (INSEP). Standout performer for France in the FIBA U19 World Championships last summer. Finished third in scoring (20.9) and shot 50.9 percent from the field. Four games with at least 25 points to help team finish third. Named to tournament's All-Star Five team. Averaged 15.7 points and led France to a third-place finish in the FIBA U18 European Championships two years ago. Follows in footsteps of former Zags from France, including Ronny Turiaf, Mamery Diallo, Mathis Keita, Guy Landry Edi and current teammate Killian Tillie. Picked Gonzaga over Georgia Tech. Older sister, Valeriane, played in the WNBA for San Antonio in 2015 and currently a member of French national team. Has dual citizenship (France and Benin). Younger brother Gerald, 18, plays professionally in France. Beninese father played professionally in France and on Benin national team.
So

Scouting report:
Appears ready to assume bigger role in the backcourt at point, shooting guard or wing. Body and game have continued to mature entering third year in program. Team-first attitude, strong floater and good rebounder from guard position. Improved 3-point shot – made 3 of 4 attempts in Kraziness in the Kennel scrimmage – and has ability to create off the dribble.
Fr

Scouting report:
Played 128 minutes in 23 appearances as a reserve guard. Scored 39 points on 53.1 percent shooting. Grabbed seven boards and scored two points in Kraziness in the Kennel scrimmage.
Fr.

Scouting report:
Redshirted. Played nine minutes in exhibition win over College of Idaho.
Career Stats
Per Game
Team
G
GS
MPG
PPG
RPG
APG
SPG
BPG
TOPG
PFPG
FG%
3P%
FT%
18-19
Gonz
22
0
5.5
1.7
1.4
0.5
0.3
0.0
0.1
0.4
.552
.273
.286
Career
22
0
5.5
1.7
1.4
0.5
0.3
0.0
0.1
0.4
.552
.273
.286
Totals
Team
G
GS
Min
FGM
FGA
3PM
3PA
FTM
FTA
OR
REB
A
Stl
Blk
TO
PF
Pts
18-19
Gonz
22
0
122
16
29
3
11
2
7
6
31
11
6
0
2
9
37
Career
22
0
122
16
29
3
11
2
7
6
31
11
6
0
2
9
37
Game Logs
| | | | | | | | | | | | | | | | | | |
| --- | --- | --- | --- | --- | --- | --- | --- | --- | --- | --- | --- | --- | --- | --- | --- | --- | --- |
| Date | Opp | Result | Min | FGM | FGA | 3PM | 3PA | FTM | FTA | OR | REB | A | Stl | Blk | TO | PF | Pts |
| 11/6 | IdaSt | W 120-79 | 8 | 2 | 2 | 0 | 0 | 0 | 0 | 1 | 1 | 0 | 0 | 0 | 0 | 0 | 4 |
| 11/10 | TxSo | W 104-67 | 3 | 2 | 3 | 0 | 1 | 0 | 0 | 1 | 2 | 0 | 0 | 0 | 0 | 0 | 4 |
| 11/15 | TexA&M | W 94-71 | 4 | 0 | 0 | 0 | 0 | 0 | 0 | 0 | 0 | 0 | 0 | 0 | 0 | 0 | 0 |
| 11/26 | NDakSt | W 102-60 | 12 | 2 | 5 | 0 | 2 | 0 | 0 | 0 | 4 | 2 | 1 | 0 | 0 | 1 | 4 |
| 12/15 | @UNC | L 90-103 | 1 | 0 | 0 | 0 | 0 | 0 | 0 | 0 | 0 | 0 | 0 | 0 | 0 | 0 | 0 |
| 12/18 | Tx-Ar | W 89-55 | 12 | 2 | 3 | 0 | 1 | 0 | 1 | 0 | 2 | 0 | 0 | 0 | 1 | 1 | 4 |
| 12/21 | Denver | W 101-40 | 12 | 2 | 3 | 1 | 2 | 0 | 0 | 1 | 5 | 1 | 0 | 0 | 0 | 2 | 5 |
| 12/28 | NortAL | W 96-51 | 11 | 2 | 2 | 1 | 1 | 0 | 0 | 0 | 4 | 2 | 2 | 0 | 0 | 0 | 5 |
| 12/31 | CS-Bk | W 89-54 | 6 | 1 | 1 | 1 | 1 | 1 | 2 | 1 | 2 | 0 | 0 | 0 | 0 | 0 | 4 |
| 1/5 | SantaC | W 91-48 | 7 | 1 | 2 | 0 | 0 | 0 | 0 | 1 | 2 | 1 | 1 | 0 | 0 | 3 | 2 |
| 1/10 | Pac | W 67-36 | 5 | 0 | 1 | 0 | 0 | 0 | 0 | 0 | 1 | 0 | 0 | 0 | 0 | 0 | 0 |
| 1/17 | LyMnt | W 73-55 | 2 | 0 | 0 | 0 | 0 | 0 | 0 | 0 | 0 | 0 | 0 | 0 | 0 | 0 | 0 |
| 1/19 | @Por | W 89-66 | 1 | 0 | 0 | 0 | 0 | 0 | 0 | 0 | 1 | 1 | 0 | 0 | 0 | 0 | 0 |
| 1/24 | @SantaC | W 98-39 | 9 | 1 | 3 | 0 | 2 | 0 | 0 | 1 | 3 | 0 | 0 | 0 | 0 | 1 | 2 |
| 1/31 | @BYU | W 93-63 | 3 | 0 | 0 | 0 | 0 | 0 | 0 | 0 | 0 | 0 | 1 | 0 | 0 | 0 | 0 |
| 2/7 | SanFr | W 92-62 | 3 | 0 | 0 | 0 | 0 | 0 | 0 | 0 | 0 | 1 | 0 | 0 | 0 | 0 | 0 |
| 2/9 | StMry | W 94-46 | 7 | 0 | 3 | 0 | 1 | 0 | 0 | 0 | 1 | 2 | 1 | 0 | 0 | 1 | 0 |
| 2/21 | Pepper | W 92-64 | 4 | 1 | 1 | 0 | 0 | 0 | 0 | 0 | 1 | 1 | 0 | 0 | 0 | 0 | 2 |
| 2/23 | BYU | W 102-68 | 3 | 0 | 0 | 0 | 0 | 0 | 0 | 0 | 0 | 0 | 0 | 0 | 1 | 0 | 0 |
| 2/28 | @Pac | W 86-66 | 3 | 0 | 0 | 0 | 0 | 1 | 2 | 0 | 0 | 0 | 0 | 0 | 0 | 0 | 1 |
| 3/2 | @StMry | W 69-55 | 0 | 0 | 0 | 0 | 0 | 0 | 0 | 0 | 0 | 0 | 0 | 0 | 0 | 0 | 0 |
| 3/11 | Pepper | W 100-74 | 6 | 0 | 0 | 0 | 0 | 0 | 2 | 0 | 2 | 0 | 0 | 0 | 0 | 0 | 0 |