Product List
Here's a break-down of our multimedia offerings.
The Spokesman-Review: Our printed product includes the day's news, sports, business, weather, features and more. Sections vary by day, including Food on Wednesday, Outdoors on Thursdays, Movies on Friday and dozens of prized inserts on Sundays. Readers get a perfect blend of items from our award-winning Editorial staff plus high-quality information from The Associated Press and other news syndicates.

Pinch:
Our Total Market Coverage (TMC) products deliver more to non-subscribers. We have a full-sized product called Pinch available on Wednesday or Sunday. Each issue offers multiple pages of fun features, columns, puzzles, and general interest stories, plus that day's grocery inserts. The Pinches are considered the largest weekly publication in Spokane County, and allows The Spokesman-Review and our advertisers to reach thousands more readers each week. Pinch has grown so popular that existing Spokesman-Review subscribers even ask to be added to the distribution list.
The Voices:Our Voice sections are all about community zoned publications on Thursdays and Saturdays revolve around certain geographic areas or neighborhoods, everything from previews of new restaurants to what's happening at area schools. There are separate versions for our readers in the southern part of and northern parts of Spokane plus Spokane Valley, which are all great for residents and nearby advertisers.

The E:
While our web and mobile sites offer a good chunk of the day's info, the best way to completely duplicate the daily paper experience is with The E, a complete electronic version of the day's paper is available every morning- all you need is as server login. You can easily flip from page by page, search for keywords or sections, and even save or send articles. Even better, it's available in 11 languages, including Spanish, French and Russian.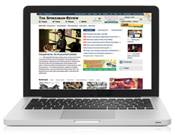 www.spokesman.com
: As more people turn to the Internet for fresh information, visitors from around the world consider our site an essential part of their day. Our online portal continues to see steady growth. In 2011 alone, we saw more than 16.4 million visits and 47.7 million annual page views (source: 2012 Google Analytics 2.11-2.12).

mSpokesman.com
: Though it's easy to read headlines and many of the day's top stories via your mobile device, there are times when you want to read additional stories. All it takes is registering for free, and you can access our entire database of stories and photos on the go. Premium service is available for Droids, iPhones and common devices.
Niche sites: In addition to the quality, comprehensive coverage of local, national and international news at spokesman.com, S-R Media has created several specialty sites designed for certain interests and audiences. Here, visitors can receive more in-depth info on a specific topic, and advertisers can easily zero in on customers already familiar with and passionate about the topics and interested in related products and services.
These include: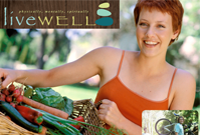 Live Well
:
live
WELL
uses multiple platforms to deliver your message to customers who strive to "Live Well." Our editorial staff is developing stories to educate and celebrate those in our community and nationally who help us live well.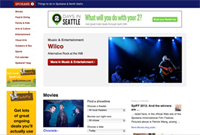 www.spokane7.com
: Think of 7 as just the start of what you could be doing right now or in the future. The site features an interactive free calendar with anything and everything you can check out, from the latest movies to art galleries, from nature hikes to play openings. Visitors also can access a database of nearly 1,000 local restaurants, and get recommendations from longtime Northwest guides as to what's hot and happening.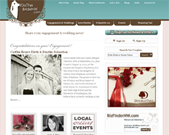 www.kissthebridenw.com
: Tell the world your exciting news through a site 100 percent dedicated to weddings. You'll find the latest tips and trends in the nuptial world, ways to connect with local vendors, and a place to share the news about your own special occasion, whether it is in the works or happened in the last year. We make it super easy to create a print and online announcement.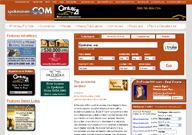 www.spokesmanhomes.com
: Here's the perfect site for anyone buying, selling or just browsing real estate. In addition to strategies and suggestions for homeowners, prospective homeowners, or those in the building/real estate industries, we make it easy to connect with local professionals ready to lend a hand – or some financing! Enjoy a free online calendar of events and classes, and the latest online tools to learn about current listings, market conditions and neighborhoods.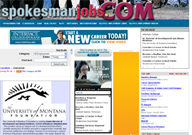 www.spokesmanjobs.com
: Whether you're looking for work or for people to hire, you'll need all the tools at your disposal. You'll find them here, including how-to videos, the ability to search local and national listings, and tips on job hunting strategies, such as effective resume writing. Employers searching for the right candidates can find easy ways to get the word out.
Blogs: Blogs provide supplemental coverage and commentary on specialized topics while building up reader loyalty and creating a sense of community. The Spokesman-Review was one of the first newspapers to enter the blogosphere more than a decade ago, and today our Editorial and Marketing staffs along with community contributors write more than 30 popular blogs covering everything from antiquing to stock car racing, from fun nightspots to a nationally known blog that examines death and dying.