Sat., June 5, 2021
2021 Dodge Durango: Dodge drops its 710-horsepower Hellcat V-8 into its midsize, three-row CUV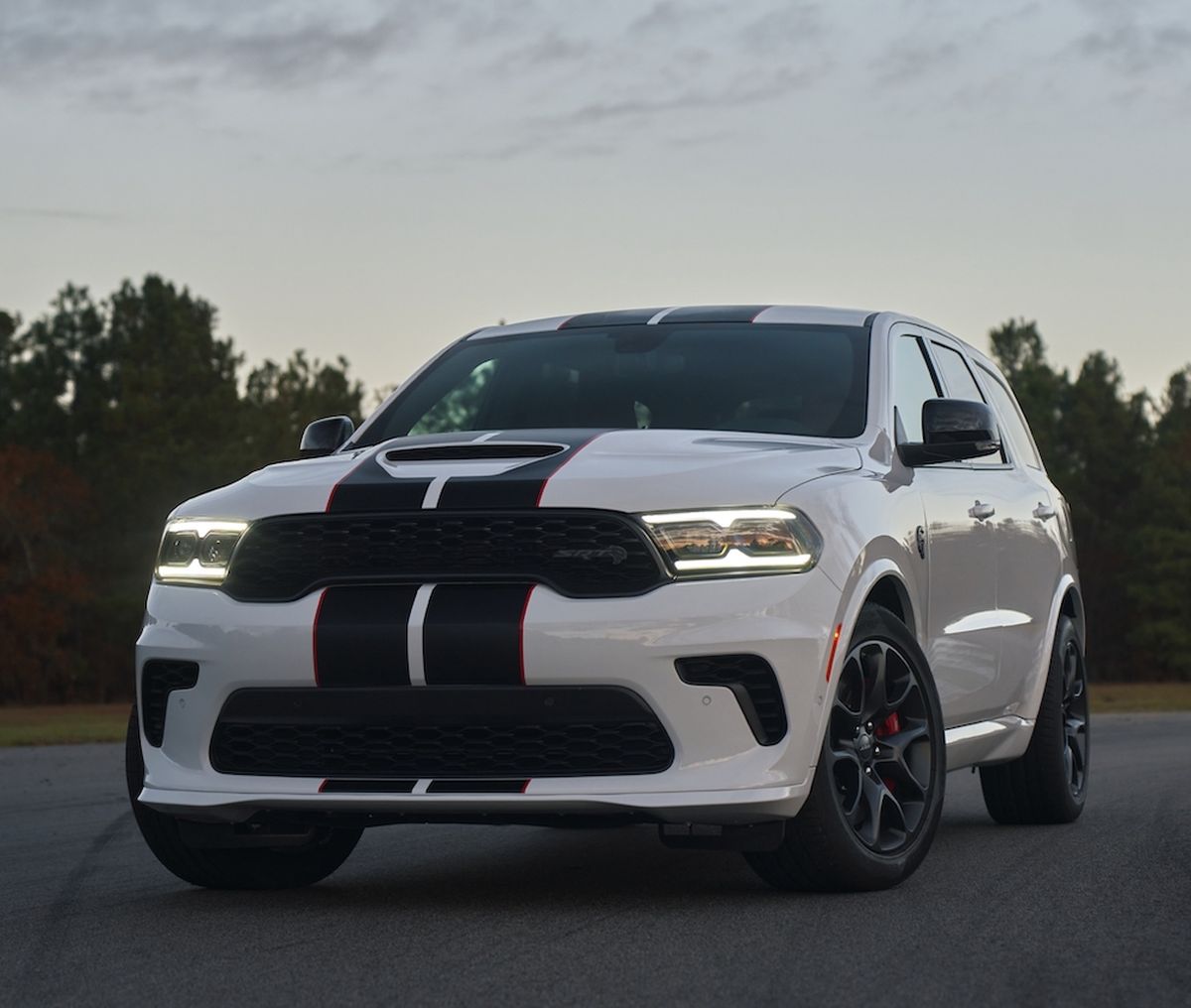 The Hellcat is what you get when you stuff a supercharged 6.2-liter Hellcat V-8 — the engine that famously powers Hellcat versions of the Charger and Challenger muscle cars — into the engine bay of a midsize CUV. (Dodge)
Almost certainly, if Evel Knievel were still with us he'd be tooling town in a 2021 Dodge Durango SRT Hellcat.
The motorcycle-jumping daredevil and the Hellcat were made for each other. The Hellcat is the most powerful crossover built, a 710-horsepower three-row rocket ship that blasts from 0-60 in 3.5 seconds. At the drag strip, it runs the quarter-mile in an equally heroic 11.5 seconds.
With its 8,700-pound tow rating, the SRT Hellcat could have towed Evel's entire fleet of bikes.
The Hellcat is what you get when you stuff a supercharged 6.2-liter Hellcat V-8 — the engine that famously powers Hellcat versions of the Charger and Challenger muscle cars — into the engine bay of a midsize CUV.
A seven-passenger family-friendly CUV on steroids.
Limited-edition model
The Hellcat is a limited-edition model; Dodge says that due to emissions constraints, it will be discontinued after the 2021 model year. That's the elephant in the room, of course; the Hellcat is wildly inefficient. It and its fuel-burning ilk are not long for the world.
The Hellcat hasn't been redesigned since 2011 but Dodge has kept it in the hunt with various trim-package upgrades, none as dramatic as this year's arrival of the Hellcat.
Other 2021 updates include a new version of Dodge's very good Uconnect 5 infotainment system on upper trims. It includes a new 10.1-inch touchscreen, while lower trims get an 8.4-inch unit. Wireless Apple CarPlay and Android Auto are standard with Uconnect 5.
The refreshed interior gets new controls, including hard buttons for the heated and ventilated seats.
Unconventional underpinnings
It's a comfortable cabin, with large, supportive seats. Materials quality is iffy — there are a lot of hard plastics here — and fit-and-finish needs more attention. Although the Durango is well-equipped, even the most basic driver-assist features are available as options.
Durango is a 'tweener; a little larger and a little heavier (4,689-5,710 lb) than other midsize CUVs. Its cabin easily accommodates four adults and the third row is roomy enough for large kids and small adults.
Durango is built on a rear-wheel-drive unibody, with available all-wheel drive. The front-engine/RWD architecture is not a conventional crossover set-up, but it enables Dodge to build a car that can handle great gobs of power while dishing out a good ride and better-than-expected handling.
Firm ride, brilliant gearbox
The Hellcat's sport-tuned suspension and adaptive dampers control body lean in the corners, though the Hellcat quickly reaches its limits. The ride is firm but not harsh. Steering is quick, responsive and accurate. It passes on a surprising amount of information from the road surface.
The Hellcat perches atop a Durango lineup that includes six trims, four powertrains and either rear-wheel or all-wheel drive.
Trims include the SXT ($31,765), GT ($35,965), R/T ($45,305 ), Citadel ($47,805), SRT 392 ($62,995) and SRT Hellcat ($80,995).
Trims are keyed to engine choice. A 3.6-liter V-6 (295 hp/260 lb-ft of torque) powers the SXT and GT. The R/T gets a 5.7-liter V-8 (360 hp/390 lb-ft).
Citadel comes standard with the six, but can be optioned with the R/T's V-8. The penultimate Hellcat, the SRT 392, has a 6.4-liter V-8 that makes 475 hp and 470 lb-ft.
The SRT is no slouch; 0-60 comes around in 4.1 seconds and the SRT equals the Hellcat's 8,700-lb tow capacity.
All engines are paired with a brilliant eight-speed automatic transmission. Sturdy enough to handle the Hellcat's massive output, it busts off rapid-fire shifts under hard acceleration. It downshifts automatically as the driver sets up the car for a corner, consistently landing the engine in the heart of its powerband.
Meanwhile, the supercharged eight is making a crazy, sweet and quite possibly addictive racket. It's abetted by the ever-present whine of the supercharger.
Evel passed a while back and the Durango SRT Hellcat is destined to be short-lived. Shame the two never got to know each other.
Questions or comments? Contact Don at don@dadair.com.
2021 Dodge Durango SRT Hellcat
Vehicle base price: $31,675
Trim level base price: $80,995
As tested: $91,550 (includes destination and handling)
Options: advanced brake-assist; Lane Departure Warning Plus; Forward-Collision Warning Plus; adaptive cruise control; rear-seat entertainment system; suede headliner; premium instrument panel; carbon-fiber interior accents; second-row console with armrest and storage; illuminated rear-seat cupholders; 12-volt auxiliary outlet; 825-watt Harman Kardon audio; blind-spot warning and cross-path detection with cross-traffic alert
Towing capacity: 8,700 lb
EPA rating: 13 combined/12 city/17 highway
Premium gasoline specified
---
---