Mon., Oct. 21, 2019
RV Cooking: Campfire roasting butternut squash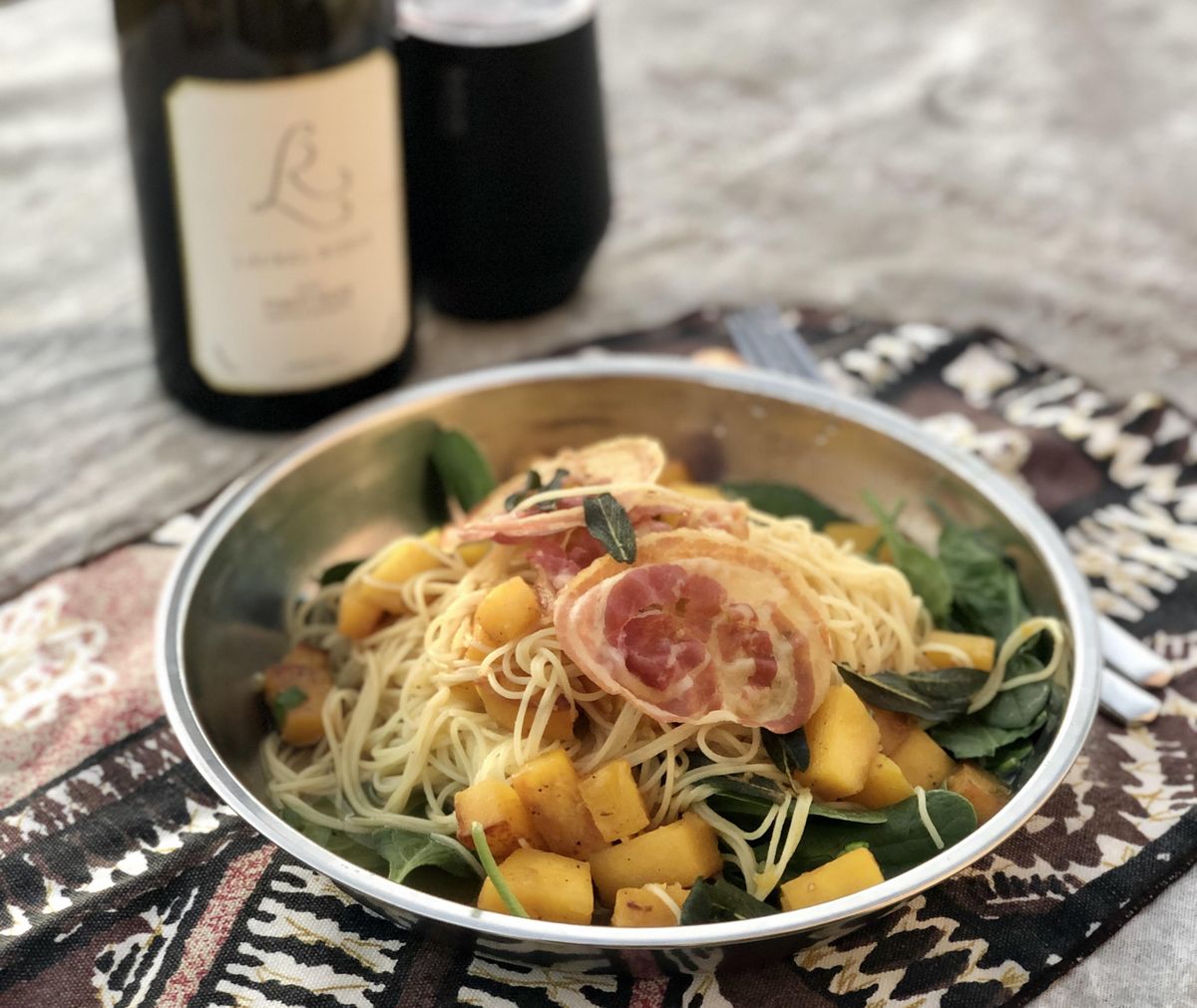 Butternut squash roasted over campfire coals was on the menu at our amazing site on the Oregon Coast. (Leslie Kelly)
There are many evenings when a campfire's our everything. It's entertaining and warm. Recently, though, it proved to be an excellent way to cook something special.
Now, we've roasted bags of Smashmallows over the flames, and even had luck baking biscuits. But tossing food directly into the fire was something new. After scoring a beautiful butternut squash at the Yachats farmers market, I decided to put the glowing embers to the test and toss that squash directly on top. Like the squash was going to do one of those daring barefoot fire walks. Ha!
Johnny assisted, using long tongs to turn the squash every couple of minutes until it was deeply charred. Then, it was moved to the grate and cooked more slowly for another 45 minutes as we talked about where we were going next, the weather, chores that needed to be done.
For me, cooking is never a chore, but a true pleasure. If I'm not cooking or eating, I'm thinking about what's coming up for dinner the following night. The answer on that cloudless evening, the full moon rising, was roasted butternut squash pasta.
After coming off the fire, I wrapped the whole squash in a towel and stuck it in the fridge. The following day, I used a vegetable peeler to remove the charred exterior. Inside, the flesh was golden and creamy. I cut it into slightly smaller-than-bitesize pieces and sautéed it in olive oil, seasoning it with salt and pepper and a few shakes of curry powder.
Angel hair pasta was cooked in chicken stock -- the concentrated packets from Trader Joe's are a lifesaver, compact and full of flavor, especially when you add a bit of fish sauce. I drained and reserved the stock, added the pasta and butternut squash back into the pan, and tossed, seasoning with salt and pepper my friend Nick had sent me shortly before he passed away.
Assembling the one-bowl meal involved placing a handful of baby spinach on the bottom of the bowl, followed by the pasta and fire-roasted squash and a ladle full of stock. A slice of pancetta -- crisped for a few moments in the pan -- was the crowning touch, along with fragrant sage leaves which I picked in the campground and fried in olive oil. It was pretty darned delicious, and got me scheming on what I can cook next in the campfire. Any suggestions? Please send them to goingmobile@spokesman.com.
More RV cooking coverage:
---
---