Fri., Feb. 4, 2022
Here's a love letter to our favorite SoCal state park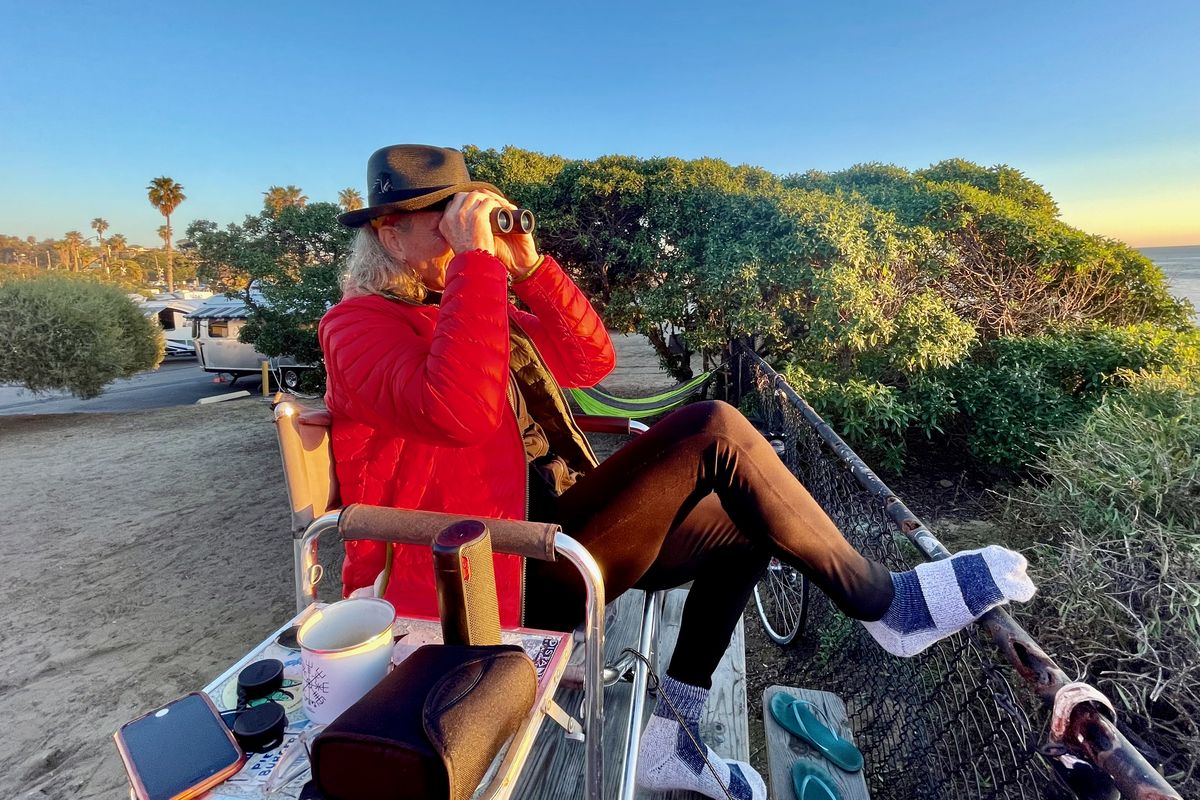 Our "crow's nest" on top of a picnic table at San Elijo State Beach (Leslie Kelly)
Dear San Elijo State Beach, we sure do love you!
We adore your magical ocean views from high on the bluff and the easy access to the beautiful SoCal beach town of Encinitas. You've won our hearts with your considerable charm.
Our crush started a few years ago when we tent camped in December, the sound of the waves crashing on the beach sending us off to dreamland. Then, chugga, chugga, choo-choo, we woke to the Amtrak Surfliner rumbling by. No problem. That regular rumbling soon became part of the audible landscape, along with the sweet sounds of kids giggling and surfers plotting their course for the best waves. Very cool, man.
We've been back to visit regularly on Our Grand Tour (instagram.com/ourgrandtour), but have never snagged a coveted ocean-view powered site until this year. That impressive feat was accomplished by the reservation wizard, John, who got up early six months in advance to lock it down. Eight days at site 21 was a go and we were thrilled.
When we pulled in after a fairly smooth trip from Palm Springs, we were a little bummed out. The ocean view was obstructed by overgrown vegetation. Waaa!
Fortunately, Leslie quickly connected with the head of the grounds crew and he promised to send in the clipping crew the next morning. This campground is huge, with lots of trees and shrubs to maintain and we were skeptical. But, hooray, they came through and that evening at sunset, we sat in our crow's nest – camp chairs on top of the picnic table – to admire the setting sun.
The picnic table was put to good use a few days later when dear friends visited for an afternoon picnic. Leslie made grilled salmon Caesar and we enjoyed catching up as the sun kept us warm. It was heaven.
Yes, dear San Elijo State Beach, I'm sure you hear those kinds of compliments all the time. During our stay, we met friendly folks who keep coming back, like the swallows to San Juan Capistrano.
While we were there, we walked through the entire campground, checking out each site and in the end, we decided ours was best, sitting a little bit higher than the others and on the end for extra privacy.
That prime location proved to be an excellent base for hopping on the bike to explore the area. John covered a lot of ground, cycling all the way north to Oceanside and south to La Jolla. Leslie hopped on her low-rent five-speed to pedal into Encinitas for tacos at Raul's. She stopped at the beautiful meditation gardens at Self-Realization Fellowship (known as "Swami's" by the locals) on the way back to camp via a well-used pedestrian-bike path just east of U.S. 101.
Down on the long, lovely beach, we walked miles when the tide was low and admired the surfers catching rides on endless sets of four-footers.
We scanned the horizon for gray whales we heard had been spotted the week before, but saw nary a spout. The pelicans were plentiful, however, and often soared by just feet from our crow's nest.
On a sunny day when temps hit the low 70s, Leslie even took a quick plunge in the Pacific. So refreshing!
When time came to pack it all up, it was bittersweet. We absolutely loved staying and didn't want to leave. But, then again, there's always next year. We'll start plotting our course to come back and visit as soon as that reservation window opens up. Until then, miss you already, San Elijo.
---
---