Sports
Edgar quiets naysayers
Sat., May 8, 2004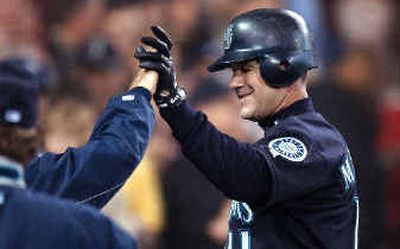 SEATTLE — The talk shows already were buzzing and even Edgar Martinez's biggest fans were growing restless. At age 41, had his skills finally declined beyond repair? Martinez had batted just .287 in the first month of the season and the first few days of May hadn't helped the average, which dipped to .260 earlier this week.
"I hadn't hit a ball hard in three weeks," he said. May, though, has been Martinez's best month throughout his career, and Friday he got it going with a bang in the Seattle Mariners' 6-2 victory over the New York Yankees.
Martinez drove in two runs with the 500th double of his career in the first inning and two more with his 299th home run in the third.
Whether it was some recent adjustments or simply the time of the season when Martinez gets hot — he's a career .331 hitter in May — he said he felt different Friday.
"I've been searching with my stance and my swing, and I've just felt different," Martinez said. "I feel like I have more leverage in my swing and more coverage of the plate. I just hope I can continue to feel that way."
The Mariners hope they can say that about all aspects of their play. They beat the Yankees with a crispness in their hitting, pitching and defense they hadn't shown all season, feasting on the energy of the largest crowd in Safeco Field history, 46,491.
"When the stands are packed like that, it gets your adrenaline going more than usual," said starting pitcher Ryan Franklin.
Franklin used that adrenaline to limit the Yankees to five hits and two runs in six innings. He pitched his best in the fifth when he struck out Derek Jeter and Alex Rodriguez back-to-back after the Yankees had put runners on first and second with one out and a run already in.
"That was a tough situation," Franklin said. "He usually puts the ball in play, and when he puts it in play it's pretty hard."
Rodriguez, booed heartily throughout the game, went 1 for 4. Four Mariners relievers — Shigetoshi Hasegawa, Rafael Soriano, Mike Myers and Eddie Guardado — finished off the Yankees on two hits in the final three innings to close out the Mariners' second straight victory.
"It was Edgar's night," Franklin said. That much was clear in the first inning. Martinez, likely playing his final season, lined a two-out double into the right-field corner to score Randy Winn and Scott Spiezio for a 2-0 Mariners lead in the first inning.
It was Martinez's ninth double this season and the 500th in his career, making him the 39th player since 1900 to hit 500 doubles. Tris Speaker is the all-time leader with 793. Rafael Palmeiro of the Orioles is the leader among current major leaguers with 543, and Martinez is fourth on that list.
The crowd gave Martinez a standing ovation after he reached second base, then another long cheer between innings when a video tribute was shown. Martinez missed that one.
"I had broken my bat and I went down to find another one," he said. "I didn't know I had gotten a standing ovation. I apologize to the fans for that."
He made up for it in his next at-bat. With Raul Ibanez on base in the third inning, Martinez launched his second home run of the season off the roof of the Yankees' bullpen bench beyond the left-field fence.
His first home run since April 13 was the 299th of his career and his 234th as a designated hitter, pulling him within one of tying Harold Baines for the all-time lead as a designated hitter. Martinez's next homer also will make him the third Mariner to hit 300, joining Ken Griffey Jr. (398 as a Mariner) and Jay Buhner (307).
Martinez nearly got No. 300 in his final at-bat, a fly to the base of the left-center field wall in the seventh inning.
"I hit that one good, but maybe a little off the end of the bat," he said. "The gaps play big here."
Friday, Martinez was bigger.
Notes
The record crowd came one night after the smallest of the season: 25,418 for the series finale with Minnesota.
Local journalism is essential.
Give directly to The Spokesman-Review's Northwest Passages community forums series -- which helps to offset the costs of several reporter and editor positions at the newspaper -- by using the easy options below. Gifts processed in this system are not tax deductible, but are predominately used to help meet the local financial requirements needed to receive national matching-grant funds.
Subscribe to the sports newsletter
Get the day's top sports headlines and breaking news delivered to your inbox by subscribing here.
---