News > Business
Inflation is making a comeback
Sat., May 8, 2004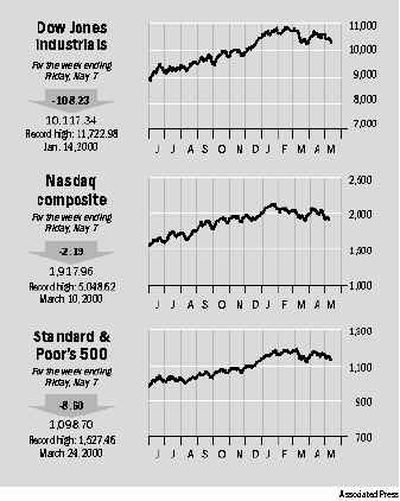 NEW YORK (AP) — Higher prices for everything from gas and groceries to industrial commodities and labor have translated into a gigantic "sell" signal for Wall Street, and left little doubt that inflation is on its way back.
With the Federal Reserve contemplating when, and how much, to raise interest rates, inflation is an increasingly worrisome factor for stock investors. But analysts say a modest rise in inflation is a necessary part of the economic recovery, and not necessarily something to fear.
For the week, the Dow Jones industrials lost 108.23, or 1.1 percent, closing at 10,117.34.
The Nasdaq composite index fell 2.19, or 0.1 percent, during the week, to finish at 1,917.96. The Standard & Poor's 500 lost 8.60, or 0.8 percent, for a weekly close of 1,098.70.
The Russell 2000 index, which tracks smaller company stocks, fell 11.24, or 2 percent, to end the week at 548.56.
And the Wilshire 5000 Total Market Index ended the week at 10,686.04 off 107.62 points from the previous week. A year ago the index was 8,883.34.
Local journalism is essential.
Give directly to The Spokesman-Review's Northwest Passages community forums series -- which helps to offset the costs of several reporter and editor positions at the newspaper -- by using the easy options below. Gifts processed in this system are not tax deductible, but are predominately used to help meet the local financial requirements needed to receive national matching-grant funds.
Subscribe to the Coronavirus newsletter
Get the day's latest Coronavirus news delivered to your inbox by subscribing to our newsletter.
---