Sports
Late rally carries Wolves
Sun., May 9, 2004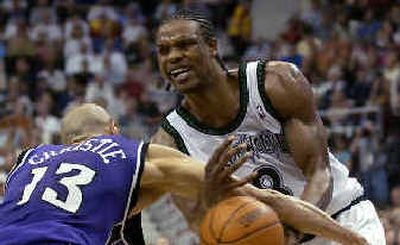 MINNEAPOLIS — With 4 minutes remaining, the Minnesota Timberwolves faced a 10-point deficit and the prospect of leaving their homecourt down 0-2 in the Western Conference semifinals.
Then Sam Cassell made his usual clutch shots, and the Sacramento Kings self-destructed.
Cassell scored eight points in the final 3 minutes, Kevin Garnett had 28 points and 11 rebounds and the Timberwolves closed with a 16-1 run to beat the Kings 94-89 on Saturday.
"If we had lost this one," Cassell said, "it would've been a long night."
Game 3 is Monday night at raucous Arco Arena, where Minnesota was the only visitor this season to win twice. The Kings, though, have won eight of their last nine playoff games at home and are 138-26 there during the last four regular seasons.
That's why winning this game was absolutely critical to the top-seeded Timberwolves' chance of winning this series.
"This was a game we definitely should've had, but we gave it away," said Mike Bibby, who went from 69 points in his previous two games to just 10 points in this one.
Peja Stojakovic had 26 points and seven rebounds for Sacramento, which used a 16-2 spurt to go up 88-78 on Doug Christie's layup with 4:11 left after trailing the majority of the game.
But the Kings started rushing their offense, and suddenly Christie became their primary option with Bibby and leading-scorer Stojakovic just watching the disintegration.
"We had good looks, you know?" coach Rick Adelman said. "I thought we could've been a little more patient. We were trying to attack them so fast."
It wouldn't have mattered if they took care of things on the other end. After playing a commendable defensive game, Sacramento couldn't make any stops.
"You've got to play 48 minutes," Christie said.
Cassell, who was quiet for most of the game after scoring 40 points in the Game 1 loss, scored 19 points and was squarely behind the rally.
His jumper in the lane with 2:08 left pulled the Wolves to 88-87. Garnett, fouled by Brad Miller on a loose-ball scramble that knocked over referee Sean Corbin, made two free throws to give Minnesota the lead with 1:45 remaining.
"This was about sheer will and determination," Garnett said. "We'd been down to this team before. We feel if you keep digging and keep digging, you'll get back in the game. … You don't want to be down 2-0 to this type of team. This team has a lot of firepower."
Christie, who had 15 points, missed a pair of foul shots on the other end, and Cassell knocked down a corner jumper with 24.6 seconds to go to make it 91-88.
Christie's 3-pointer from the corner, which would've tied the game, fell short with 10 seconds left.
Local journalism is essential.
Give directly to The Spokesman-Review's Northwest Passages community forums series -- which helps to offset the costs of several reporter and editor positions at the newspaper -- by using the easy options below. Gifts processed in this system are not tax deductible, but are predominately used to help meet the local financial requirements needed to receive national matching-grant funds.
Subscribe to the sports newsletter
Get the day's top sports headlines and breaking news delivered to your inbox by subscribing here.
---