Sports
Tarver's knockout punch puts huge dent in Jones Jr.'s legacy
Mon., May 17, 2004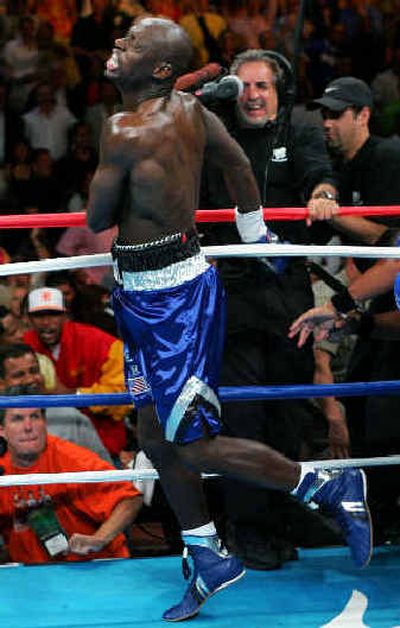 LAS VEGAS – The end came with shocking suddenness for Roy Jones Jr., courtesy of a crushing left hand that sent him sprawling helplessly under the ring ropes in Antonio Tarver's corner.
The man many considered the best fighter of the last decade wasn't supposed to lose like this. He wasn't supposed to lose at all.
Barely a year ago, Jones had done the improbable and won a piece of the heavyweight title. Now, because of one big left hand, his ring future is in doubt.
Amazingly enough, so is the legacy Jones so carefully built since he was robbed of a gold medal in the Seoul Olympics 16 years ago.
"He was pampered, and babied up in the ranks," Tarver said. "He's been sleeping on silk sheets as long as he can remember. Sometimes, mine were rough cotton.."
Tarver told anyone who would listen – and some who wouldn't – that he would expose Jones as nothing more than a decent fighter whose time had finally come. He thought he did it when the two met in November, and Jones had to rally in the last two rounds to win a majority decision.
Jones blamed having to lose weight too fast and having a bad tooth for his performance that night. When the two met in the center of the ring Saturday night for final instructions, the brash Tarver wanted to know only one thing.
"What excuse are you going to use tonight?" he asked Jones.
Jones would have no excuses, partly because Tarver didn't give the judges a chance to pick up their pencils. He landed only seven punches, but the seventh was a left hand that knocked Jones silly.
"It was a beautiful punch," Tarver said. "I felt it to the bottom of my toes."
Tarver won the light heavyweight title with the punch, though that seemed almost incidental. When you destroy a legend, you earn far more than just a gaudy green belt.
Jones had won 49 of 50 fights before the night began. Some would argue he was never really beaten, since his only loss came on a disqualification after he hit Montell Griffin while he was down on one knee.
The crowd at Mandalay Bay hotel-casino gasped when he went down, seemingly unwilling to believe what they had just seen. Then they erupted in thunderous cheers as Jones stumbled along the ropes, and referee Jay Nady waved the fight to a quick close at 1:41 of the second round.
"It takes a great fighter to beat a great fighter," Tarver said.
Jones, who has a rocky relationship with the media even in the best of times, didn't show up for the postfight news conference. In the ring after his head cleared, he gave contradictory answers about his future.
He wants nothing more to do with Tarver, Jones said, but he still might fight again as a heavyweight.
"What basically happened was I probably got bored with this guy," Jones said.
He might want to think twice about fighting on, especially in a heavyweight division where fighters will tower over him and outweigh him by 40 or 50 pounds.
At the age of 35, Jones still has the supreme skills that made him such a great fighter. But his reflexes are slowing with age, and he has been fighting an awfully long time.
Some in boxing had always said Jones picked his opponents too carefully and refused to fight anyone who might pose a danger to him. His record was littered with obscure opponents, and even his foray into the heavyweight ranks came against a slow, inept boxer in John Ruiz.
For years, Jones lived off the controversy of his gold medal loss in Seoul and took advantage of an HBO television contract that paid him $5 million a fight to defend his title against the likes of forgettable fighters like Clinton Woods and Glenn Kelly.
Jones was recently hired by HBO to replace George Foreman as a color commentator on its telecasts. He won't make $6 million, the way he did Saturday night, but no one will be hitting him, either.
Few boxers ever retire when they should, but Jones was talking about retirement even before Tarver pushed him closer to it.
Tarver, meanwhile, will always be known as the fighter who did Jones in – no matter what he does in the future. Tarver's a young 35, with only 24 pro fights, and he's one of those rare personalities who talks even better than he fights.
"Who said boxing was dead?" Tarver asked. "There's a new face in boxing. I want to get out and show people that boxing is alive and kicking."
Local journalism is essential.
Give directly to The Spokesman-Review's Northwest Passages community forums series -- which helps to offset the costs of several reporter and editor positions at the newspaper -- by using the easy options below. Gifts processed in this system are not tax deductible, but are predominately used to help meet the local financial requirements needed to receive national matching-grant funds.
Subscribe to the sports newsletter
Get the day's top sports headlines and breaking news delivered to your inbox by subscribing here.
---