Caminiti's biggest demon was himself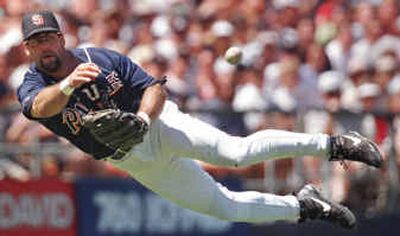 The images of Ken Caminiti are familiar and indelible:
The scowl of the former National League most valuable player who once threatened to take a teammate outside and cure his attitude problem.
The determination of the competitor who once stumbled out of his clubhouse into 100-degree temperatures and shook off the effects of severe food poisoning long enough to smack two home runs and drive in four runs.
The generosity of a man who would offer near-strangers thousands of dollars to get drug treatment.
But behind the strong public figure of Caminiti, the star third baseman who died nearly four weeks ago at 41, was a tragic figure whose addictions to alcohol and drugs had robbed him of much of much of his self-esteem, according to a fellow patient at a rehabilitation clinic.
"He really felt he let everybody down, everybody, but most especially his (three daughters)," said J. Hutton Pulitzer, who says he was in rehab with Caminiti in 2001 in a facility Pulitzer declined to identify. "He was a devastated man. He may have won the Most Valuable Player award, but he was also the most vulnerable person."
Pulitzer, who was recovering from depression after the collapse of his multimillion-dollar, high-tech company, says he came to know Caminiti's deepest secrets.
"I would not call myself a baseball fan," Pulitzer said. "We met as two men talking about their families, their children. He didn't know about my world and I didn't know about his world. It didn't matter. We spent an amazing amount of hours talking together, praying, playing basketball one on one. When you know the absolute worst thing about someone and they know the absolute worst thing about you, that breeds a tremendous amount of confidence in each other. We were broken men talking about what we were going to do now. The man I met was one of most gentle spirits."
Caminiti talked about the origins of his addiction, according to Pulitzer.
"He started with drinking as a teenager," Pulitzer said, "which led to the drug use. The toehold became a foothold, became a stronghold."
Caminiti, a three-time All-Star in his 15-year career, was a unanimous choice for National League MVP in 1996, when he hit .326 for the San Diego Padres with 40 home runs and 130 runs batted in. Caminiti also played for the Houston Astros and, briefly in his last season, 2001, with the Texas Rangers and Atlanta Braves.
He checked into a rehab clinic in 1993 for treatment of addiction to alcohol and painkillers.
He admitted in a 2002 Sports Illustrated story that he'd taken steroids in 1996, when he played despite having a torn rotator cuff.
In November 2001, two months after being dropped by the Braves from their playoff roster, Caminiti was arrested in a Houston-area motel for possession of less than a gram of cocaine and was put on three years' probation.
"The drugs were the big, pink elephant in the room," said Rick Licht, Caminiti's agent. "When he was sober, he felt he could handle it. When he wasn't, he felt it wasn't that big of a problem."
When Caminiti pleaded guilty to drug use in 2002, he said: "This is the largest mistake I've made in my life. I had a real good thing going for me and I got sidetracked. It doesn't have to be that way. It doesn't have to be drugs. It doesn't have to be alcohol. That part of my life is over."
That same year, Caminiti and his wife, Nancy, were divorced.
"He was hoping to prove to Nancy that he had changed," Pulitzer said. "He told me, 'I'm a winner. I'll win her back.' "
Bruce Bochy, Caminiti's manager with the Padres, chooses to remember the moment that defined Caminiti's strength and determination, rather than his weaknesses, a game in his MVP season played in Monterrey, Mexico, against the New York Mets.
"The trainer and a couple of guys carried Cammy in and laid him on the concrete floor of my office in an old, cramped clubhouse," said Bochy, who was told that his third baseman had food poisoning.
"He couldn't even talk. He was just mumbling and I couldn't even make out what he was saying, so there was no discussion about him playing. They used a coat hanger to suspend an IV tube. It looked like a MASH unit in there.
"Just before the game, as I was walking out to meet the umps, Cammy appeared right behind me. By the time I reached the last step of the dugout, he grabbed my shoulders and told me, 'I'm starting to feel a little better.' I looked at our trainer, Todd Hutcheson and he told me, 'I've got two liters from the IV in him.' So I decided to start Cammy."
As Caminiti left the dugout for his first at-bat, the heat brought on a new surge of weakness.
"As he was going on deck … he yelled out that he needed a Snickers bar," Bochy said. "The trainers thought he said stickers, the strips we use for the eyes to help with the bright sun. So they came out and handed Cammy stickers. He got a little irritable, saying, 'No, I said Snickers.' We got him one and he was unwrapping it and eating it all the way to home plate.
"When we got home, it became a regular thing, fans throwing him Snickers bars.
"By the fifth inning in that game in Mexico, Cammy couldn't go anymore. He was dehydrated, and had cramping throughout his whole body."
With the Padres comfortably ahead on a day they would win 8-0, Caminiti having driven in half those runs, Bochy removed him from the game that would forever illustrate his toughness.
When he left baseball, Caminiti turned to his other passion.
"He was working on engines for cars, hot rods and motorcycles," Licht said. "He was into stock car racing. He loved living under cars.
"He never watched baseball after he left the game, but he never forgot baseball. I remember him walking through Qualcomm Stadium when he saw a pitcher he knew, Kevin Jarvis. 'Did you play for the Rockies three years ago?' he asked Jarvis. Jarvis said he had. 'Well,' Kevin told him, 'Back then, you were tipping your curveball.' "
In the last year, Pulitzer said, he noticed a change in Caminiti.
"I was pessimistic about Ken's chances" of beating his addiction," Pulitzer said. "He did not let me reach out as much as I wanted to reach out. For a while, we were talking several times a day, then it became once a month. When he was having a rough time, he would make a late-night call to me. But he went AWOL last year. I hadn't heard from him since January."
Pulitzer said he was concerned when Caminiti was a no-show for a reunion of some of those who had been in rehab together.
"We had an event in April for those of us who were really close," Pulitzer said. "He was supposed to be there, but he wasn't."
Caminiti failed four drug tests in the last three years, the final one landing him in Harris County Jail in Texas. He was released five days before his death.
"He called me a dozen times that last week," Licht said. "He told me to tell Bochy he was coming after his job in a few years. Ken was never more optimistic than he was in that last week. He was incredibly up, felt he was going to beat it this time. He was doing push-ups and sit-ups in the facility. He felt strong. He was talking about his three young daughters and how he was going to be there for them.
"He was making plans to go hunting and fishing in Montana a few days after he got out. He seemed very clear and focused. He seemed as good as ever."
When he got out, Caminiti went to New York to help the son of an acquaintance, Rob Silva. Silva told Newsday that his son had a drug problem.
"This is a guy who would reach into his pocket and pay out 40 grand to somebody who needed help to get into a facility," Pulitzer said. "I know he spent 100 grand for a guy he barely knew to send him to two facilities.
"Ken was going to write a check to this guy's kid to send him to military school. That's the Ken I knew. He had the most generous heart I've ever seen."
It was there, in New York, that Caminiti's heart gave out. He died of a drug overdose, the New York City medical examiner said Monday.
Licht said he was not surprised when he got the call that Caminiti had died.
"Every hero has his fatal flaws, whether it's an Achilles' heel or kryptonite," he said. "The guy was so strong and determined on the baseball field, but he was not able to carry it over off the field. I don't know why. We'll never know why."
---