News > Idaho
Forest Service officer teaches, chides, enforces
Sun., Aug. 21, 2005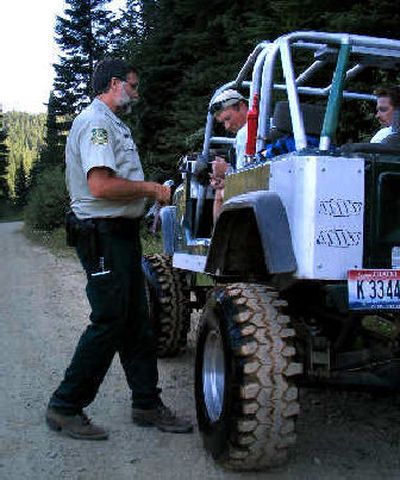 Moments after U.S. Forest Service law officer Ron Nelson began his shift on a recent Saturday, he was flagged down by a pair of ATV riders who had come across a dog with a bloodied mouth.
The ATV riders were trying to give water to the injured animal, but the dog's jaw and tongue hung shattered from its face. Nelson, who works alone and was the only Forest Service officer on duty that day between Coeur d'Alene and the Canadian border, called the Kootenai County's animal control officer for help. He also took coordinates of the incident on his global positioning unit for a later report. It appeared as if somebody had shot the dog, Nelson said.
"I don't need those types of people out here," he said as he tried in vain to give water to the dog, while waiting for the animal control officer to arrive. "They're probably out shooting up my signs and tearing up other things too."
Forest Service law officers have the best and the worst jobs in law enforcement. They patrol some of the most beautiful terrain in the world and rarely face the high-intensity stresses of street cops. But the officers also work alone, are usually at least an hour from backup and most of their contacts are with people carrying firearms.
Nelson, a veteran officer, knows all about the bad side. He filled the shoes of his friend, Officer Brent Jacobson, who was ambushed and killed while tracking a pair of burglars in the winter woods near Sandpoint in 1989. Jacobson remains the only Forest Service law officer shot and killed in the line of duty.
The training of Forest Service officers emphasizes a low-key approach, said Ginger Swisher, patrol captain for the Idaho Panhandle National Forests. "They know when to say enough and when to break contact," she said.
For Nelson, this meant beginning nearly every contact on his shift the same way: a smile, a "good afternoon" and a quick scan for axes, pistols, loose dogs, hatchets, shovels and even marshmallow sticks. "You look for things that can prod you, poke you, bite you," he explained, while driving his Ford Excursion patrol truck farther up Hayden Creek, a popular recreation spot about 15 miles northwest of Coeur d'Alene.
The following is a glimpse at the remainder of Nelson's day in the woods:
2:10 p.m. Gate check on a road leading to an old mine. The lock has not yet been shot by vandals, but Nelson notes that ATV riders have already moved boulders to get around the gate.
2:20 p.m. Visit with a group of men shooting pistols and rifles in a small clearing along the road. Nelson has run into the shooters before, while they were blasting containers filled with explosive chemicals. This time, the men have a stack of clay pigeons. Nelson reminds them that all pieces from the shattered targets must be picked up. "Otherwise it's littering," he tells them. "Would you like these broken in your yard?"
2:30 p.m. A mile up the road, a wrecker is trying to salvage a pickup truck lying belly-up and twisted 30 feet below the road. Edward Beeble, of Athol, stands on the forest road, arms crossed over his T-shirt, staring down at his truck below. He drove off the road the night before. "I was out looking for a campsite," Beeble says. A sheriff's deputy has also been called to the scene and hands Beeble a $62 ticket for driving too fast for conditions.
3:30 p.m. Nelson stops at a large meadow and scans for new illegal ATV trails through a marshy area. The booming popularity of ATVs is resulting in more meadows, streams and marshes being turned into mud pits, Nelson says. "A lot of the younger kids either weren't taught or don't care. They really don't seem to have respect for what's here."
3:45 p.m. "Good afternoon!" Nelson says, walking into a creekside camp, where at least eight campers and three dogs are resting in the shade. After checking to make sure the campers have the required bucket and shovel near their campfire, Nelson moves on.
4:30 p.m. After a brief lunch break in his truck, Nelson stops an ATV rider on a forest road. He issues a $75 citation. The driver, Paul Westphal, of Athol was not carrying a shovel, which along with a helmet or bucket are required in the national forest between May 10 and Oct. 20. Nelson says he doesn't like to give citations, but with fire season in full force, citations tend to send the strongest message.
5 p.m. A man drives past Nelson's truck on an ATV carrying two children not wearing helmets. Nelson issues a warning – the law is relatively new, he explains. "Kids and helmets – it just gets to me," he says.
5:20 p.m. A Jeep pulls onto the road directly in front of Nelson's truck. The Jeep's tires are dripping with mud. It had just driven across the North Fork of the Coeur d'Alene River, a trout stream. Nelson scowls as he exits his truck to talk to the driver, Lee Kirk, of Rathdrum. "See that sign there?" Nelson says to Kirk, pointing to a sign posting the stream as off-limits to vehicles. Kirk is given a $100 citation.
"Some people think there's nobody out here to watch them, they can just have at it," Nelson says.
5:47 p.m. Bucket and shovel check at a campsite along the North Fork of the Coeur d'Alene River. Nelson gives a $75 citation and orders the campfire doused when he learns the campers have no shovel. Nelson also discreetly tells his passenger to return to the truck after he learns that one of the campers, a squat shirtless man drinking a can of Icehouse beer, has a history of violent encounters with law officers. Nelson carries a sidearm. In his truck he keeps a 12-gauge shotgun and a semiautomatic rifle. Nelson goes on to check three more camps along the road for the fire bucket and shovel. It's a common theme this time of year, he explains.
6:34 p.m. At yet another campsite check, a couple from Spokane ask, "Do you know where we can find a phone around here?" The nearest is at least 20 miles down the road, Nelson explains.
6:40 p.m. Nelson stops two teenage girls riding ATVs. Both are underage, and neither of their ATVs is equipped with a bucket and shovel or the state off-road vehicle stamp. Nelson escorts the girls back to their camp. The girls' fathers apologize. One of the men is a recent transplant from Iowa. Nelson hands them pamphlets and issues a stern lecture on safety laws. Back in the truck he shakes his head. Many newcomers just assume the forests are free of laws, he says.
7:12 p.m. Nelson waves to campers while slowly driving through the Honeysuckle Campground. He reminds one of the campers to keep his dog leashed. A young boy shouts, "Hi cop!"
8:15 p.m. Nelson drives over the Fernan Saddle above Fernan Lake, his patrol truck's tires touching asphalt for the first time in nearly eight hours. Minutes later, an oncoming sedan flashes its high beams. The driver says to Nelson, "We're from out of town – California – and just trying to make it somewhere where maybe we can see some other wildlife. We just saw a moose! Where does this road go?"
The sun is setting. Even in daylight the forest roads can be maze-like. Nelson recommends they return to Coeur d'Alene.
8:56 p.m Nelson arrives at the Forest Service office in Coeur d'Alene and finishes the shift by writing reports about his nine hours on a busy summer afternoon in the national forest.
Local journalism is essential.
Give directly to The Spokesman-Review's Northwest Passages community forums series -- which helps to offset the costs of several reporter and editor positions at the newspaper -- by using the easy options below. Gifts processed in this system are not tax deductible, but are predominately used to help meet the local financial requirements needed to receive national matching-grant funds.
Subscribe now to get breaking news alerts in your email inbox
Get breaking news delivered to your inbox as it happens.
---